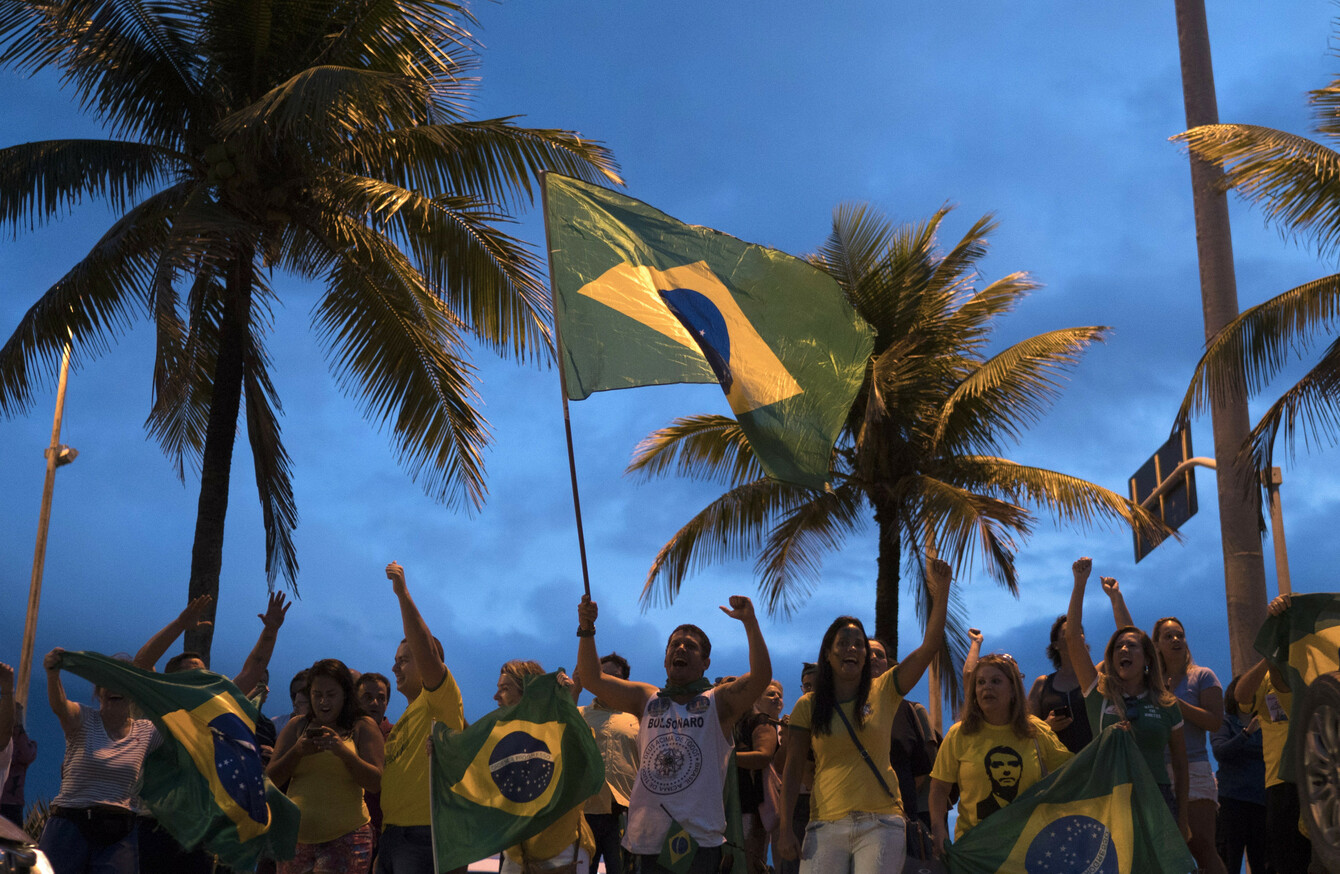 Jair Bolsonaro supporters
Image: Leo Correa via PA Images
Jair Bolsonaro supporters
Image: Leo Correa via PA Images
BRAZIL IS HOLDING presidential and legislative elections today. 
One controversial figure looms over the pack of 13 candidates running for president: Jair Bolsonaro, an ultraconservative former military man promising a Donald Trump-like shake-up of Latin America's biggest economy.
Voter surveys credit him with such a substantial lead that he is expected to be the favourite going into an October 28 run-off.
In that second round, he would likely face one of two trailing rivals: Fernando Haddad, a left-winger selected to replace jailed ex-president Luiz Inacio Lula da Silva as the Workers' Party candidate, or a centre-left politician ranked with only an outside chance, Ciro Gomes.
Here's a breakdown of what you need to know about the elections:
How important are the elections?
Brazil is one of the most important emerging economies out there, one of the BRICS and Latin America's biggest democracy. 
Whoever ends up as president will be at the helm of the world's 8th-biggest economy, an oil producer and major energy consumer whose chief trading partner is China.  
Yet it's only three decades since Brazil shucked off a military dictatorship. And it has just emerged from its worst-ever recession, which wiped away much of a preceding decade of prosperity.
Who is Bolsonaro?
Out of a field of 13 presidential candidates, Bolsonaro is by far the most controversial and polarising. 
Once an army captain, he has been a deputy in Brazil's congress since 1991, during which he became known for offensive remarks against women, gay people and Brazil's mostly black poor. 
But he also has a healthy polling lead over rivals – attributed to his tough-guy promises to crack down on crime and graft, and his canny use of Facebook to reach out to voters. 
Massive protests by Brazilian women have been held against Bolsonaro.
Although a Catholic, he has the backing of an influential evangelical bloc in congress that would help him govern if he wins the presidency.
A stabbing attack by a lone knifeman last month as he campaigned only increased sympathy for him – and for his pledge to be ruthless with street criminals.
 Is he a shoo-in?
Not yet. Today is the first round of the presidential elections. If no candidate gets more than 50%, then a second, knockout round will be held on 28 October between the two with the highest scores.
Bolsonaro boasts he will win outright today and Brazilians can go to the beach instead on 28 October. But analysts say that while a first-round victory can't be excluded, the polling numbers available make it unlikely. 
In a second round, the outcome would be uncertain. Surveys suggest Bolsonaro would be neck-and-neck with his nearest rival, leftist candidate Fernando Haddad, the Workers' Party's choice to replace popular ex-president Luiz Inacio Lula da Silva, who is in jail for bribery.
Against the candidate currently trailing in third place, centre-left politician Ciro Gomes, Bolsonaro would likely lose, recent polls show.
What changes does he promise?
If he does enter Planalto, Brazil's equivalent of the White House, Bolsonaro has promised big changes.
He wants looser gun laws for "good" civilians to help counter rife street assaults and murders, and for the army to go after organized crime.
Political corruption will be quashed and the government streamlined, he has said. Brazil would sell off state enterprises to bring down spiralling public debt.
In foreign relations, Brasilia would "cease coddling murderous dictatorships", his manifesto says.
That looks like a reference particularly to neighbouring Venezuela, whose implosion under the rule of Socialist President Nicolas Maduro has sent tens of thousands of people fleeing over the border into Brazil. 
Instead, it would turn more towards countries such as the United States, Israel and Italy.
"We've got to give Socialism, Communism, a kick up the ass," he told a Brazilian TV station, Record, late Thursday.
So, where do we stand right now? 
The last surveys released last night credited Bolsonaro with 36% against 22% for his nearest rival, Haddad. 
With blank and invalid votes stripped out, Bolsonaro could pocket 40-41% of the vote to 25% for Haddad, polling firms Ibope and Datafolha said.
A run-off was seen as too close to call, given the plus-or-minus two-point margin of error, though Bolsonaro was seen with a small edge: 45%, to 41-43% for Haddad.
Voting today was to start at 8am (11am Irish time) and end at 5pm (8pm Irish time), with initial results expected a couple of hours later.