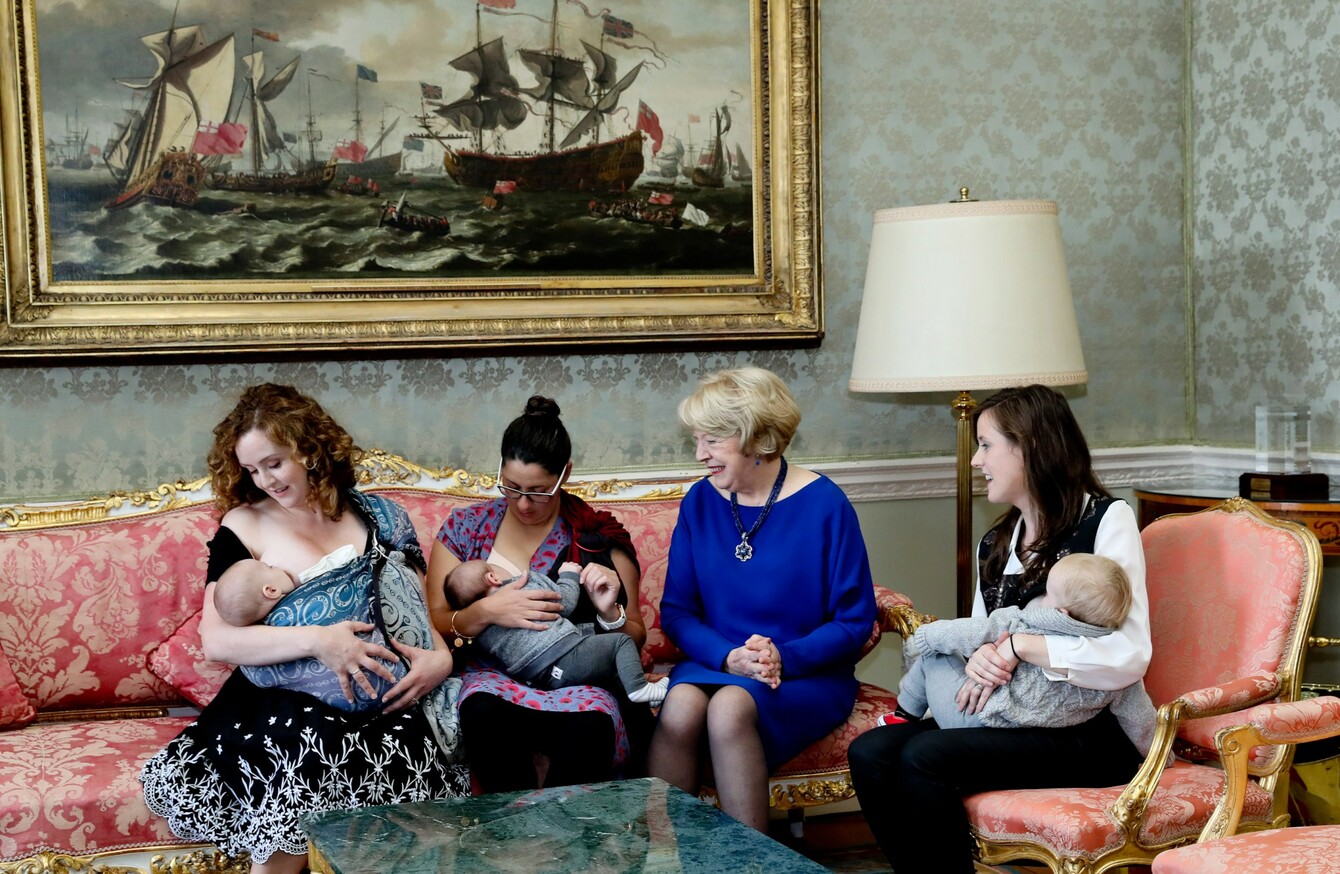 Image: Maxwell Photography
Image: Maxwell Photography
IN A PRISTINE white-walled hall in Áras an Uachtaráin, which is lined with marble pillars topped off with busts of former-Irish presidents, a baby's wail and the clicking of women's heels echo dramatically.
Buggies kitted out with colourful noisy toys and stuffed with parenting equipment are parked on top of cherubs on the emerald green carpet, while officials in army green uniforms smile at kids while trying not to trip over them.
This is the beginning of Latching On – a breastfeeding morning organised by Sabina Higgins in Áras an Uachtaráin yesterday. The purpose of the event is to raise awareness of low rates of breastfeeding in Ireland (currently at 56%) and to try to increase them by offering more supports to mothers.
Mothers laugh as they greet one another and swap stories of their journeys here, while children roll around the floor, zig-zag in between the green velvet seats and pick tiny buns and cocktail sausages off the catering table.
A tiny baby girl in a blue onesie with pink octopuses on it is particularly adventurous – stumbling over to other children, smiling up at adults and crawling under furniture. Her mother, Sinead Redmond, is the secretary of the Association for Improvements in Maternity Services Ireland, or AIMS Ireland for short.
AIMS Ireland is about promoting what's right for women – we support repealing the 8th Amendment, for example. And breastfeeding is about the mother doing what feels right to her.
While speaking, Sinead's daughter Etáin begins crying loudly. She picks her up, lifts her top up, and feeds Etáin, who stops crying.
"A lot of people might find this strange," she says. "But comforting and feeding my child should be the priority over making other people feel comfortable," she says, addressing an issue raised by some who say breastfeeding should be avoided in public areas.
Mouths to feed
When Sabina Higgins enters the room, she is met with a round of applause. She begins her speech on the importance of breastfeeding, saying that it provides children with vital nutrients, plays a vital role in the health of future generations, and ensures that there will be food available for children especially in poorer countries.
She says that there are so many medicines now available to help people breastfeed – and recalls that when she breastfed her children, methylated spirits were used to toughen up the breast so it wouldn't be sore from suckling. When the room gasps, she says:
"No I loved it, I loved the smell of it."
She said it was wonderful to see all the support and the "exquisite" children that were so healthy and energetic.
Essene Cassidy, president of the Nursing and Midwifery Board of Ireland, follows her on stage. She says that rates of breastfeeding in Ireland have gone up from 53% in 2009, to 56% in 2013, but that we still have one of the lowest rates in the EU.
The World Health Organisation recommends that babies be exclusively breastfed for the first six months – with 6% of Irish mothers doing so.
So if the benefits are so clear, why is the rate of breastfeeding so low in Ireland?
Bottlefeeding
Although there are benefits to breastfeeding, there are groups on the other side of the baby-feeding debate, who say that they've tried to breastfeed and haven't been able to, or that breastfeeding is too sore.
They say that the benefits of bottlefeeding include being able to share the experience of feeding with your partner, and having a more flexible schedule which isn't confined to feed times.
They also say that those who promote breastfeeding make them feel guilty for not being able to breastfeed, and that bottlefeeding isn't as detrimental as it's portrayed.
One mother at the event, who turned out to be a breastfeeding counsellor from Cuidiú, said that most mothers don't approach breastfeeding the right way.
Most mothers say 'I'll try to breastfeed' but you have to say 'I'm going to breastfeed' if you're to succeed. You also need a network of support to let you know that you're doing the right thing – that means mothers with babies close to the age of yours.
Jill, another Cuidiú breastfeeding counsellor from Galway, said that low rates of breastfeeding is a cultural thing.
Bottle-feeding was the cool thing to do in the 1970s. It was almost eradicated by the medical profession, and even now it's not part of the system.
Although we're trained by the HSE, we're not allowed into the hospital to the post-labour wards. So by the time we get the chance to speak to mothers is when they leave the hospital – when they've already decided to bottle-feed.
Sinéad Redmond, whose daughter Etáin is back roaming around the ornate Áras room, says that in an ideal world everyone would breastfeed, but that it's not about forcing mothers to do anything they're not comfortable with.
I breastfed my firstborn until he was two-and-a-half years old – I stopped because I got pregnant with Etáin. Then when Etáin was six months old, she started breastfeeding again! And some people look at me strangely when I tell them that, but it's about doing what feels right.
Baby Etáin, lying on her back and looking up at us from the Áras rug, gives us a two-toothed smile.