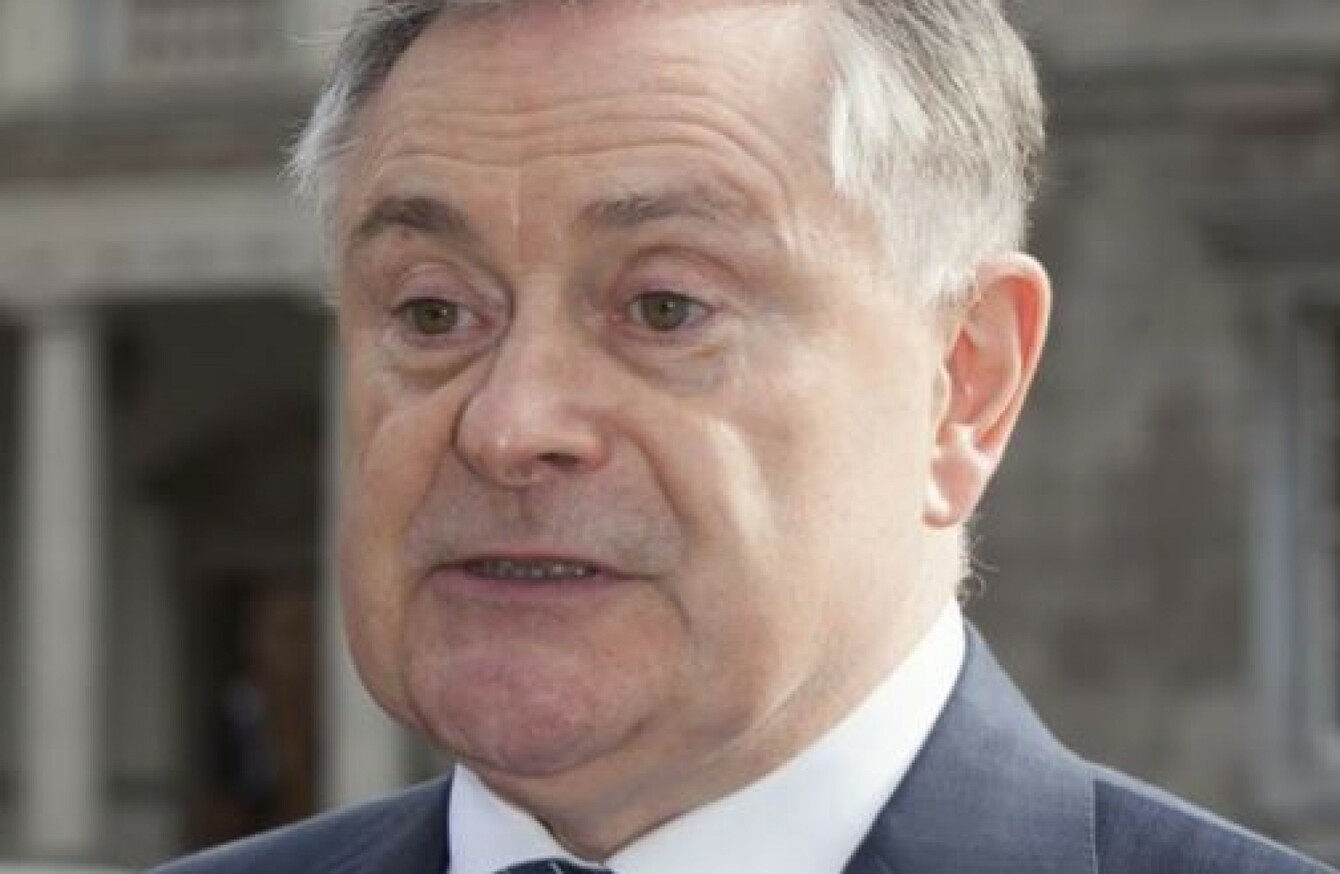 Brendan Howlin
Image: RollingNews.ie
Brendan Howlin
Image: RollingNews.ie
BRENDAN HOWLIN HAS hit out at Labour's former coalition partner Fine Gael in his keynote speech at the party's national conference.
Howlin is trying to rebuild the party after it lost 30 seats in last year's general election, the worst result in its history.
The Labour leader didn't hold back in his speech, describing the current government a "sham" and Fine Gael as "right-wing" in terms of austerity and the economy.
"Fianna Fáil, Fine Gael and a rag-bag of independents show no ambition and they seem quite content about it.
"Leo [Varadkar] and Simon [Coveney] square up to each other (in the Fine Gael leadership battle). Playing to their base – dragging the country further to the right.
"Running a false election based on tax cuts and shutting down Bus Éireann. Dog-whistles to their supporters on the right, pitting the private sector against the public sector once more.
"Meanwhile, Enda [Kenny] and (Fianna Fáil leader) Micheál are content to play for time."
Howlin also hit out at Transport Minister Shane Ross, stating: "We saw weeks of industrial action in Bus Éireann, while Lord Ross twiddled his thumbs, sitting in his office hiding. No more selfies on the bus.
"A Minister for Transport content to do nothing, concerned about the Stepaside Garda station, but caring little about the buses in Cork, or Limerick or Galway. The dysfunction at the heart of this government helps nobody and it hurts many."
Donald Trump
Internationally, Howlin warned about the prospect of far-right Marine Le Pen winning the French presidential election, in which voting is taking place today, and was critical of Brexit and US President Donald Trump.
He said: "Sometimes, it feels like a dark wind is blowing across the world. For many of us on this island, it all seems strange and maybe more than a little scary. Brexit happened. Trump happened.
"The French people go to the polls against the backdrop of yet another horrific terrorist attack, and Le Pen might yet happen.
People are voting, in large part, out of fear and out of hurt. There are many people – too many – happy to prey on these fears, and they are not restricted to the US, or to Britain or to France. We have our own.
Howlin was sharply critical of Trump, saying: "He's a racist, a sexist and a homophobe. He doesn't have the temperament or patience to run the world's greatest power.
"He's a danger to us all. He is already waging war on the environment. When he promises to ramp up the burning of coal, he gives false hope to those who have worked in mines and gives real hope to a powerful, dirty industry."
Howlin described the Irish government's draft climate plan as "spectacularly lacking".
United Ireland
Howlin said "the path to a borderless Ireland after Brexit is far from clear" and "made worse by the Tory desire for parliamentary domination".
#Open journalism No news is bad news Support The Journal

Your contributions will help us continue to deliver the stories that are important to you

Support us now
He added that he hopes to see a united Ireland one day.
"Historically, partition has been bad for both north and south. Instead of living together, we created two narrow, sectarian states.
"Neither has worked as it should. I'd love to see a united Ireland that is an agreed Ireland, one that unites hearts and minds, as much as territory."
'Hope is what we do'
Howlin also spoke about Labour's desire to repeal, and not replace or amend, the Eighth Amendment so women in Ireland have access to abortion.
Speaking about emigration and job creation, Howlin said: "For many generations, there has been a social contract. That contract meant that every family could believe in one simple idea: Work hard and your children will have a better life than you.
Work hard and the future will be better. That was a fair deal. But, for the first time in generations, people no longer believe it to be true.
"They feel afraid for their children. They worry they will have to emigrate and that they won't be able to afford a home. Young people in their 20s wonder will they have job security or a decent quality of life or a health system that works or a roof over their heads.
"It's our job to change that because, for Labour, hope is what we do. Hope to take on the challenges that lie ahead."