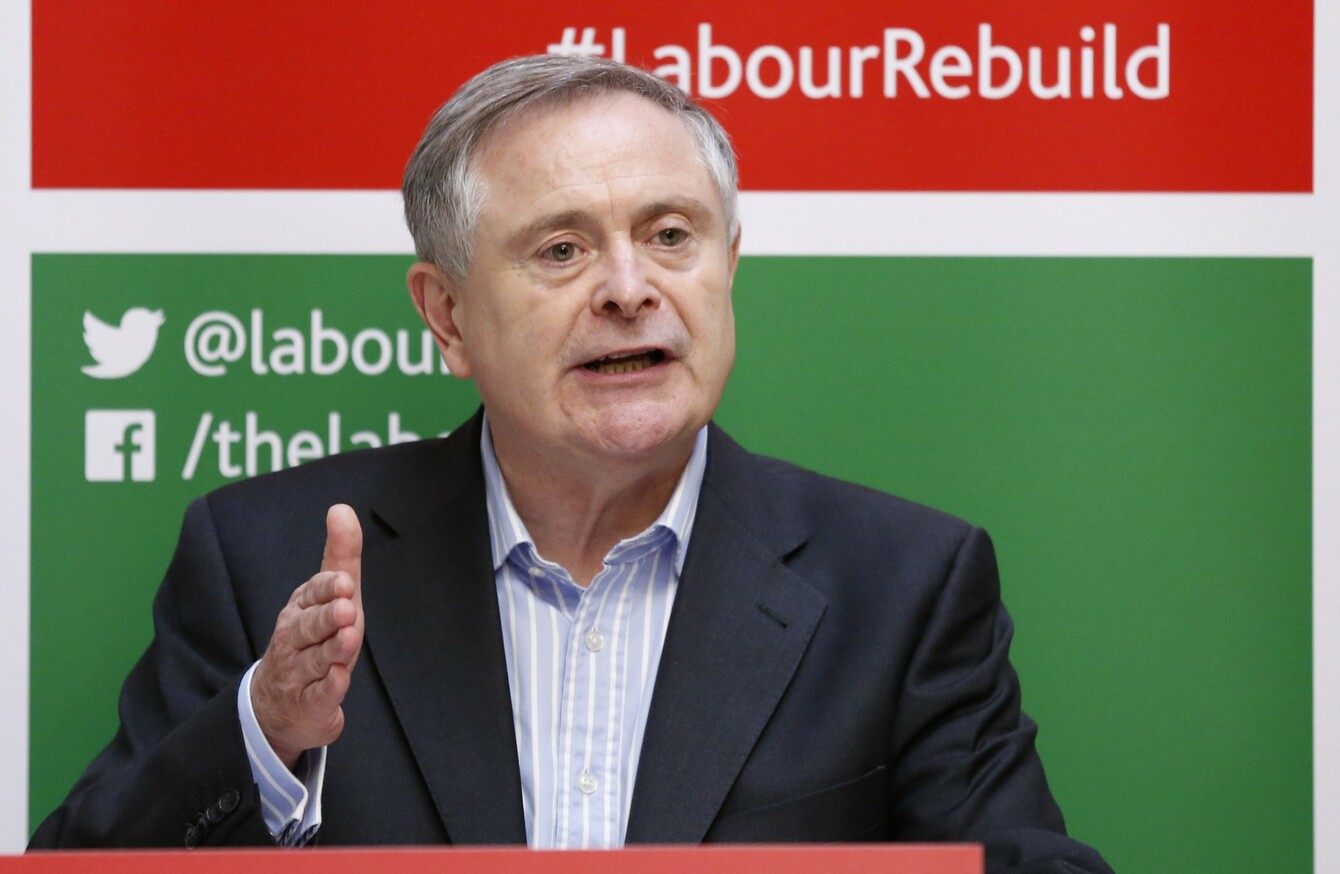 Image: RollingNews.ie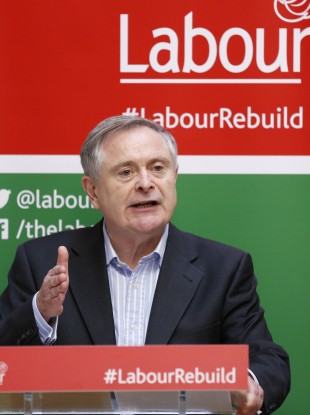 Image: RollingNews.ie
BRENDAN HOWLIN OPENS the door to his office in Labour headquarters in Leinster House. The quarters are notably smaller than their previous haunt.
After a crushing defeat in the last election – the worst in their 104-year history – the party saw its representation in our national parliament fall from 37 to just 7.
Due to the party's massive loss, which meant that they could neither afford nor fill that much office space any more, Labour's remaining people have been relegated down a long corridor (which has a secret side entrance into the Dáil bar) to a part of Leinster House known as the annex.
Their previous quarters – the top floor, airy, rooms with a view – are now occupied by Sinn Féin, a bruising that is no doubt difficult for some in the Labour Party to take.
There is a smell of fresh paint in the offices on Friday as the recently-hired staff are buzzing around, preparing for the party think-in which is taking place in Dublin's Mansion House that evening.
Veteran party leader
The party leader also has a pep in his step.
Taking a seat at the grand conference table, he explains that the room was home to some well-known Labour figures of the past, such as Dick Spring and the current President, Michael D Higgins.
If the Labour leader wants a ministerial office on Kildare Street in the future, things will have to change for the party, and Howlin knows this.
Cast your minds back just a few years to 2011, and you'll remember Fine Gael and Labour rode a wave of populist sentiment all the way to Dáil Eireann.
But once Labour got their feet under the table, the larger party in government placed two ticking time bombs in their lap – housing and water charges.
Water charges 
"Clearly, the whole water issue was a mistake," says Howlin now.
During the Economic Management Council (EMC) meeting in November 2014, Howlin says he and Eamon Gilmore "fought trenchantly" for charges not to be introduced until all the metering was completed.
The Labour leader says he didn't want them introduced until an analysis of cost had been carried out "so there wouldn't be a fear from people".
We should have postponed it, we shouldn't have allowed for it to go ahead.
Fine Gael were of the view that, no, no, once you started charging, people would simply accept it.
Howlin admits his party misread the mood of the people on the water charges issue.
"Yes, probably. I think Irish Water became the last straw for people who were already just hanging on by their fingernails after going through the worst recession since the foundation of the state," says the Wexford deputy.
Fine Gael's Phil Hogan set sail for Europe (he is currently the European Commissioner on Agriculture), leaving Labour's then-Minister for the Environment Alan Kelly to become the poster boy for water charges.
He [Phil] did go to Europe and there were big issues left in the housing and water area. We tried to do the best that we could with it and Alan made a decent fist of it.
Despite being out of government now, Labour is still not budging or distancing themselves from the issue.
So why are they hitching their wagon to Irish Water, which remains so toxic in the mind of the public? Howlin says he is not going to go down the road of populism politics.
The one thing we said after the election – the populist thing for us to do and maybe the simplest thing for us to do is to take the populist line on everything.
But Irish Water wasn't a mistake. I am absolutely convinced we needed a single national utility to deliver water.
Howlin maintains that €4 billion needs to be invested in Ireland's water infrastructure. It's his party's policy that a charge should be implemented when someone goes over their allotted free allowance.
But Irish Water is no longer Labour's problem. So how does he think the new government is handling the issue these days?
"I think it is a dog's dinner now. I don't know what the future holds because Fianna Fáil changes its position on it every second Wednesday. I don't know what will ultimately happen, but it can't be that whatever is popular this week is the national strategic approach to a valuable resource," he says.
Alan Kelly and THAT press conference 
As if Labour didn't have enough problems after the election, it almost immediately started to air its dirty laundry in public with a squabble over the leadership.
Alan Kelly made his intentions for the leadership quite clear, appearing on The Late Late Show and stating that he wanted to take the top job. However, in the end, the party went with veteran member Howlin.
The culmination was the Labour leadership press conference, where there was one notable absence: Alan Kelly.
Was he annoyed that Kelly had tried to steal his thunder on what would be one of the biggest days of his career?
No, Alan made his own decision not to be there. I was very happy and honoured to be in that position… That day was an important day for me and nothing blemished it.
"We knew how fragile the party was at that stage. We didn't want a long, protracted, internal introspective look at ourselves. We had already done that-  we had a leadership election only two years ago," says Howlin.
Throughout the interview, Howlin is keen to drive the message home that the Labour Party has turned a corner and is ready to rebuild. Howlin doesn't want to hark back to those days at the beginning of the summer.
He denies there is no love lost between him and Kelly.
"I have a great working relationship with everyone in the party," he says.
It is all hands on deck, everyone knows how hard we are going to have to work to win back the trust.
A sore point 
The election is clearly a sore point for Howlin. Adjusting in his seat and clearing his throat, he says:
I think people were shocked at the scale of the defeat. To lose 30 seats was shattering.
The party has been licking its wounds over the summer with Howlin travelling the length and breadth of the country to meet with constituents and assess the damage.
"Politics – that is the way the game works out sometimes and you have to dust yourself off and get on with it."
The Wexford TD says he knows where their voters went. "They went all over the shop," he says.
Fianna Fáil recovered a few seats, so Howlin acknowledges the few they took from them in the 2011 election returned. Others went to Sinn Féin, but the vast bulk went to the independents, he says.
"These are very much parked votes that we have to win back. I don't take that for granted… it is going to be a slow and steady reach out to people."
It will involve explaining what we did in the last five years – including the mistakes we made, because it is clear that people had different expectations of us and some people were disappointed in us.
There were promises made that we didn't keep and that wounded us, there is no doubt about it. We have to learn from that and make sure it never happens again.
Howlin maintains Labour is a left, progressive, social democratic party that strives to protect working people.
He hits back at other left groups who would disagree with that description, noting that other left parties didn't make great gains in the last election.
"For all their campaigning and all their ranting, the AAA-PBP didn't make a great advance," he says.
'Ranters' of the left 
Today's government is a strange new mix of Fine Gael and independents, backed to some degree by Fianna Fáil. Howlin doesn't think it will last more than a year.
I think we have to be prepared that this government won't last a year.I know from discussions with senior ministers that they think the whole thing is dysfunctional themselves, although they won't say it publically, they can't.
Not a week seems to go by that there isn't some sort of crisis in Cabinet hitting the headlines. Did these sort of disagreements go on between Fine Gael and Labour?
Yes, some of it would have happened behind closed doors insofar as a clash of views and that is what coalition thrash out behind closed doors.
We never allowed ourselves to be bullied. The government came close to falling apart on more than one occasion, but we kept it internal because it was too important for the external view of Ireland, to invest in Ireland,  to know that we were holding it together as best we could.
Speaking about some members of the Independent Alliance have been rocking the boat in Cabinet, Howlin says:
"Once government policy is determined it is either government policy supported by all or people resign from government. You can't be in and out at the same time.
"I am listening to ministers now talking as if government is different than themselves – that can't be," he says.
What Fine Gael would have done 
Despite criticisms that his party did not stand up to Fine Gael as much as it should have, Howlin maintains the country would be very different had Labour not been in power.
"There is no doubt about that. I know, because I was the man charged with looking after the public purse and I know what they would have done."
We had endless debate about expenditure. On the taxation and the expenditure side if you look at what Fine Gael actually said they would do and what we actually did in government you will see the difference…
On the taxation side they were inclined to reduce the top rate of tax. We said no, we want to reduce the impact of the Universal Social Charge (USC) on low income earners because they were brought in by Fianna Fáil at a punitive rate on everything over €4,000.
He also cites the protection of core social welfare payments, the marriage equality referendum and the legislating for the X case as some of Labour's achievements in government.
The truth of the matter is, despite what the party or the people give Labour credit for in the last government, they have a long path ahead of them.
There's a knock on the door and time is up. Howlin says he has to rush to a radio interview.
With the party's annual think-in taking place over the next two days the party leader is in demand. He was used to receiving this level of attention during his time as Minister for Public Expenditure and Reform, but it's not as easy to come by these days.
Labour has risen from the ashes before – but can it do it again? Howlin knows it will be quite the task, but he seems up for the job.
It is a rebuild, it is a reconnect, we have to do that with a degree of humility as well and ask people to support us again.