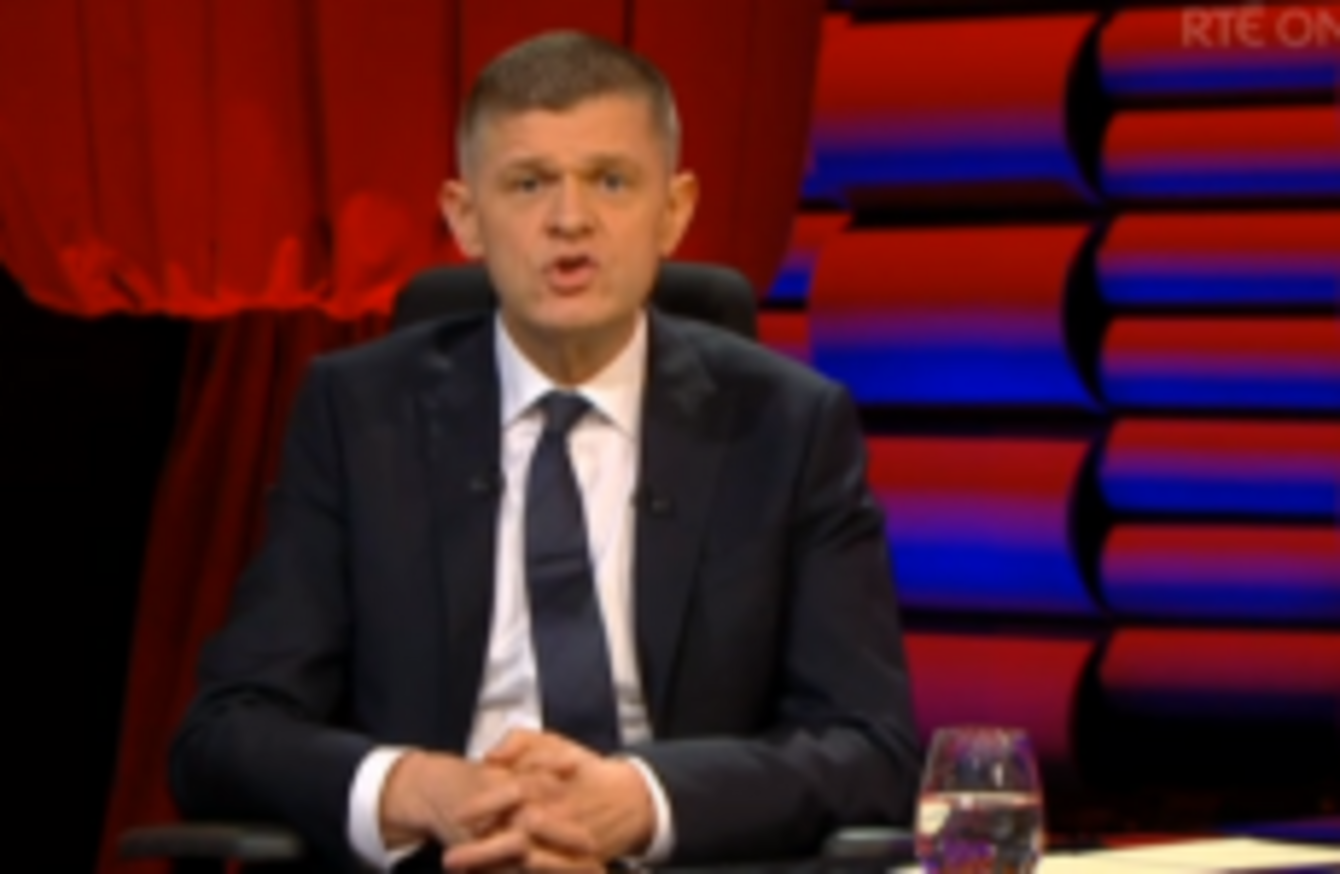 The slot is set to be taken over by Ray D'Arcy
The slot is set to be taken over by Ray D'Arcy
LAST NIGHT WAS Brendan O'Connor's final appearance as the host of RTÉ's The Saturday Night Show and things got pretty eventful.
The show featured appearances from impressionist Oliver Callan, Blur's Alex James, Dylan McGrath, and Labour TD John Lyons.
There was also entertainment from family band The Willis Clan, Derry singer-songwriter SOAK and Third Smoke, a group who were recently featured on RTÉ's The John Murray Show.
A turn for the unusual
The programme opened with the rather strange spectacle of a man climbing inside a balloon. 
This was then followed with an appearance by impressionist Oliver Callan who was appearing out of character. He talked about a variety of topics, including his coming out publicly on a previous appearance on the show in 2011 and the ongoing controversy about comments made by TD Catherine Murphy about businessman Denis O'Brien in the Dáil .
He was followed on the show by Blur's Alex James who spoke about the making of the band's new album, "The Magic Whip".
Dylan McGrath
Then came an appearance by west Belfast chef Dylan McGrath.
Host O'Connor prefaced this by saying that McGrath was on pain medication.
McGrath appeared to be in some discomfort when he came out, saying, "you'll have to excuse me tonight. I'm quite sick so I'm on a lot of painkillers… I'm 37 now, and when I was 26 I was working every hour God sent, but now I'm 37 I'm not as young as I used to be, so now my back is sore."
The chef appeared impaired throughout the interview with individuals on social media questioning if RTÉ was right to have him on the show.
Speaking during the interview, McGrath discussed his upbringing and his relationship with his mother, saying, "every element of me, that survives in me, that is sitting here talking to you now, is from my mother telling me that 'you're as good as anybody else'."
He went on to say:
I wanted my ma to shop in Marks and Spencer and not give a shit what it cost. Do you know what I mean? Not care how much the hummus cost, not care how much the bread cost – she never had that. She never had that. But what she did have was the ability to put it in me. To make me believe.
Labour TD John Lyons then appeared on the show with his mother, discussing last week's same-sex marriage referendum result.
O'Connor concluded the show by saying, "The most important thing is that I would like to thank all the people who came on here and told their stories over the last five years, because I think if there is one thing we've learnt in this country in the last few years, is that whether it's about medical cards, or mental health, or sexuality, or disability – people telling their own stories… and a lot of people don't want to do it, they're private people… people telling their own stories can change everything."