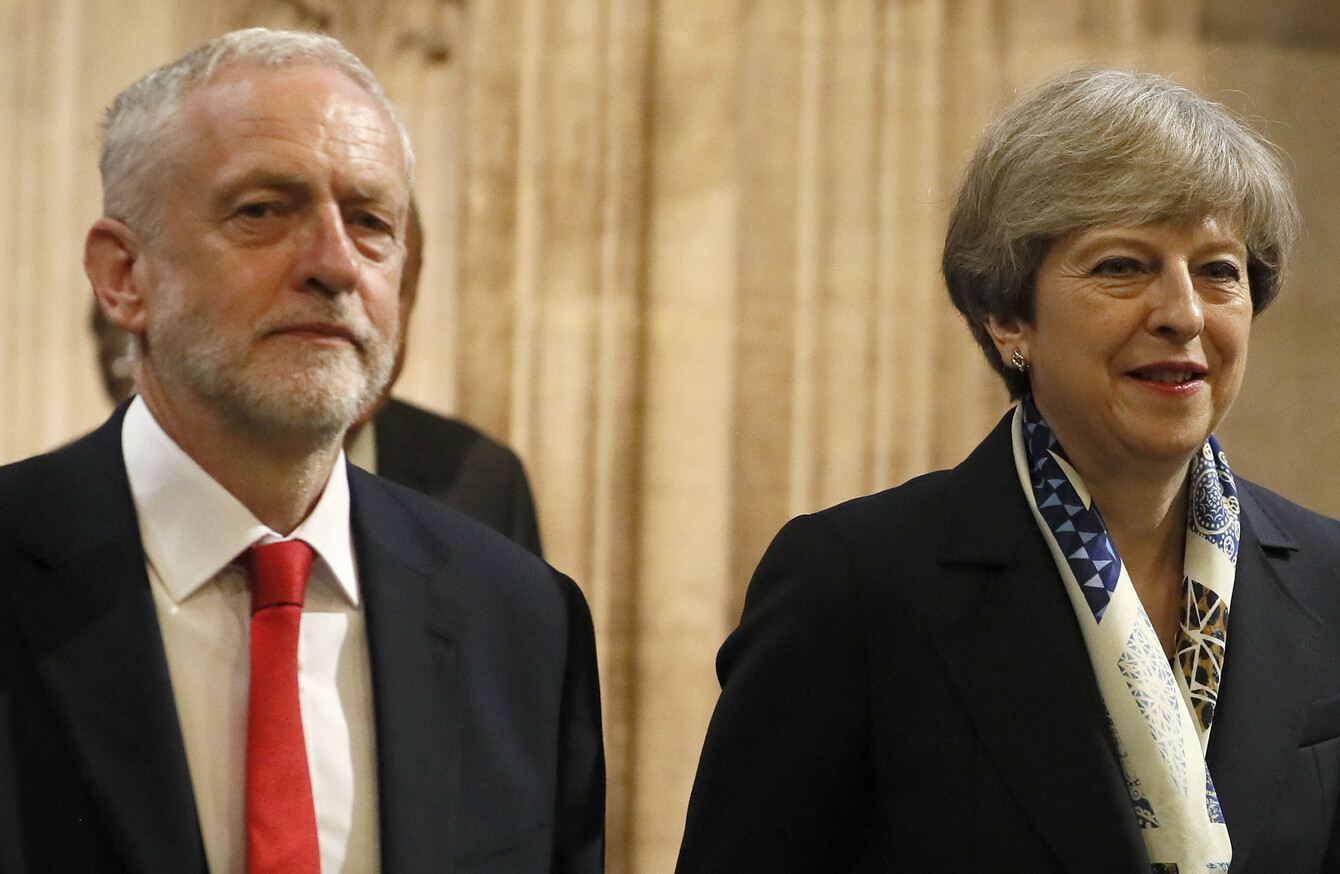 File photo.
Image: Kirsty Wigglesworth/PA Images
File photo.
Image: Kirsty Wigglesworth/PA Images
BRITISH PRIME MINISTER Theresa May has confirmed that she wants to have a head-to-head televised debate with Labour leader Jeremy Corbyn over her proposed Brexit deal, ahead of MPs voting on it next month. 
Number 10 Downing Street yesterday refused to confirm that May would challenge Corbyn yesterday after rumours circulated that the pair would square off following an article in the Telegraph. 
But in an interview with the Sun today, May laid down the gauntlet to Corbyn, saying that she was ready to square off with the Labour leader over the proposed Brexit deal.
"I am going to be going out and round the country. I am going to be talking to people. I am going to be explaining why I think this deal is the right deal for the UK – and yes, I am ready to debate it with Jeremy Corbyn. Because I have got a plan. He hasn't got a plan," May told the Sun.
"Exactly how it might be done, if he takes it up, would be a matter for the broadcasters to determine.
What I think is important is that people are able to see the issues around this plan. I am willing to stand up and explain why I think it is the best possible deal available for the UK.
Yesterday, a Labour spokesperson said that Corbyn would "relish a head-to-head debate with Theresa May about her botched Brexit deal and the future of our country".
Why would they debate? 
May today kicks off her national tour around Britain, during which she will try to sell the Brexit deal she reached with EU leaders on Sunday.
May crowned 17 months of painful talks with Brussels by sealing Brexit arrangements with the 27 other EU heads of state and government.
The European Council agreed with the progress made so far in the 500-page Brexit deal, which includes specific provisions to avoid a hard border in Northern Ireland, and also endorsed a 26-page document on the future relationship.
May has repeatedly said that the deal on the table from the EU is the best deal available for Britain. But it has been met with fierce opposition in the UK, both from her own party and opposition figures.
The tour comes ahead of the fateful vote in the British House of Commons on 11 December, which will determine whether or not the parliament accepts what she has put forward.
With a large number of dissenters in her own party, her minority government supporters the DUP saying that they will vote against the deal, and the opposition set firmly against it, May has an uphill battle to fight.
Corbyn has been highly critical of the deal reached by May, saying it came as a result of "failed and miserable" negotiations, and has said his party will refuse to support it. 
The two have a lot to gain (and lose) politically, therefore, by squaring off in a high-profile debate. For May, it will be a chance to speak directly to the electorate through the television and to sell her vision of Brexit, as well as hammer home the point that Corbyn "hasn't got a plan".
For Corbyn, it's a chance to rally the nation behind the Labour Party and its refusal to accept the terms achieved by May, while also laying out his party's vision for the future.
When will it happen?
According to the Sun, No 10 has set the evening of Sunday 9 December as the time for the debate to be held by the two leaders – ahead of the vote the following Tuesday.
But there's one big problem with this plan: that Sunday is the final of the wildly popular I'm a Celebrity Get Me Out of Here on ITV, and BBC One has a packed schedule of popular tv shows on the day. 
As pointed out in The Guardian:
It is unlikely that a sceptical audience settling down for Sunday night viewing would welcome any of the shows being interrupted or delayed, even for a political debate that could shape the future of Britain.
The government might have to rethink their scheduling if they don't want to annoy a populace already impatient and Brexit saturated populace.
 What do the other parties think?
There are already are rumblings from opposition politicians that if a live televised debate is to go ahead, it should include all viewpoints. 
Those in favour of remaining in the EU will want their views represented, as will people who are in favour of a no deal hard Brexit. 
Liberal Democrat leader Sir Vince Cable he said he wants to be included if a debate goes ahead, as did leaders from the Greens, the Welsh Plaid Cymru party and the Scottish SNP.
Whatever happens, the debate promises to be divisive, contentious and hard-fought. A bit like Brexit, so.