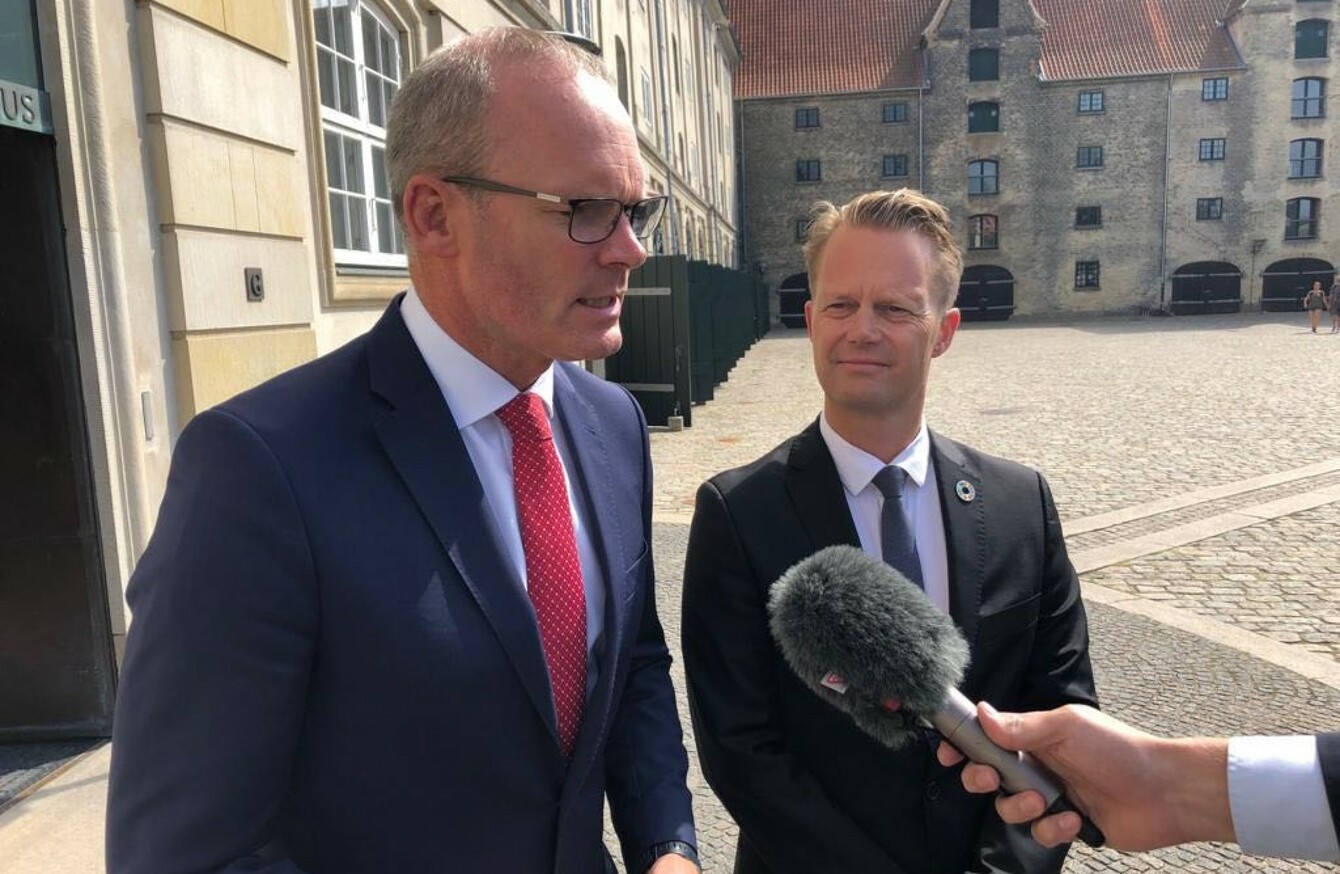 Simon Coveney in Denmark today where he said alternatives to the backstop will be listened to, but the withdrawal agreement is not up for renegotiation.
Simon Coveney in Denmark today where he said alternatives to the backstop will be listened to, but the withdrawal agreement is not up for renegotiation.
Updated Aug 22nd 2019, 12:45 PM
IRELAND IS IN the eye of the Brexit storm, according to Tánaiste Simon Coveney today. 
Speaking in Denmark, Coveney said the many, many hours, days, weeks and months of Brexit negotiations "are not going to be brushed aside now" despite what the UK Prime Minister said in Berlin yesterday. 
"Ireland, unfortunately, is in the eye of the storm here. Because it's issues on the island of Ireland that seem to be the source of disagreement at the moment. So we will work to try to change that," he said.
While Coveney said the "extraordinary expression of EU solidarity with a small country like Ireland" has been "very reassuring" the Tánaiste said all eyes are on how Ireland is now being treated by the EU. 
How vulnerable, smaller States are treated
As pressure mounts on whether the EU will concede to Britain's demand to remove the backstop from the withdrawal agreement, Coveney said Brexit has resulted in a "questioning of what solidarity means in the European Union, for a small vulnerable member state like Ireland, which is really exposed to the downside of Brexit, if it's not handled in a responsible way".
"A lot of other smaller countries are now looking at how Ireland is being treated," he said, adding that smaller countries, such as Denmark, which Coveney said has similarities with Ireland in terms of population, might one day find itself in its own difficulties in the future, and need support.
 You know, it could be another challenge in five or 10 years time, where Denmark is in the eye of the storm. And it is looking for and getting solidarity from its EU membership. So I think in many ways, Brexit has forced people to think about why we need a union, why countries, particularly small and medium sized countries need to be part of something bigger, to have stage internationally, that protects them, that gives them a voice that allows them to shape global policy…
Ratcheting up the pressure to continue their support of Ireland, Coveney added that smaller nations in the EU are "getting a lot of reassurance that if it was them they would be getting the same level of solidarity and support from bigger countries".
Backstop 
Speaking about the withdrawal agreement, Coveney said he wanted to "make it very clear that the withdrawal agreement is not up for renegotiation".
"The now famous backstop in that withdrawal agreement, which is simply an insurance mechanism, that if all else fails, we have a way that we know works of ensuring that we don't see physical border infrastructure with all of the divisive politics that comes with that reemerging on the island of Ireland. Surely that's not an unreasonable ask, that the fallback mechanism would be there."
Coveney said the EU will listen to the UK in relation to what alternative arrangements it comes up with. However, in a column for TheJournal.ie today, he wrote that any alternatives put forward by the UK would likely be "far inferior" and would damage Ireland.
The British government has said that they want to look at alternative arrangements that can do the same job as the backstop then of course, we will listen to that. And I think other European countries will too, because we all want to avoid a no deal Brexit.
But I think the messaging is clear. It's consistent. It's been firm from the EU, the deals that have been put together, through many, many hours and days and weeks and months of negotiation are not going to be brushed aside now.
"Brexit is an extraordinary disruptor" which is why the agreements that have been made between the UK and the EU are so important, he said to reporters today.
The delicate balance that was struck to get agreement on a withdrawal agreement is something that the EU is not willing to unwind. And the solidarity, both here, but also across the European Union, I think it's been very, very strong. So while of course, we want to try and find a way to get a deal here, before the end of October, there are parameters that we have to operate within there are commitments that have been made that needs to be followed through on.
His comments come as Boris Johnson visits Paris today, after his trip to Berlin yesterday saw German Chancellor Angela Merkel offer a "30-day" window for the UK to come up with an alternative solution to replace the controversial backstop. 
On the second leg of his first foreign visit since taking office, Johnson will meet his French counterpart Emmanuel Macron at the Elysee palace to stress that elements of the UK's impending exit from the EU must be renegotiated.