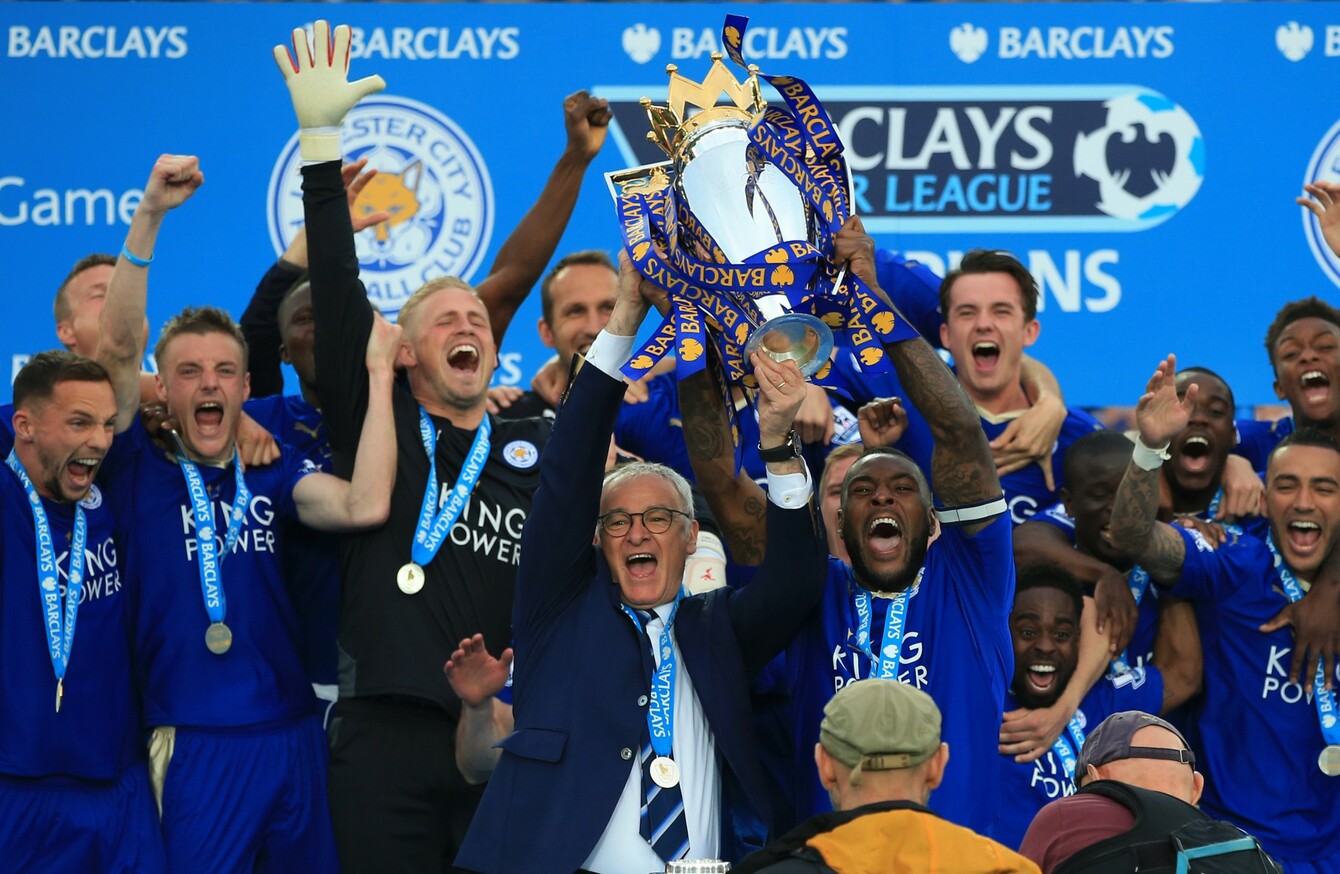 Image: PA WIRE
Image: PA WIRE
CONCERNS HAVE BEEN raised about the impact Brexit will have on the Premier League.
And although there are a litany of questions, there are very few answers.
The European Union's freedom of movement principle allows sportspeople from the EU to work in the UK without needing a permit.
The Telegraph reports that, using Home Office's criteria for non-EU players (which means they need to have a certain number of national team caps), more than 100 Premier League players, including Dimitri Payet, N'Golo Kante and Anthony Martial, would would not have been able to sign for their top-flight clubs.
According to Daniel Geey, a UK sports lawyer and a partner with the London-based Sheridans firm, an extreme reaction is unlikely, though today's result will necessitate a change to the inner-workings of Britain's current football system.
"I'd be very surprised if there was some type of interim set of regulations that would effectively mean a whole host of European Economic Area (EEA) players were suddenly deported", he says.
I just don't think that's going to happen. In the slightly longer term, there's obviously going to have to be a new structure put in place for EEA workers, depending on the deal that's struck, to see under what terms they can be employed in the UK.
The EU regulations that relate to football also extend to free transfers.
The effects of the Bosman case
In 1995, a Belgian player – Jean-Marc Bosman – won a landmark case in the European Court of Justice. His contract at RFC Liege expired and he was wanted by French club Dunkerque. Their offer fell short of Liege's evaluation, the deal fell through and Bosman's employers cut his wages by 75%.
So, Bosman sued the club, the Belgian FA and Uefa for restraint of trade – and won.
It meant clubs no longer had to pay transfer fees once a player's contract had expired. Moving 'on a Bosman' became part of the football lexicon.
On paper, it would appear that Bosman deals will now become null and void due to Brexit, but Geey feels it's a long shot.
"The various leagues and associations within the UK have specific regulations in place for players coming to the end of their contracts", he says.
"It's technically correct that the UK wouldn't be bound, in a post-Brexit environment, by the European Court of Justice's decisions – the Bosman ruling being one of those.
"But I still believe that because of the practical significance and consequence to an industry that's very much used to and very much understands that you can't restrict a player's ability to move when they finish their contract, it would be highly unlikely."
Quotas?
Pre-1995, clubs were limited in the amount of 'foreign players' they could sign.
But another effect of the Bosman ruling was that teams could field an unlimited number of players from the European Union.
Now though, it remains to be seen if quotas will be reintroduced in the UK.
"The very blunt and basic position is that if the UK is no longer a member of the EU, they are free to discriminate on the basis of nationality and that was something that was protected under the fundamental EU treaty principles", says Geey.
"But, post-Brexit, there is that relatively unlikely possibility – but a possibility nonetheless – that free movement will be curtailed and there will be discrimination on the basis of nationality, i.e – could the English Football Association suggest that eight members of their first team need to have been born in the UK? At the moment, that's not a possibility but, post-Brexit, it could occur".
The problem for signing underage talent
The other huge concern for UK clubs is their ability to sign underage talent.
Under Fifa regulations, there are three loopholes regarding minors: if a child moves to a new country for non-football reasons (like displacement or a family member gets a new job), if a child lives no further than 50km from a national border and if a child is between the ages of 16 and 18 and lives within the EU or EEA.
Premier League clubs have exploited the latter countless times. Cesc Fabregas was signed by Arsenal at 16, Gerard Pique went to Manchester United when he was 17.
In recent years, the likes of Adnan Januzaj have also been signed as underage talent.
But clubs won't have that opportunity anymore because of Brexit.
"The literal interpretation of Article 19 of the Fifa Regulations is that there's an exemption available in all countries that are EU members which allows the employment of 16 year-olds+ in their country", says Geey.
"If the UK is no longer an EU member state, then they can't use that exemption".
What about UK players playing abroad? 
As much as there are plenty of issues facing football in the UK as the immediate fallout from Brexit begins, what about UK footballers playing abroad?
Some leagues in mainland Europe – Spain's La Liga is probably the best-known example – operate quotas on the amount of non-EEA players allowed in a squad.
For the likes of Welshman Gareth Bale – currently one of the stars of Euro 2016 – that could prove problematic.
Long-term, it's likely to result in even fewer players from the UK making a move to other European leagues.
"In a few years time, if Bale becomes a non-EEA player and fills one of Real Madrid's quota spots, it becomes less attractive for clubs abroad to take on similar players because they're only going to be limited quota places available", says Geey.
During the campaign, a pro-remain group, Britain Stronger in Europe, had stressed that Brexit could "lead to the most talented players in Europe not being able to come to the Premier League".
Richard Scudamore, the Premier League chairman, publicly backed a Remain vote, telling the Telegraph:
It is important that if we want the best league in the world then we remain in the EU.
However, not everyone agrees with his stance. The UK Independent newspaper reports that some officials think the Leave vote will be good in terms of fostering home-grown talent.
More expensive to buy players?
Goal.com notes that the Leave vote could make it more expensive to buy players as sterling will be weaker.
The site gives this example:
Let's say that Juventus put a price tag of €160 million on Paul Pogba. At the end of June 2015 the €/£ exchange rate was 0.709, but could easily move to 0.900 or even further after Brexit.
It states that Premier League clubs would have to pay £144m to seal the deal – a rise of over £30m.
"There would, however, be no change in the cost of buying Pogba for other clubs based in the EU, such as current favourites for his signature, Real Madrid."
Other sports in the UK,  including cricket and rugby union, are also likely to be affected.
Additional reporting by Órla Ryan