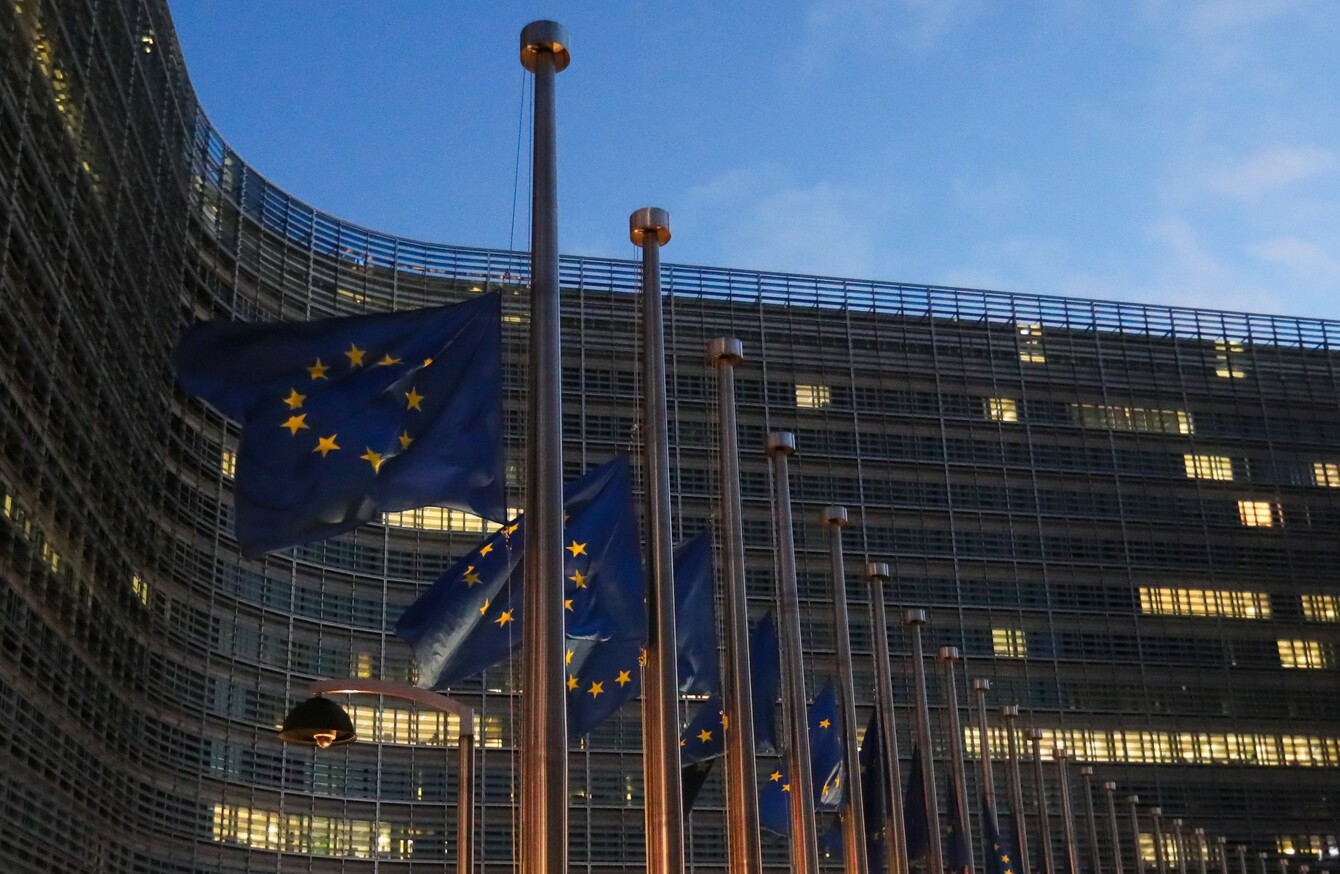 Image: Xinhua News Agency/PA Images
Image: Xinhua News Agency/PA Images
Updated Nov 16th 2020, 10:12 PM
THE UK HAS demanded "realism" from the European Union as crunch talks on a post-Brexit trade deal resumed in Brussels today.
The EU's chief negotiator Michel Barnier said the bloc remains "determined" and "patient" but stressed the need for future competition between the 27 member states and the UK to be fair.
On the UK side, Downing Street said time is "very short" to reach a deal which could be implemented when transition arrangements expire at the end of the year.
Talks on a post-Brexit trading relationship between the UK and European Union continue this week as the clock continues to tick until the end of the transition period.
UK chief negotiator David Frost is in Brussels for another round of negotiations ahead of a European Council video summit on Thursday which has been touted as a deadline for a draft deal.
The UK formally left the European Union in January, but will continue to follow the bloc's regulations until the end of the year — just over six weeks away.
If no agreement is in place at the end of December, goods travelling between the two areas will be subject to tariffs set out by the World Trade Organisation.
The two sides – led by Barnier and Frost – are now working on draft legal texts, but key parts of the documents have not been agreed.
The issues which are still to be ironed out are thought to include the ongoing row over fishing rights, how any deal between the two parties would be governed, and the "level playing field" measures aimed at preventing unfair competition on issues including state subsidies.
Despite some signs of progress – not least the fact that talks are continuing – it is clear that major concessions will be needed if an agreement is to be reached.
Prime Minister Boris Johnson's official spokesman said: "The discussions will be based on our largely common draft treaty texts.
"But significant differences do remain and key elements in the draft texts are not yet agreed. What we are working to do is seek solutions that fully respect UK sovereignty.
"Negotiators have been in contact almost every day since October 22 and they are continuing to work intensively to bridge the gaps that remain between us.
"But, although there has been some progress in recent days, there is much work to be done and time is now very short.
"So if we are to make further progress in the coming days, we need to see more realism from the EU on what it means for the UK to be an independent state."
It came as a new YouGov poll suggested that no region in the UK, excluding Northern Ireland, was pro-Brexit.
'Positive direction'
Speaking on RTÉ's Morning Ireland earlier, Foreign Affairs Minister Simon Coveney said the talks in relation to fishing were not in a good place. 
"It's not good, I mean that's that's the truth of it I mean the negotiations are not in a good place when it comes to fishing. There hasn't really been any success in closing the gap between the positions of either side," he said.
And until we can find a way of doing that, there isn't going to be an agreement. So we're in the same place in fishing, as we were in mid-summer. The neither side really has budged from their position, there's been minor concessions discussed on both sides but really it hasn't moved anywhere.
On the British side, Frost had attempted to sound optimistic, saying before today's meeting that there had been progress in a "positive direction" in recent days.
However, he added the talks may not succeed and reiterated the point made by Boris Johnson that the country must be prepared for a departure with a deal or without.
Deadlines imposed on a future agreement have proven to be soft in the past, with Mr Johnson saying in September: "There needs to be an agreement with our European friends by the time of the European Council on October 15 if it's going to be in force by the end of the year.
#Open journalism No news is bad news Support The Journal

Your contributions will help us continue to deliver the stories that are important to you

Support us now
"If we can't agree by then, then I do not see that there will be a free trade agreement between us, and we should both accept that and move on."
1/4 Arriving once again in Brussels shortly for another round of negotiations with EU and @MichelBarnier this afternoon.

I and our British🇬🇧 team have been in talks almost every day since 22 October.

— David Frost (@DavidGHFrost) November 15, 2020
The mid-October deadline appeared to be scratched at the start of that month, when Downing Street and European Commission president Ursula von der Leyen agreed to intensify talks during a video conference call, acknowledging "significant gaps remained" between the UK and Brussels.
Any deal struck would be subject to ratification by EU member states, the European Parliament and the UK Parliament meaning time is tight.
Centre stage
The agenda for Thursday's meeting of 27 European leaders does not mention Brexit, with the response to the Covid-19 pandemic instead taking centre stage.
But with only one other meeting – between 10-11 December – scheduled before the end date of the transition period, they could be seen as a key moment in the shaping of the UK's departure.
Coveney yesterday told Sky News that a deal was "doable".
"I think I would sum it up by saying this is very difficult, but, it's also very doable.
"And I think the consequences of not getting a trade deal and a future relationship deal … before the end of the year, I think is very significant."