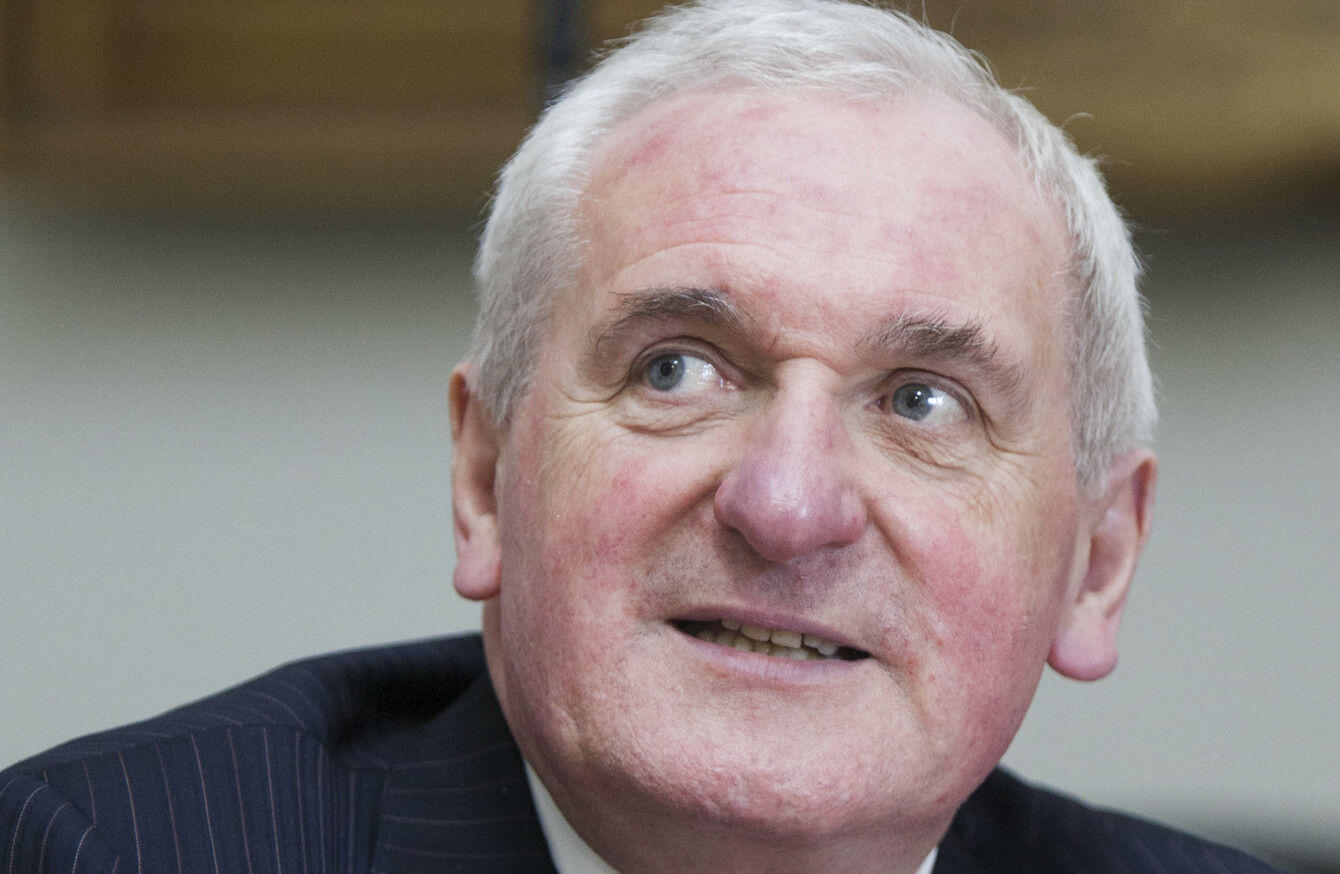 Bertie Ahern
Image: Leah Farrell/RollingNews.ie
Bertie Ahern
Image: Leah Farrell/RollingNews.ie
"THE IDEA OF us going back to any kind of border would be a disaster. I don't think it will happen. You wouldn't have to wait for violence – the communities on both sides of the border, with their bare hands, would pull down anything that was put up."
Those were the words of former Taoiseach Bertie Ahern this morning as he took part in a panel discussion on Brexit, Ireland and the Future of Europe at the Mansion House, Dublin.
The ex-Fianna Fáil leader's fears about what a physical border could do to peace in Northern Ireland were echoed by his fellow panelists Brian Cowen and John Bruton.
Bruton noted that border posts would symbolise the partition of a country which people would be "disinclined to accept".
The three former leaders, who ran the country between 1994 and 2011, all spoke of the need to retain good relations between London and Dublin, while allowing for  negotiations on Brexit to continue at European level.
"The amount of civil service and executive time being taken up by Brexit… up to Brexit day: the diversion of talent that Brexit constitutes is an unmitigated tragedy for Britain, for Ireland and for Europe," Bruton, who was Taoiseach from 1994 to 1997, said in his opening remarks.
Cowen told the audience at the IIEA (Institute of International and European Affairs) conference that Ireland "does not have to have an acrimonious relationship with the UK" while standing its ground on certain questions raised by Brexit.
All three also lamented the possible loss of contact between Westminster and Dublin once the UK has left the EU, because much of the relationship is now conducted through European mechanisms.
Ahern pleaded for an alternative to be found – or that the current British-Irish Intergovernmental Conference structure, established during the peace talks of 1998, be rejuvenated for that purpose.
"Otherwise we lose 45 years of very good relations which has been meticulously built up by the civil service," he warned. "That's over [once the UK leaves] and that's a big, big loss.
We have to find an alternative to that. In the absence of an alternative, the Intergovernmental Conference could be used for that.
There were warnings too for current Taoiseach Leo Varadkar and the British government.
Ahern, noting the art of compromise that is required in politics, advised against leaving any negotiations to the last hour.
"The government should try to conclude as much as they can in June," he said. "Running it down to Halloween/October…. this would be my fear. If you come down to the last few days, my fear is that our Taoiseach would be called in by the French, Germans, the [European] Commission, [the] Presidency, and it would be put to them that the British are paying their €50 billion and ready to conclude on freedom of movement and ready to move on a number of issues, [that there is a] good trade agreement… and [told] we don't think you should be pushing as hard and should compromise. That's how it works.
"The Irish government is doing well … but they shouldn't have a Halloween/October party of that nature at 2am in the morning."
Meanwhile, Bruton predicted that the UK will regret its decision after 29 March 2019 – the official leave day. Noting that waiting times at Dover in the UK are three minutes for goods from the EU, but 45 minutes for non-EU hauls, he made clear that Ireland is not the only border problem for Theresa May.
"In a sense, Britain will never abandon the idea of Brexit until they have Brexited," he said during a Q&A session with the attendees.
"Then they will see what they've done. Maybe they'll reverse themselves then, if pride doesn't stand in the way."