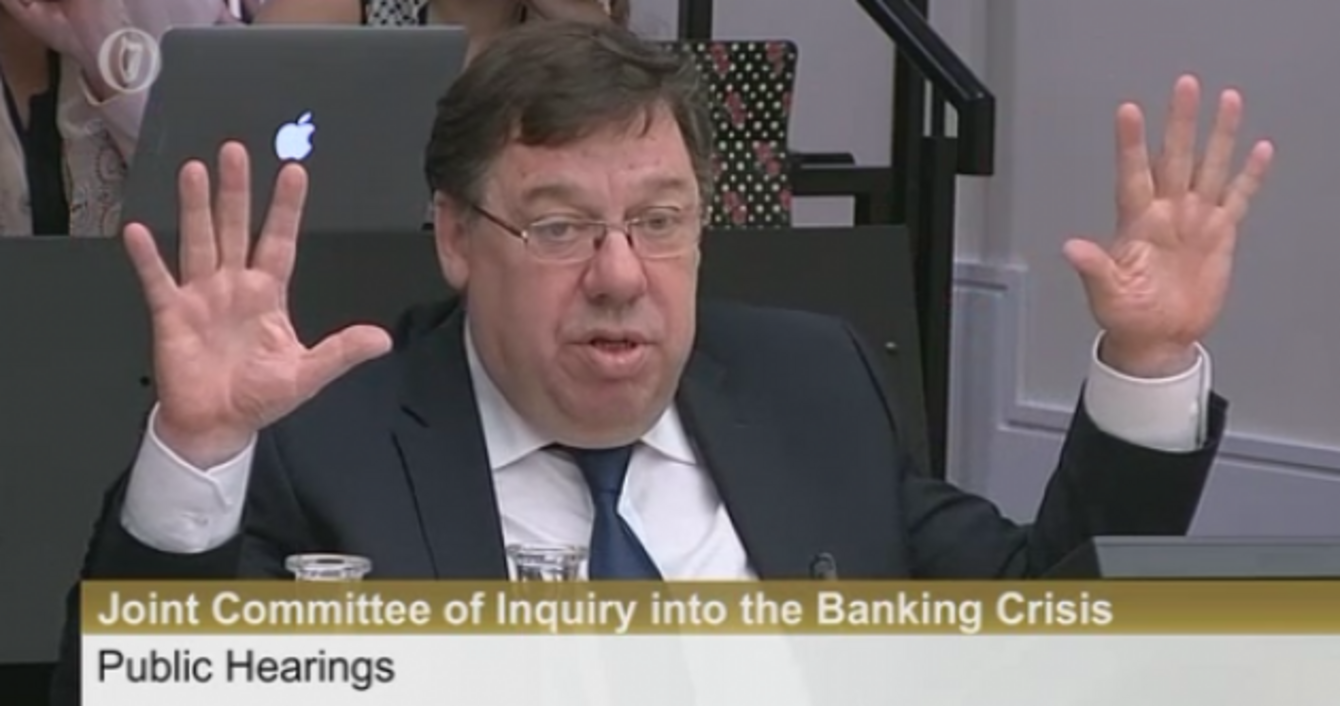 BRIAN COWEN HAS said he "underestimated the impact" of the International Monetary Fund's (IMF) visit to Ireland in November 2010.
Speaking to the banking inquiry this morning, he recalled:
"Standard & Poor's, the credit rating agency, gave a very unfavourable rating assessment for Ireland in August 2010 and Irish Government bond yields increased very sharply. At the end of September 2010, the Government announced its intention to withdraw from the markets as a tactical move since we were fully funded until mid-2011."
Cowen went on to say he "underestimated the impact of the IMF coming to town element which immediately sent a message that this was now a done deal rather than a genuine continuation of existing discussions up to then".
He said this perception was further reinforced when the Central Bank Governor Patrick Honohan gave his now infamous Morning Ireland interview where he revealed Ireland was entering a bailout.
This development showed the Government in a bad light because of the interpretation given to events that we were keeping what was going on away from people. In fact we were trying to put ourselves in the best position we could, before formally
requesting assistance.
"We wanted to know exactly what we were getting into before we agreed to formally apply for any programme," Cowen said.
Earlier, he noted that then Finance Minister Brian Lenihan was not present when the decision was made at the bank guarantee meeting to not burn bondholders.
"Minister Lenihan had at this stage gone home because he had a very busy schedule to fulfil from early the next morning. He told me some time afterwards that he was not present in the room when the dated subordinated debt issue was decided upon."
The former Taoiseach said it is important to point out that senior bondholders in Irish financial institutions include the proceeds of Irish pension funds, large credit union deposits and deposits from religious and charitable trusts.
"While no one would suggest that those funds should be at risk, in law all holders of bonds of the same category whether foreign or domestic have to be treated the same. In other words you cannot protect some senior bondholders and not others."
He didn't overrule Lenihan
Cowen denied overruling Lenihan at the meeting. The latter had wanted to nationalise Anglo and extend a bank guarantee to the other banks. However, he later changed his mind.
He noted that nationalisation "doesn't solve all the problems" as it would have meant the State permanently taking on Anglo's liabilities. He said the conversation between the two men wasn't in any way "adversarial or confrontational".
Golf with Seán Fitzpatrick

Sinn Féin's Pearse Doherty asked Cowen about a golf trip he went on with with former Anglo director Fintan Drury and former Anglo chairman Seán FitzPatrick at Druids Glen in Co Wicklow in July 2008.
Cowen said he contacted Drury about setting up a meeting to discuss the economy before he went on holidays, recalling telling him: "I haven't had a break in a long time."
Cowen said Drury set up an "informal" golf outing with FitzPatrick and others and he had "no problem" with this. He noted that some people have drawn "conspiracy theories" from the meeting, but said they didn't discuss Anglo.
"As God as my witness … I wasn't discussing banking, I was discussing the economy," he said.
The 'least worst' option
Cowen said the bank guarantee, which was decided as the course of action at a late-night meeting on 29 September 2008, Cowen said the situation "has to be viewed in the context of what the situation was on that night and what was at stake".
Irish banks, as was the case everywhere else, were finding it hard to access cash to meet day-to-day operational requirements. There was huge turbulence not only in the money markets but in the wider stock market which was reinforcing the diminishing confidence within the financial system.
#Open journalism No news is bad news Support The Journal

Your contributions will help us continue to deliver the stories that are important to you

Support us now
"We knew over the weekend of 27/28 September that Anglo and Irish Life & Permanent were going to find it hard to get through the following week in terms of having cash to conduct their day-to-day business."
Cowen noted that John Hurley, then Central Bank governor, told the meeting Anglo Irish Bank lost €2 billion in deposits that day, and expected a similar situation the following day.
"The issue was going to have to be addressed immediately," he said.
Cowen said the situation in the country at this time was so volatile it was like the great crash of Wall Street in 1929.
He recalled that Kevin Cardiff, assistant secretary of the Department of Finance being "of the view that a nationalisation of Anglo and a guarantee for the rest of the banks was his preference".
"He accepted it was a judgment call and there was no single right answer to our dilemma."
Eventually I put it to the table that it seemed to me that a full guarantee option provided the best prospects of addressing the urgent liquidity problem and of sending a clear message that Ireland was standing behind the financial system which would be understood by the markets.
We hadn't much room to manoeuvre. It would have the benefit of being an impactful measure which could solve the immediate and pressing problem.
Cowen added that the position of the ECB (of which Hurley was a member of the governing council) was that "no bank was to be allowed fail because of the contagion effects that could ensue in the euro area".
"In other words there could be no Lehman Brothers-type event in the euro area."
Originally published: 9.53am