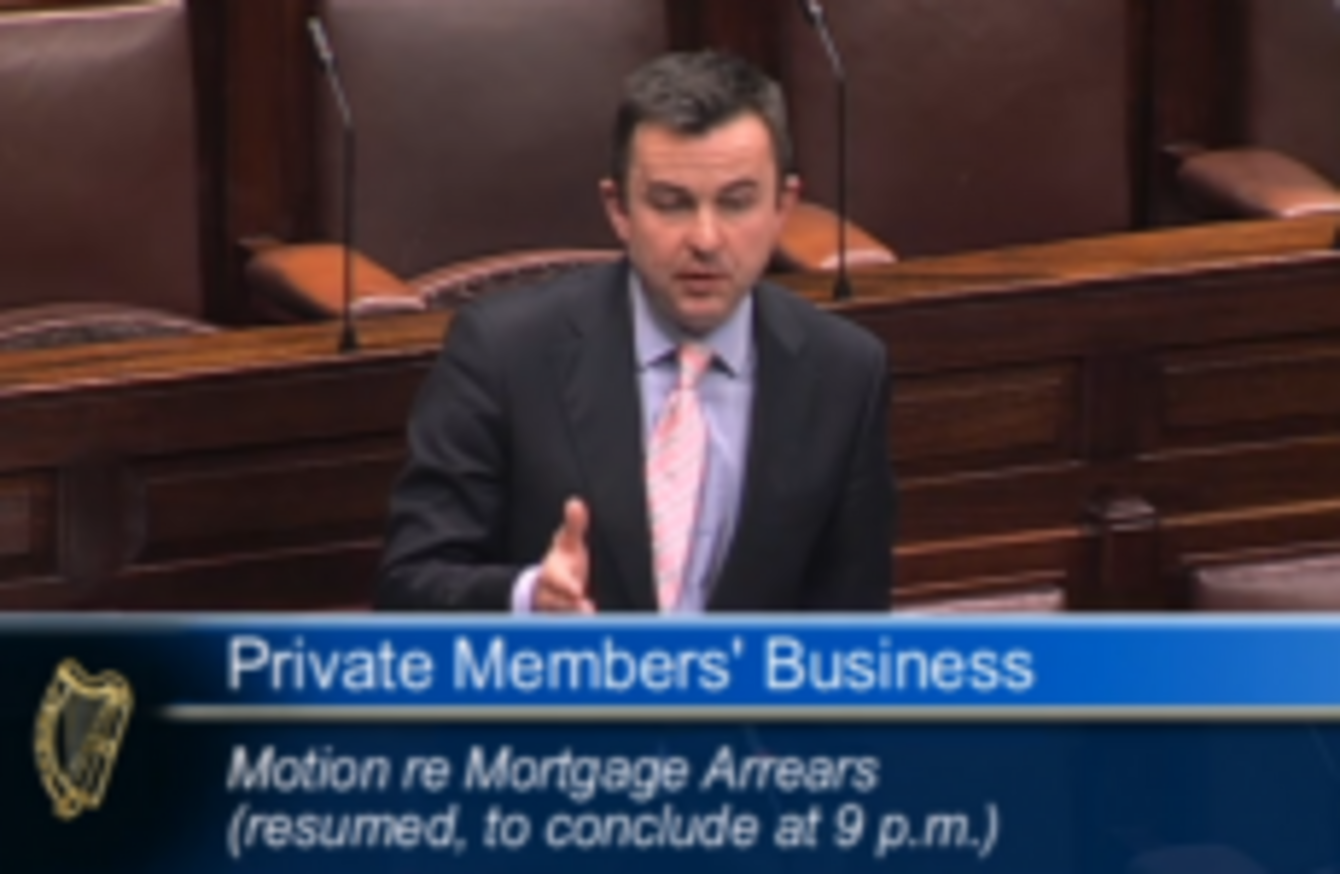 Minister of State at the Department of Finance, Brian Hayes, speaking in the Dáil this evening.
Image: Screengrab
Minister of State at the Department of Finance, Brian Hayes, speaking in the Dáil this evening.
Image: Screengrab
JUNIOR FINANCE MINISTER Brian Hayes has admitted that the banks have "hoodwinked" the current government as well as previous administrations as the Dáil debated the issue of mortgage arrears and personal insolvency this evening.
A private members' motion put forward by Fianna Fáil's Michael McGrath was easily defeated by the government's majority – 76 to 42 votes – as Hayes outlined the strategy to tackle mortgage arrears crisis which sees some 94,000 homes in arrears of 90 days or more.
"This is the seminal issue of the time," Hayes told deputies.
"There are many issues that will define this country's come back which are out of our hands… but this is an issue entirely in our hands. It's an issue we can resolve ourselves."
He admitted there had been "considerable frustration" within government at the slow progress the banks were making in dealing with customers in mortgage difficulties but said the government had a strategy which it hoped would see half of these cases dealt with by the end of the year.
Hayes said "we'll soon know whether our strategy is working" and added he had a "very open mind" as to whether the banks will achieve the targets set down for them by the Minister for Finance earlier this month.
He added: "They hoodwinked this government and the previous government in the past and we should be critical as to whether or not they achieve the targets we've now set them."
Earlier the debate heard from a number of Fianna Fáil TDs. The party's motion had principally sought to remove the ability of banks to veto the personal insolvency regime as well as create a Mortgage Resolution Office.
Fianna Fáil deputy Timmy Dooley raised the issue if suicide saying a "considerable number of people" had taken their own lives because of the financial pressure they are under.
"The mental health issue is one of the most serious issues which we have to deal with it," he said.
#Open journalism No news is bad news Support The Journal

Your contributions will help us continue to deliver the stories that are important to you

Support us now
Cork-based TD Billy Kelleher took issue with a speech on the same motion by Justice Minister Alan Shatter last night which attacked the record of the previous Fianna Fail-led government.
"Minister Shatter has a property portfollio that would put NAMA to shame," he said in a remark that was deemed "not acceptable" by the Ceann Comhairle who urged Kelleher to move on.
"Nobody saw this coming," Kelleher later said of the mortgage arrears crisis.