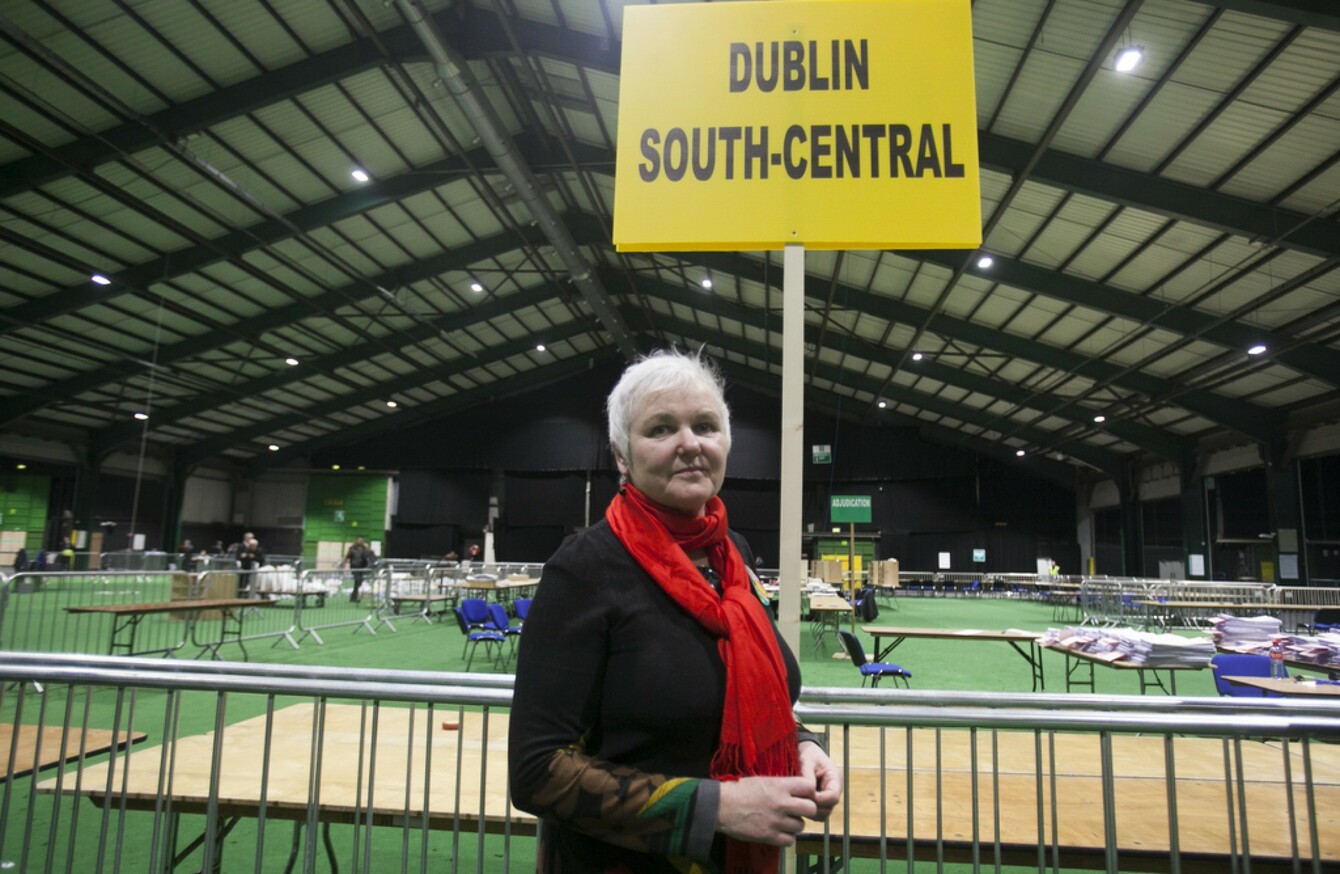 Image: Leah Farrell
Image: Leah Farrell
THE TWO CANDIDATES hoping to claim the last Dáil place in Dublin South Central both reckon the battle could end up the courts.
Councillor Brid Smith of AAA-PBP was 35 votes ahead of Fianna Fáil councillor Catherine Ardagh when the final result was read out on Saturday night.
A full recount was requested by Fianna Fáil and completed yesterday.
Representatives from both sides went over disputed votes last night, and that process is set to get under way again this afternoon at the RDS.
Neither side were willing or able to give an estimate on how long the process might take. Both candidates said recourse to the courts remained a possibility.
160 ballots will be pored over by the two candidates, their teams and the returning officer this afternoon.
"I'm going wait and see what happens," Ardagh told TheJournal.ie at the RDS today.
Once they're adjudicated, depending on the result, we'll make a decision whether to concede.
On the other hand, she stressed that "it may be the case that they break two to one in my favour".
Once today's talks come to an end "we'll have to look at whether or not the result of the adjudicated ballots affects the outcome of the count – and if they affect the outcome of the count in my favour there might be a case for considering a petition in the Circuit Court – but that's very much a hypothetical situation".
She stressed that following on from yesterday's recheck of preferences:
I would like to see a proper recount where votes are thrown up in the air and counted again, just because it will have a massive effect on the transfers.
Smith, also speaking at the count centre, said the returning officer was making every effort to be open and fair, while stressing:
The main reason we're doing it again is because Catherine Ardagh's team are insisting on doing it again.
Smith said that 60 of the flagged votes were "more or less decided yesterday, they're not valid for either side – and some of them would be mine and some of them would be hers".
There's some they want to make submissions on so we're looking at the whole 160 again.
Smith, who had a lawyer in tow (Fianna Fáil had a few too) said the whole process had been "very educational for everybody who supports me in the constituency".
Other recounts and checks
Elsewhere in the RDS, a full recount of votes in Dublin Bay North – dubbed the 'group of death' – is also under way today.
And outside of Dublin, there is one constituency yet to finalise its TDs.
In Longford-Westmeath, where Fianna Fáil's Connie Gerety-Quinn requested a recount, counters began their day at 3pm in the Kenagh Community Centre.
Kevin 'Boxer' Moran, an independent, is a sure bet to join Robert Troy in the 32nd Dáil but who will take the remaining two seats remains unclear after 12 counts.
At 8.30pm, the recount results were confirmed and Connie Gerety-Quinn was eliminated.
The count moves on now as her 5,917 votes are distributed. They'll be there for another few hours yet.
Earlier today, Wexford wrapped up a battle for the final two seats after James Browne, Brendan Howlin and Mick Wallace all got home safe over the weekend.
Sinn Féin had called for the recount as only a hair's breadth (52 votes) separated party candidate Johnny Mythen and Fine Gael's Paul Kehoe.
That recount got underway at 10am with Mick Wallace's votes being rechecked. Eventually Paul Kehoe and Michael D'arcy – both Fine Gael – were elected.