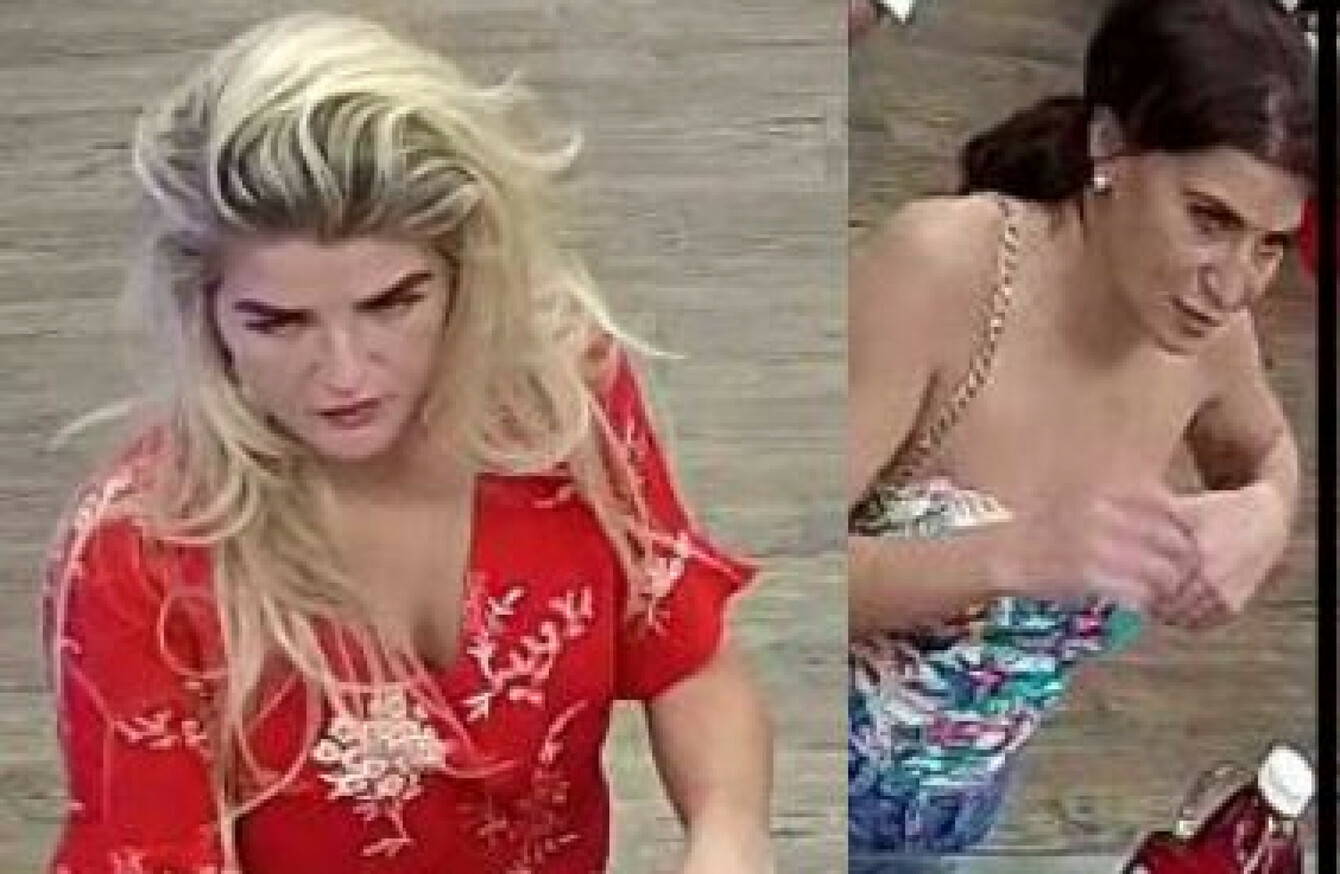 Image: Queensland Police
Image: Queensland Police
POLICE IN AUSTRALIA have held a press conference as part of an appeal for information about 'Irish scammers' who it is alleged have been responsible for a spate of offences across the Gold Coast region.
Queensland Police are investigating 12 separate complaints which have occurred since January involving nine people, all believed to be "Irish tourists".
The force has released images of a number of men and women who may be able to assist with their investigations.
"We have a number of allegations in regard to what we believe to be Irish tourists who are believed to be involved in or suspected to be involved in a number of scams in the Brisbane and Gold Coast areas," Detective Superintendent Tony Fleming told a media briefing yesterday.
We have a group of males and group of females, there's a suspicion about whether they're connected or not, but we're working on that.
"I need to make it clear that everyone is innocent until proven guilty, but we have a number of allegations and we have an investigation in place. No one has yet been put before the courts," he added.
Some of the complaints being investigated by police include the theft of money and goods from retail stores.
In restaurants, there are allegations that the individuals have been obtaining free food and beverages from restaurants by claiming that foreign objects, such as glass, are in their food.
Other complaints relate to a group of men who have been offering discounted repairs to driveways and roofing before allegedly carrying out sub-standard work or not carrying out the work at all.
Fleming told the press conference that some of the allegations included elderly persons being defrauded of sums in between $6,000 to $25,000.
There is also an allegation of assault.
"The females, which are believed to include some children, have targeted some retail stores in a number of ways and have tricked or confused store attendants and the allegations include stealing and trickery in order to obtain a benefit," Fleming said.
On 30 January, two women distracted a staff member in a city store and the allegation is that the child associated with them stole some shoes and placed them in a pram.
In general, Fleming said that the individuals appear to be targeting "small businesses and the elderly".
"They are good at creating diversions, distractions or disruptions to either steal goods or demand goods and services for free. They are aggressive and usually work in groups of two or more," Fleming said.
Social media
Police said there have been numerous complaints alleging scamming by people with Irish accents in a short period and they are encouraging people to contact police and not merely post about alleged incidents on social media.
"I need to say at the outset that there's been a lot of allegations around a particular group of people, what we know from experience is that what we can prove can often be a different matter," Fleming said.
He added that he would encourage the individuals themselves to get in touch:
We do have some serious allegations and we'd very much like to hear their side of the story. So if the people are hearing the media today, we would encourage them to ring 131-444 or go into any police station.
Australian media has been reporting extensively about the allegations and a number of reporters asked the detective superintendent how the individuals had not yet been caught.
"There's a bit of an art and craft to this and they're highly mobile, they generally don't stay in one place too long. My experience tells me they're generally alert to the practices of police," Fleming said.
Based on the CCTV, they don't seem to be concerned about being seen or detected. So either they haven't done anything wrong, or they're incredibly brazen and they have no respect for the law. And more importantly they don't have any respect for people in the community.
Queensland Police says it is taking the allegations seriously and now has a dedicated team working on the case.
Police have also been working with the Australian Border Force to see if the individuals can be deported if they are caught and the allegations are proven.
Comments have been closed due to the high number of flagged comments.