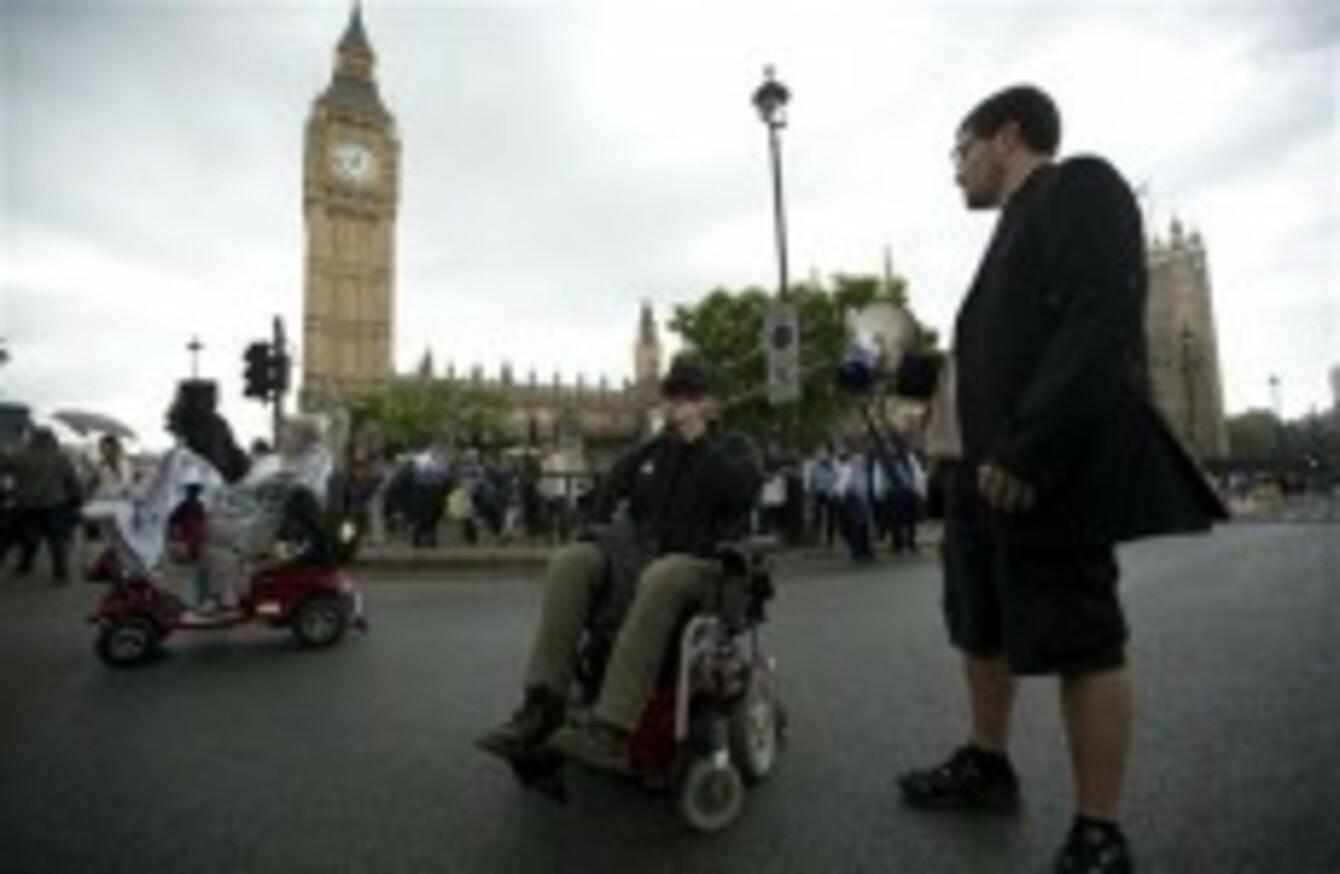 Protestors take part in a "Disabled People Against Cuts" anti-austerity protest to coincide with British Chancellor of the Exchequer George Osborne delivering the budget to the Houses of Parliament in London
Protestors take part in a "Disabled People Against Cuts" anti-austerity protest to coincide with British Chancellor of the Exchequer George Osborne delivering the budget to the Houses of Parliament in London
BRITAIN WILL LOOK to save £37 billion (€51 billion) over the next five years as part of a new austerity drive announced in the House of Commons today.
Delivering the first completely Conservative Budget since 1996, Chancellor George Osborne announced a rash of spending cuts, evoking the plight of Greece as he did so.
"This is a Conservative budget that can only be delivered because the British people trusts us to finish the job," said Osborne, who now has a free hand with the public finances after a tense five-year coalition with the centrist Liberal Democrats.
He warned Britons that the road to recovery was not yet fully travelled and said the budget would transport Britain "from a low wage, high tax, high welfare economy, to the higher wage, lower tax, lower welfare country we intend to create".
Setting out the first segment of the fiscal adjustment, Osborne said that the Tories had found savings of £12 billion from welfare and £5 billion from tackling tax evasion.
He said that the other £21 billion will come from savings and cuts across government departments.
Back in black
Under the plan, the public purse is expected to shift to a surplus by 2019/2020, which is a year later than predicted at the time of the last budget presented in March.
Osborne also confirmed there would be no change to income tax thresholds or VAT for at least five years, but announced sweeping cuts to welfare programmes.
He said the country will cap child tax credits and universal credit support at two children for new claimants, slash in-work tax credits and housing benefits.
He will cap annual welfare payments at £23,000 per household in London, against the current level of £26,000. The amount will be set at £20,000 outside the capital.
He also axed student grants for poorer people, replacing them with a loan system, announced a "Learn or Earn" scheme for those aged 18-21, froze public sector pay and
Corporation tax, levied on business profits, will be reduced from 20% to 19% in 2017 and 18% by 2020.
A living wage of £9 an hour will be phased in by 2020.