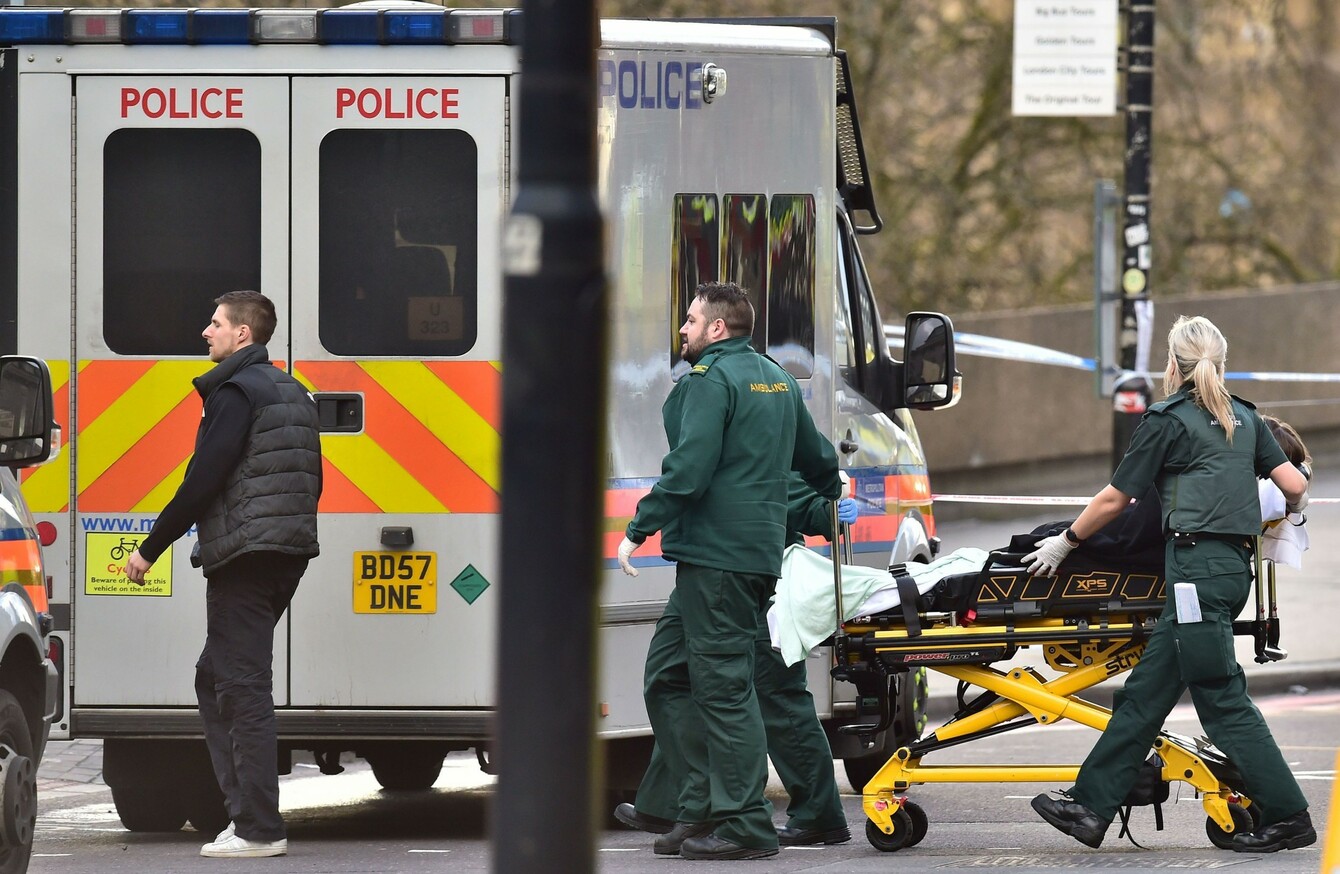 Image: Dominic Lipinski PA Wire/PA images
Image: Dominic Lipinski PA Wire/PA images
Updated 12.35pm
THE ISLAMIC STATE group has claimed responsibility for the terror attack that occurred in central London yesterday, according to the Amaq agency that is linked with the jihadist organisation.
"The perpetrator of yesterday's attack in front of the British parliament was a soldier of the Islamic State and the operation was carried out in response to calls to target coalition countries," Amaq said citing a "security source".
In the wake of yesterday's terror attack in Westminster, London, armed police conducted a raid at a flat in the city of Birmingham overnight that is believed to be linked with the attack which saw four people killed and 40 injured.
Dozens of officers conducted the operation outside a property in Hagley Road, and several roads in the immediate area were closed, reports Sky News.
Britain's top counter-terrorism officer Mark Rowley confirmed that six addresses in Birmingham, London and other parts of the country had been searched and seven arrests had been made.
"It is still our belief that this attacker acted alone, and was inspired by international terrorism," he said.
Rowley said the four victims included a policeman guarding parliament and three members of the public. One of the dead includes the attacker who was shot dead by police.
Seven people are still described as being in a critical condition in hospital. 29 people in total remain in hospital.
Speaking several hours after the attack, British Prime Minister Theresa May described the attack as "sick and depraved".
After an emergency meeting of her cabinet, May said Britain's terror alert level would remain unchanged at its highest level.
She added: "We will all move forward together, never giving in to terror and never allowing the voices of hate and evil to drive us apart."
Defiance
Britain's parliament reopened today with a minute's silence in memory of three people killed in the attack on the symbol of the country's democracy.
With MPs projecting an air of "business as usual," armed police arrested eight people in raids linked to yesterday's deadly assault carried out in the shadow of Big Ben that sowed panic in the heart of London.
As MPs resumed business, police officers lined up outside their Scotland Yard headquarters nearby for a minute's silence in front of the eternal flame to those officers who have given their lives in service.
A packed parliament paid tribute, heads bowed.
"We are not afraid and our resolve will never waver in the face of terrorism," said a defiant May.
The attack in London came a year to the day after Islamic State jihadists killed 32 people in twin bomb attacks in Brussels.
With reporting from Sean Murray and AFP