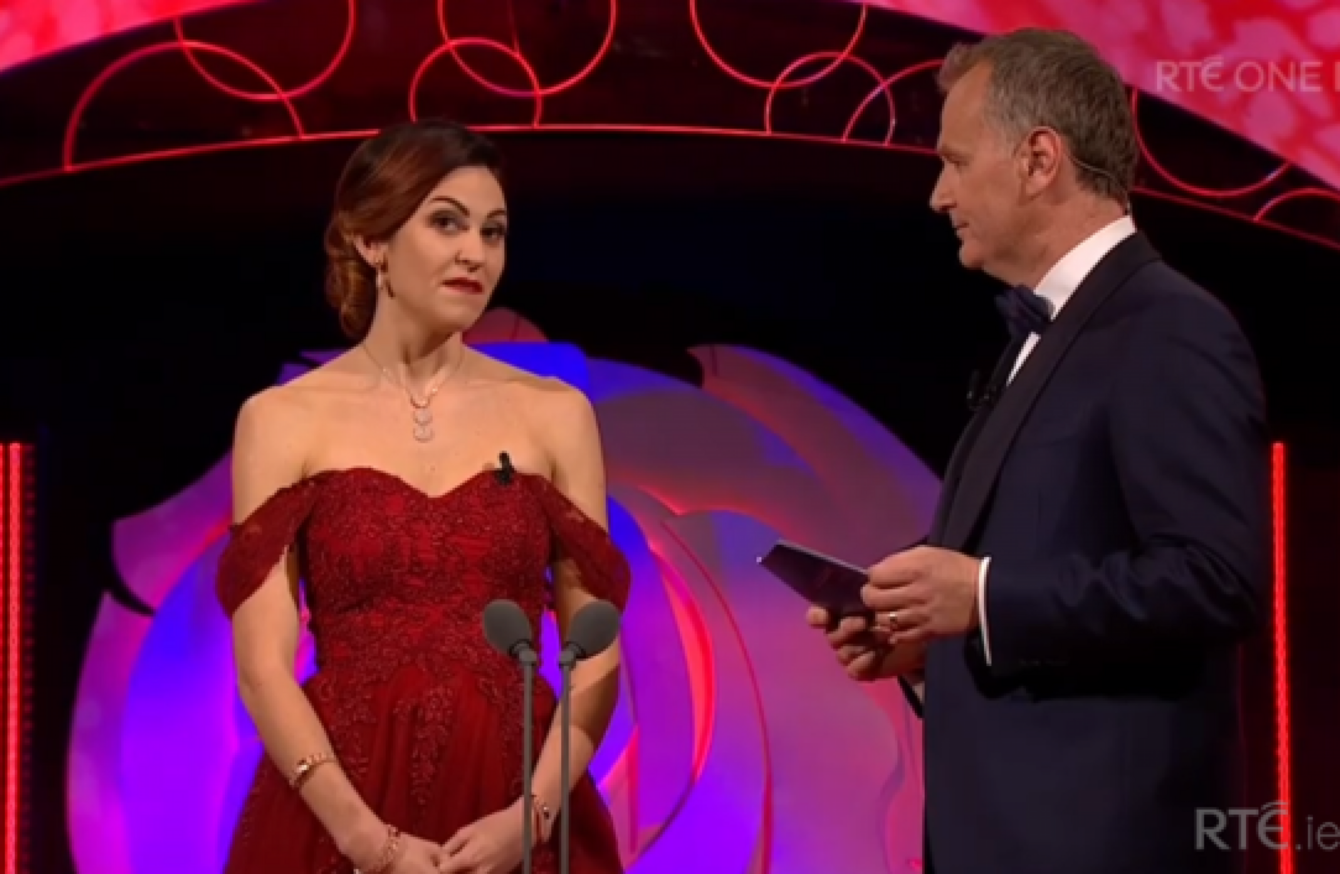 The Sydney Rose on the Rose of Tralee last August.
Image: RTÉ
The Sydney Rose on the Rose of Tralee last August.
Image: RTÉ
FIVE COMPLAINTS AROUND a Rose of Tralee contestant insulting Irish Mass have been rejected by the Broadcasting Authority of Ireland.
Two complaints around a separate contestant expressing her support for a referendum to be held on the Eighth Amendment of the Constitution were also rejected.
During last August's Rose of Tralee the North Carolina Rose gave her views on Irish Mass.
Three complainants took issue with her description of mass during her interview segment and the conversation that followed with the presenter Dáithí Ó Sé.
In the segment, the Rose - Maigan Kennedy – describes her experience as a North American Protestant attending a Roman Catholic mass.
She lightheartedly describes mass as "like a gym, and at the end the priest gives you a biscuit". Ó Sé then questions – "was it gluten-free?"
Five complainants took issue with this description of Mass, claiming that it was insulting to the Catholic religion.
One complainant stated that the Rose was "allowed to ridicule, make fun of and generally rubbish the Irish Roman Catholic Mass".
Another said that referring to the Eucharistic Host as a biscuit "should not have happened" and that it was "inexcusable".
Another said the segment was an "abuse of free speech" and an "insult to Irish Catholics who believe in God's teachings".
In its ruling, the BAI found that the segment was in keeping with the "style of the programme" and that the Rose's comments were "irreverent and humourous".
The BAI found that while people may have been offended, the Rose's comments were not:
of a nature that they would cause widespread offence and could be considered to stigmatise, support or condone discrimination against people on the basis of their religion.
The Eighth Amendment
Two complaints were also rejected by the BAI to do with a separate interview segment with the Sydney Rose the previous night.
In this case, the Sydney Rose – Brianna Parkins – made comments around a referendum being held on the Eighth Amendment of the Constitution.
In her interview segment, Parkins said:
I think it's time we give women a say on their own reproductive rights and I would love to see a referendum on the 8th coming up soon.
The comments sparked a lot of debate at the time, with Parkins winning praise from some quarters, but also being criticised from festival judges.
In its ruling, the BAI found that the comments were Parkins' "personal opinion made in the context of a light entertainment interview whose focus was on her character and her interests".
The Committee also found in its ruling that the presenter (Ó Sé) "did not specifically elicit her views on the topic of Ireland's abortion laws nor did he pursue this topic further".