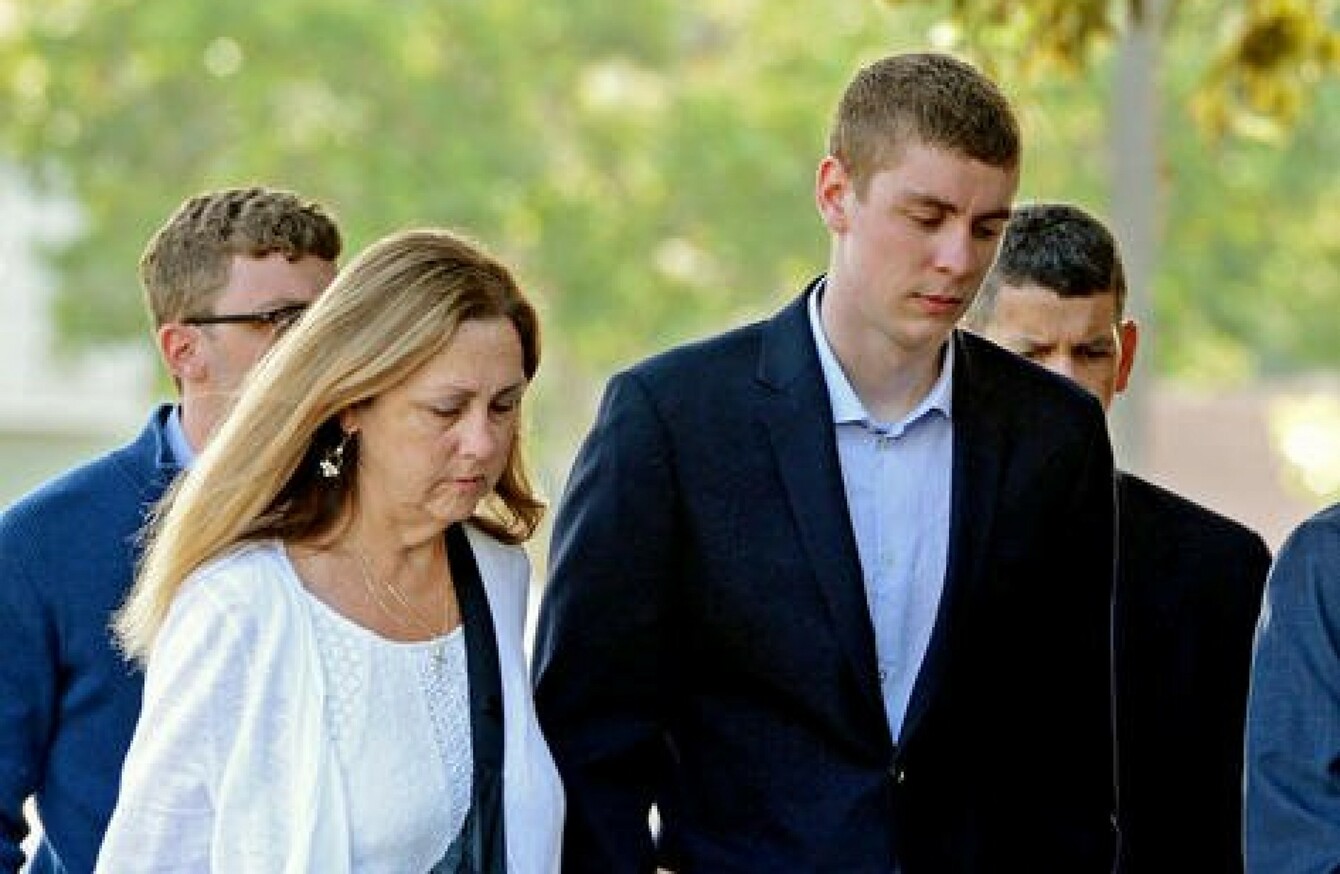 Brock Turner, right, makes his way into the Santa Clara Superior Courthouse in Palo Alto, California.
Image:
(Dan Honda
/Bay Area News Group via AP, File)
Brock Turner, right, makes his way into the Santa Clara Superior Courthouse in Palo Alto, California.
Image:
(Dan Honda
/Bay Area News Group via AP, File)
ONE OF THE Stanford University graduate students who stopped a sexual assault on an unconscious woman says he saw a former swimmer "aggressively thrusting his hips into her."
Carl-Fredrik Arndt tells CBS News that he and his friend stopped the January 2015 attack after they happened to ride by on bicycles.
Arndt says the 23-year-old woman was unconscious the entire time because he checked her and she "didn't move at all."
He says Brock Turner ran away when the pair said the woman wasn't moving, and his friend chased him down.
The guy stood up then we saw she wasn't moving still. So we called him out on it. And the guy ran away, my friend Peter chased after him.
The 20-year-old Turner was convicted in the attack and sentenced last week to six months in jail and three years' probation, sparking international outrage from critics who said it was too lenient.
The case made headlines when a powerful victim impact statement was shared by Buzzfeed.
He had told the court he ran because he thought he was being attacked and that the victim consented.
Character
Criticism has also been levelled at Turner's father, who pleaded with the court for leniency for his son.
"(Brock) will never be his happy go lucky self with that easy going personality and welcoming smile," Dan Turner told the court in his statement, which was made public on Monday.
His life will never be the one that he dreamed about and worked so hard to achieve.
"That is a steep price to pay for 20 minutes of action out of his 20 plus years of life."
An online backlash has also sprung up against a childhood friend of Turner's. Leslie Rasmussen, the drummer with indie band Good English, wrote a character reference for Turner in which she said the incident was a "misunderstanding".
"I am not blaming her directly for this, because that isn't right," Rasmussen wrote.
But where do we draw the line and stop worrying about being politically correct every second of the day and see that rape on campuses isn't always because people are rapists.
She said the case was "completely different from a woman getting kidnapped and raped as she is walking to her car in a parking lot".
Rasmussen defended the statement on the band's now-deleted Facebook page, saying that her statement was more about alcohol misuse.
I know that Brock Turner was tried and rightfully convicted of sexual assault. I realize that this crime caused enormous pain for the victim. I don't condone, support, or sympathise with the offense or the offender. I was asked by a court in California to provide a character statement as a standard and necessary part of the sentencing process.
The band has been dropped from festival appearances and gigs in the US.