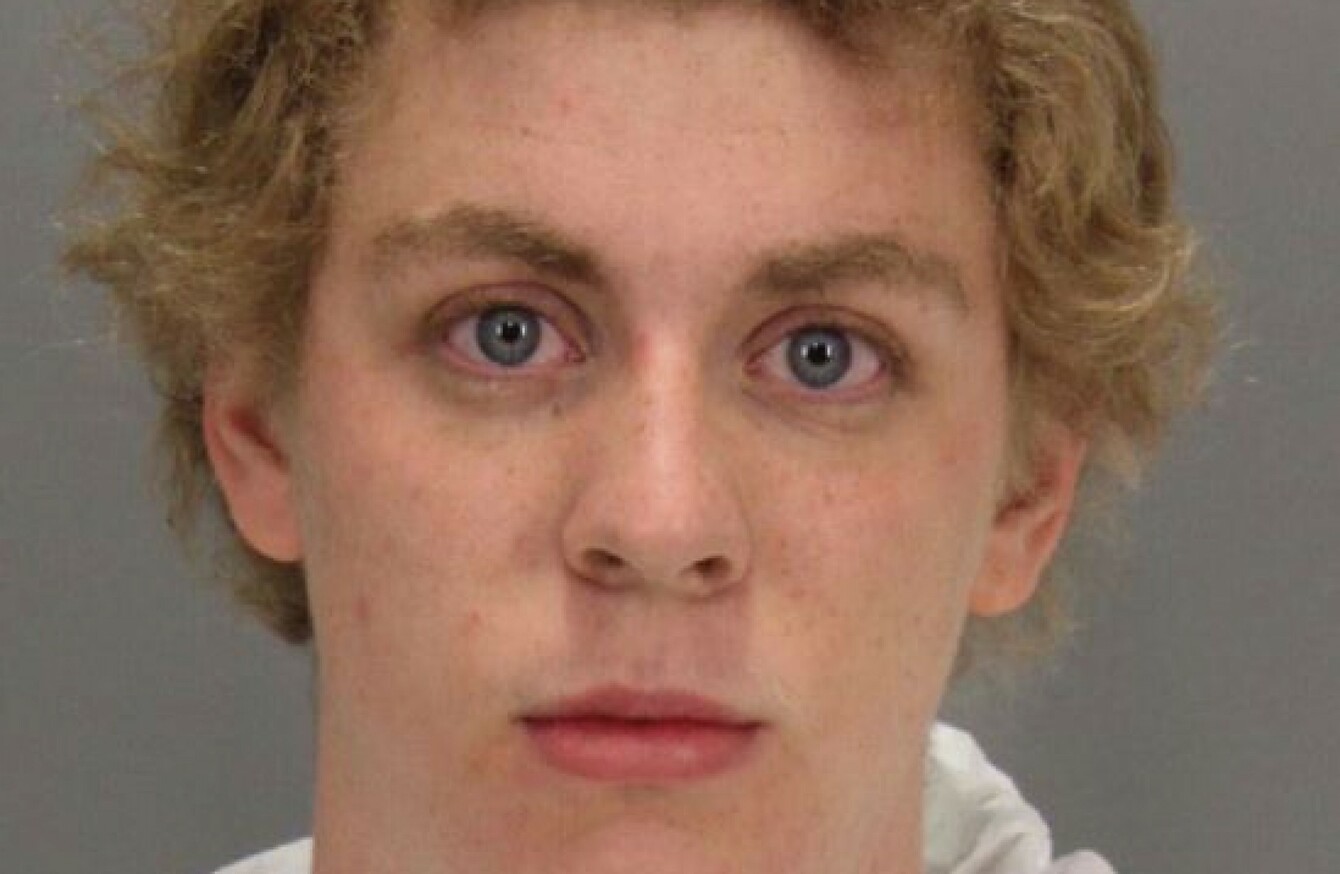 Image: AP/Press Association Images
Image: AP/Press Association Images
BROCK TURNER IS set to be released from prison today after serving half of a six-month sentence for sexually assaulting an unconscious woman behind a dumpster in 2015.
The former Stanford University student was convicted of three felony sexual assault charges, including assault with the intent to commit rape, in March.
The Ohio native is being released three months early due to "good behaviour". Turner tried to flee the scene of the assault, but students tackled and pinned him down until police arrived. He faced a maximum of 14 years in prison.
The lenient sentence sparked outrage in the US and beyond, with calls for Judge Aaron Persky to be impeached.
During the trial, Persky spoke of the negative effect the conviction would have on Turner, who had been attending Stanford on a swimming scholarship.
The judge will no longer oversee criminal cases, at his own request. Efforts to remove him from the bench are still moving forward.
Letter
Turner's victim released a powerful letter in June about her experience, via Buzzfeed News.
She wrote: "He has done irreversible damage to me and my family during the trial and we have sat silently, listening to him shape the evening. But in the end, his unsupported statements and his attorney's twisted logic fooled no one. The truth won, the truth spoke for itself.
My life has been on hold for over a year, a year of anger, anguish and uncertainty, until a jury of my peers rendered a judgment that validated the injustices I had endured. Had Brock admitted guilt and remorse and offered to settle early on, I would have considered a lighter sentence, respecting his honesty, grateful to be able to move our lives forward. Instead he took the risk of going to trial, added insult to injury and forced me to relive the hurt as details about my personal life and sexual assault were brutally dissected before the public. He pushed me and my family through a year of inexplicable, unnecessary suffering, and should face the consequences of challenging his crime, of putting my pain into question, of making us wait so long for justice.
US Vice President Joe Biden wrote an open letter to the woman after reading her words, telling her: "I am in awe of your courage for speaking out — for so clearly naming the wrongs that were done to you and so passionately asserting your equal claim to human dignity.
And I am filled with furious anger — both that this happened to you and that our culture is still so broken that you were ever put in the position of defending your own worth.
During the trial, Turner's father pleaded with the court for leniency for his son, saying: "[Brock] will never be his happy-go-lucky self with that easygoing personality and welcoming smile.
"His life will never be the one that he dreamed about and worked so hard to achieve. That is a steep price to pay for 20 minutes of action out of his 20 plus years of life."
This week Californian lawmakers passed legislation that will impose mandatory prison sentences for those convicted in sexual assault cases — including instances in which the victims were unconscious or too intoxicated to consent.
- Contains reporting from AP