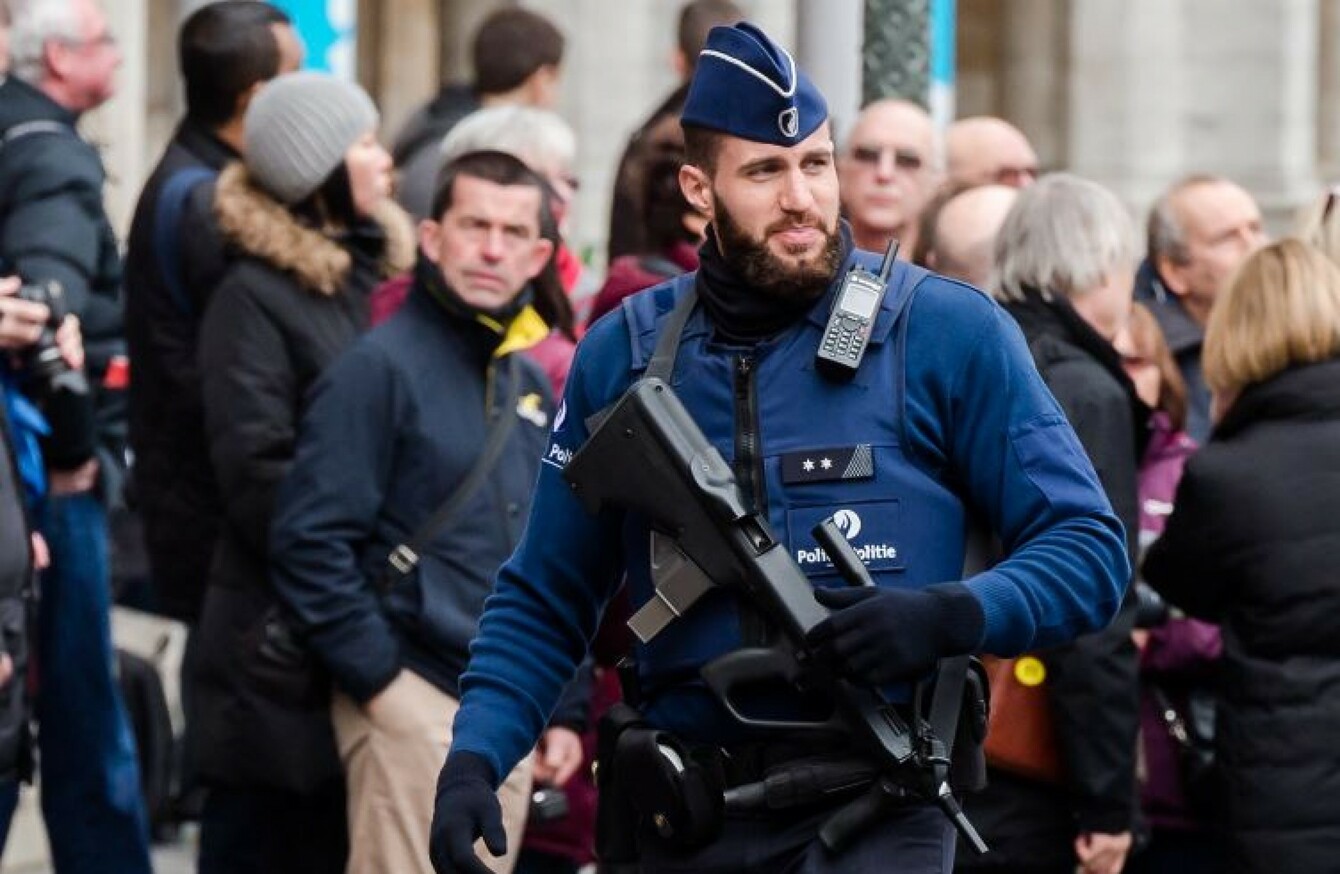 An armed police officer patrols the Grand Place in Brussels yesterday.
Image: PA
An armed police officer patrols the Grand Place in Brussels yesterday.
Image: PA
Updated 12.01pm
SIX PEOPLE ARE being questioned in Belgium over an alleged plot to launch attacks during New Year's Eve celebrations in Brussels.
The annual event with fireworks and entertainment in the heart of the capital was cancelled amid security fears. The city remains on high alert over a possible terror threat.
The suspects were detained following several police raids, the prosecutor's office said in a statement. A total of eight people are now held in the case, including two men who have been formally charged.
"Unfortunately we have been forced to cancel the fireworks and all that was planned for tomorrow evening and that would have brought a lot of people together in the centre of Brussels, following a risk analysis by the crisis centre," mayor Yvan Mayeur told Belgian broadcaster RTBF last night.
It's better not to take any risks.
The city has been on high alert since the terror attacks in Paris on 13 November. Several of the perpetrators are believed to have been based in Belgium.
The French capital has also cancelled its fireworks display.
But authorities agreed France's biggest public gathering since the attacks can go ahead on the Champs Elysees avenue, with bolstered security.
"The people of Paris and France need this symbolic passage into the New Year," Paris mayor Anne Hidalgo told weekly Journal du Dimanche.
After what our city has lived through, we have to send a signal to the world.
In Britain, Scotland Yard said there will be around 3,000 officers across central London in what is reported to be an unprecedented anti-terror security effort.
"Our plans are purely precautionary and not as a result of any specific intelligence," said Superintendent Jo Edwards, spokeswoman for Scotland Yard.
The Telegraph reports that all leave has been cancelled for firearms officers.
Fireworks were banned in towns and cities across Italy, in some cases because of a recent spike in air pollution but also because of fears that, in the current climate, sudden loud bangs could cause crowds to panic.
The number of police on duty in Italy has been increased by 30 percent compared to last year although the Interior Ministry stressed: "There has been no specific alert."
In Madrid, thousands of people will flock to Puerta del Sol square, however police will limit the number allowed in to just 25,000.
First published 30 December