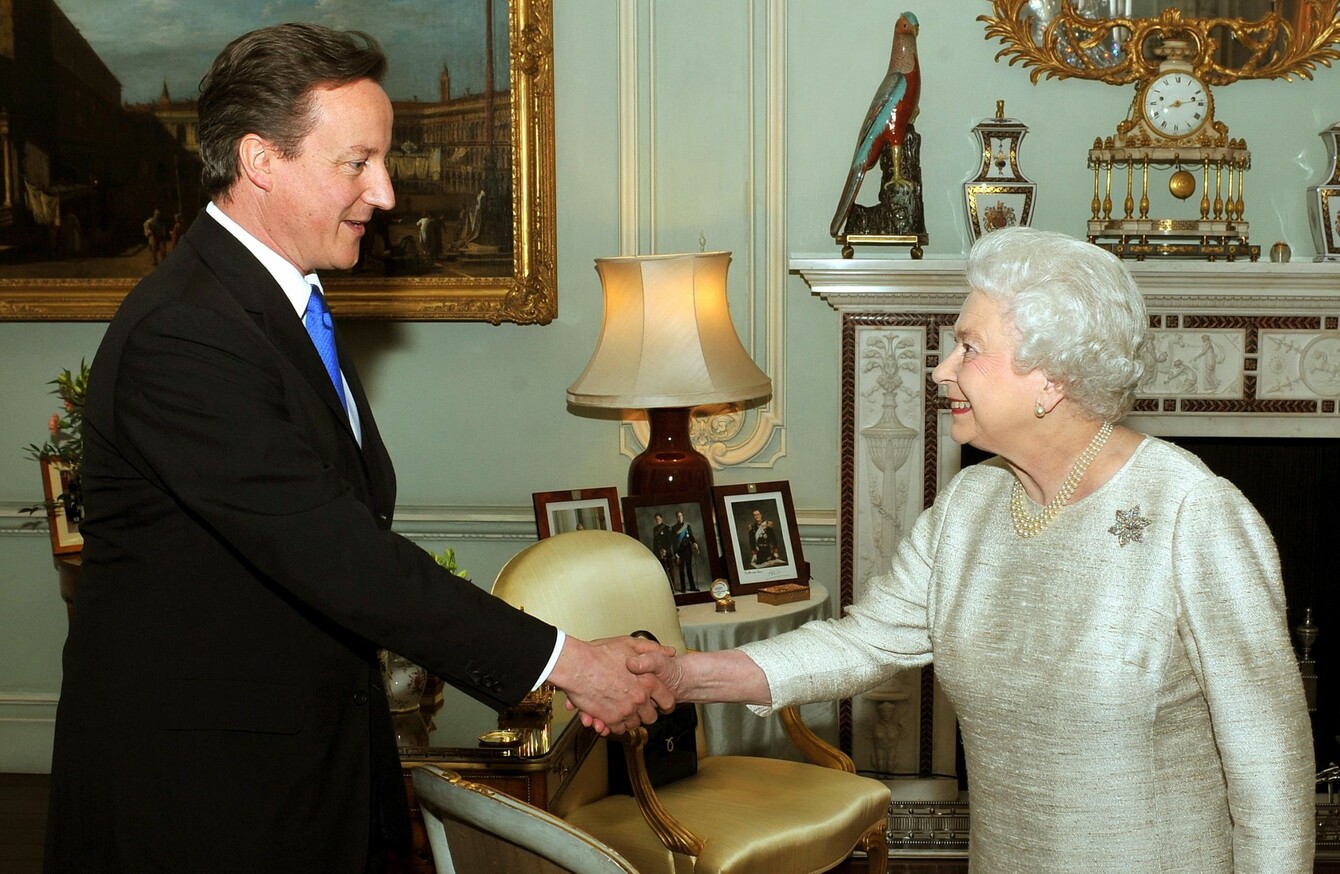 Prime Minister David Cameron in an audience with Queen Elizabeth II in May 2010.
Image: PA Wire/PA Images
Prime Minister David Cameron in an audience with Queen Elizabeth II in May 2010.
Image: PA Wire/PA Images
BUCKINGHAM PALACE HAS reportedly expressed its "displeasure" at an alleged conversation between former British Prime Minister David Cameron and Queen Elizabeth II that was made public recently.
Cameron has released his memoirs about his premiership, and has been serialising them in opinion columns in The Times. In those memoirs, he called his former colleague Michael Gove "disloyal" and "a foam-flecked Faragist" and described the current Prime Minister Boris Johnson as power-hungry.
As part of an interview promoting his memoirs, Cameron said that he had a conversation with the queen during the 2014 Scottish independence referendum campaign in the days before the vote, when he asked her to "raise an eyebrow" about the prospect of Scottish independence.
I remember conversations I had with my private secretary and he had with the Queen's private secretary and I had with the Queen's private secretary, not asking for anything that would be in any way improper or unconstitutional, but just a raising of the eyebrow, even you know a quarter of an inch, we thought would make a difference.
The queen subsequently said outside a church that was later reported widely, that she hoped "people will think very carefully about the future".
The BBC reports today that it was told by a Buckingham Palace source that "it serves no one's interests" for conversations between the Prime Minister and the queen to be made public.
In an interview on Radio 4′s Today programme today, Cameron was asked about his comments after the result of the Scottish referendum was announced as a rejection of independence, and Cameron said publicly that the queen had "purred down the line". Cameron apologised immediately for those comments.
"I don't want to say anything more about this, I'm sure some people would think it may possibly even be that I have already said perhaps a little bit too much," he said today.
He added that he didn't ask the queen for "anything improper" during the Scottish referendum campaign in 2014.
Buckingham Palace has made no official comment on Cameron's remarks.