Michael Noonan and Brendan Howlin
Image: Sasko Lazarov/Photocall Ireland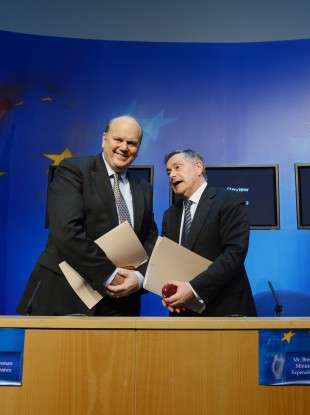 Michael Noonan and Brendan Howlin
Image: Sasko Lazarov/Photocall Ireland
THOUGH THE BUDGET will be held on just one day this year – as opposed to the two-day event last year – Michael Noonan and Brendan Howlin will both deliver speeches, it has been confirmed.
The Department of Finance has said that current plans are for Finance Minister Noonan to speak in the Dáil from 2.30pm next Wednesday, 5 December, delivering much of the taxation side of the budget.
He will then be followed by the Public Expenditure and Reform Minister Brendan Howlin who will deliver the content of the public expenditure and reform aspect of the 2013 Budget.
Both speeches are likely to last around 40 to 45 minutes each bringing the time to around 4pm when the opposition parties are likely to get a chance to respond to the budgetary measures that the government has announced.
Already the government has said that the Budget will see an adjustment of €3.5 billion, comprising of €1.25 billion in taxes and charges and a further €2.25 billion in spending cuts.
Last year the budget, the first of the Fine Gael – Labour coalition, was delivered over a two-day period with Howlin announcing public expenditure and reform measures on the first day and Noonan outlining tax changes on the second.
Earlier this month, Sinn Féin's finance spokesperson Pearse Doherty said that the decision to hold the budget over two days last year was to allow Labour to have its "day in the limelight".
"Now, having realised that this move was a serious political miscalculation they have requested that the budget returns to a single day," he claimed.