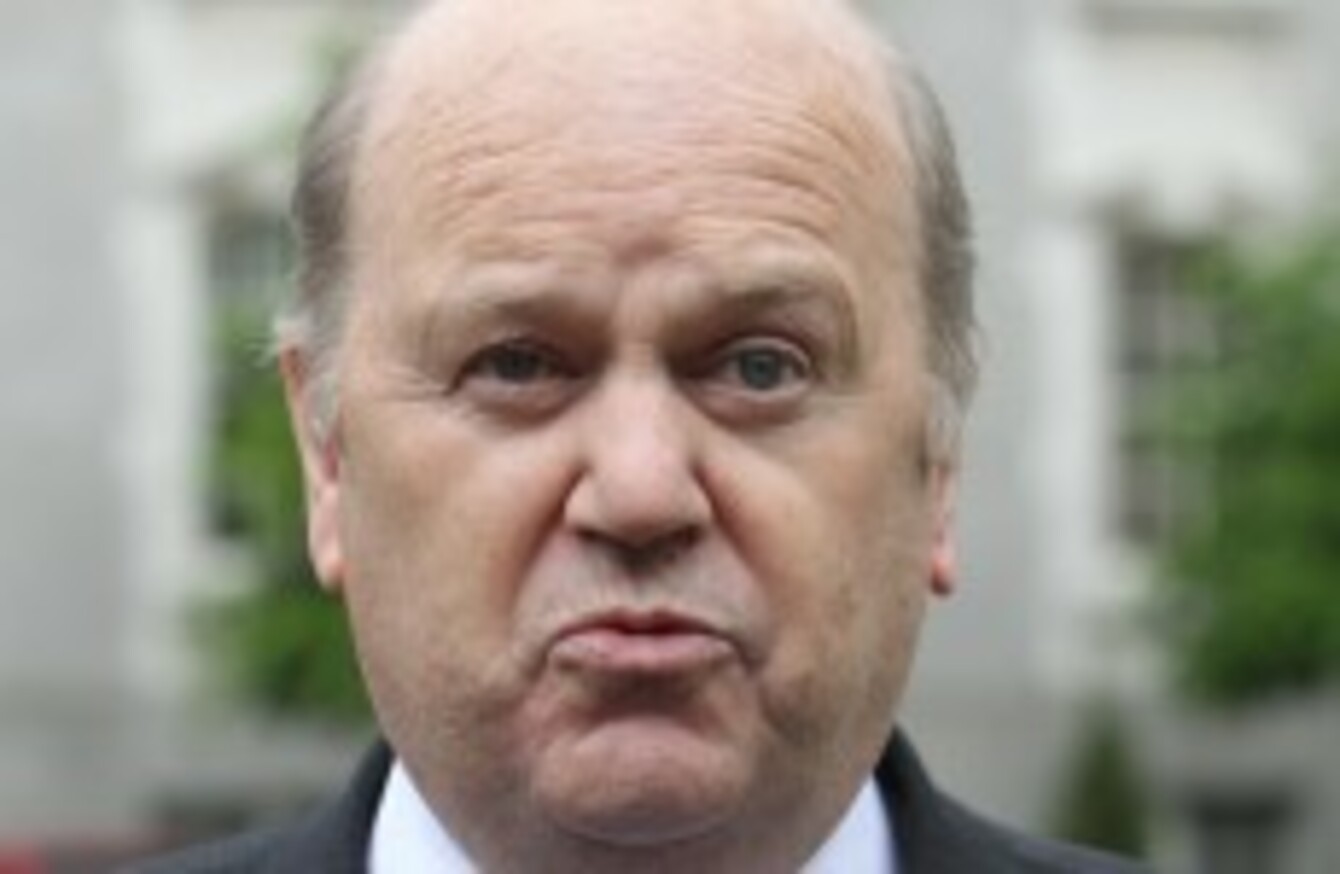 Michael Noonan has lots to think about between now and 14 October.
Image: Sam Boal/Photocall Ireland
Michael Noonan has lots to think about between now and 14 October.
Image: Sam Boal/Photocall Ireland
THERE ARE 66 days to the Budget with much debate still to take place between now and 14 October on what the government should spend and cutback on. One of the key debates will be the level of adjustment i.e. how much money the government will raise from cutbacks and tax rises.
In the first of a series of articles, Dr Daragh McGreal, an economic advisor to the independent TD Stephen Donnelly, assesses the story so far on what the scale of the adjustment should be…
IN THE RUN-up to every budget we hear that the government has to reach a target. Since 2008 it has been about narrowing the difference between Ireland's revenue and its expenditure. So let's go through the numbers for Budget 2015. What's the magic number and how is it decided?
Under EU rules, our deficit cannot exceed 3 per cent of GDP by the end of next year. That's an expected overdraft of about €5 billion.
In theory, we can be fined if we don't meet this target, but this is unlikely. To get there, the government has to either make savings or increase revenue. Nothing new here, this is what Governments have been doing for the past few years.
The Irish Fiscal Advisory Council, which was set up to advise the government on good budgetary policy, said that we should narrow the gap by about €2 billion over the next year. As the economy would grow and our deficit would be €2 billion smaller, we would meet the target of 3 per cent.
So what has changed? Since January we have had stronger than expected economic growth. Unemployment has fallen to 11.5 per cent and tax receipts are up by €500 million.
If things continue like this for another six months, we will be spending less and taking in more than we thought we would. This would mean that the amount needed to reach a deficit of 3 per cent of GDP could be lower than thought.
What could we get away with?
So what's the minimum adjustment we could get away with? Davy Stockbrokers says €1 billion, the Nevin Economic Research Institute says the figure could be €800 million, and IBEC proposes a correction of €200 million. Minister Noonan indicated that an adjustment of around €1 billion is possible.
But other commentators are more cautious about changing the planned budget adjustment. In June the IMF said that the €2 billion adjustment should be made while the OECD said recently that Ireland would miss next year's 3 per cent target even with a €2 billion adjustment.
But the budgetary situation is so tight that the Fiscal Advisory Council said in June that there is "no room to spare" in correcting the gap. We should stick to the €2 billion target as it would reduce risks about repaying our debts, it would bring us in line with EU rules, and it would show international investors that we are reliable debtors.
Sticking to the plan would also give us a buffer in case the economy doesn't grow like we all hope it does. While the ESRI think the economy will grow by 2.6 per cent and the government thinks it will grow by 2 per cent, the European Commission says it will grow by just 1.7 per cent.
But if the €2 billion adjustment is made and the economy grows faster than thought, this could mean an unnecessary adjustment will have been made.
It's a tough call. In the coming weeks Government, Minister Noonan civil servants in the Department of Finance will be mulling it over, trying to figure out what they can get away with.
Dr Daragh Mc Greal is an economist and human rights consultant currently working with Stephen Donnelly TD on Budget 2015 and other policies.
What do you think the Government should aim for?

Poll Results:
A smaller adjustment (1143)
€2bn as recommended (723)
Don't know or don't care (223)
 Let us know what you think in the comments…