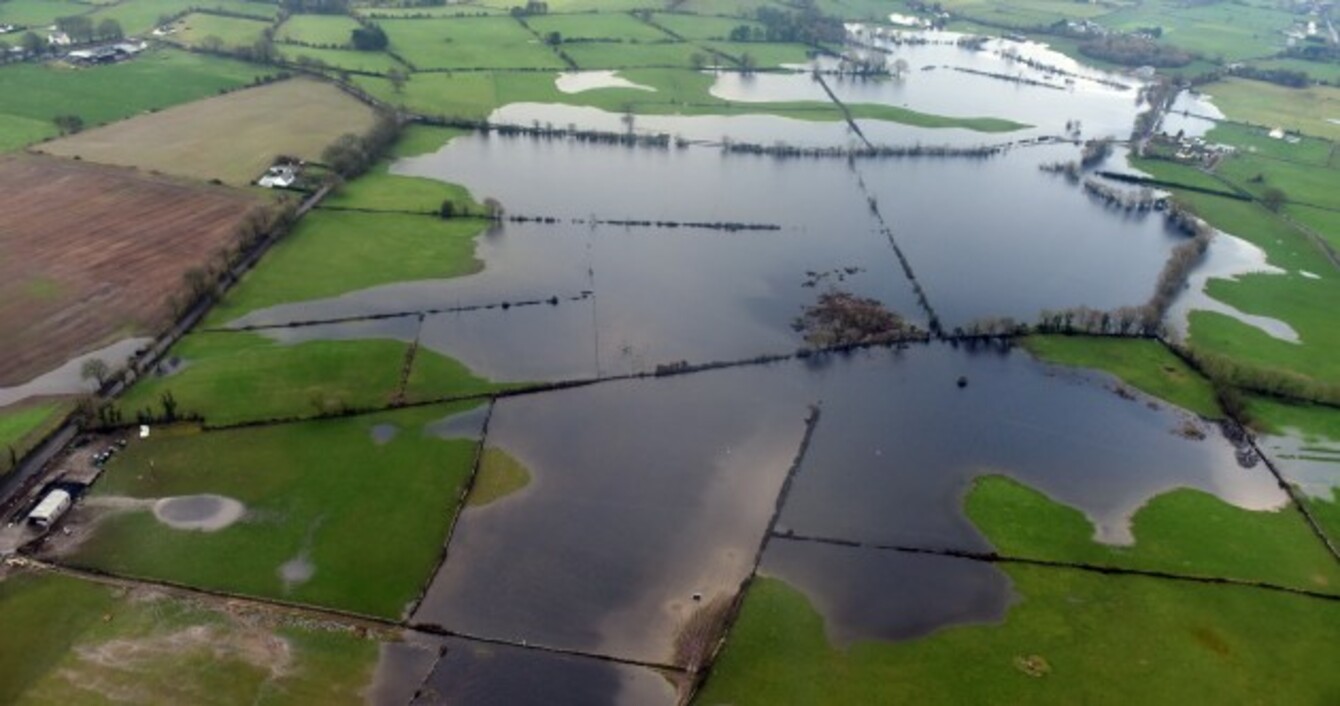 Aerial view of the recent flooding in Ballinasloe, captured by Air Corps personnel.
Image: AirCorps/RollingNews.ie
Aerial view of the recent flooding in Ballinasloe, captured by Air Corps personnel.
Image: AirCorps/RollingNews.ie
AN IRISH RESEARCHER has called for tougher planning restrictions to be put in place so fewer properties are built on flood plains.
Dr Tom McDermott of the School of Economics and the Environmental Research Institute at University College Cork has been working with colleagues from the London School of Economics and Oxford University to examine overpopulation in flood-prone locations.
"As a society we appear to be overly-exposed to flood risk – there are various reasons why developers and house builders do not take full account of flood risk when deciding where to build.
Rising sea levels and more extreme rainfall episodes as a result of climate change will lead to greater flood risk – more frequent flooding of existing flood-prone areas or an expansion of areas at risk.
"At a minimum, tighter planning restrictions are required to prevent new building on existing flood plains," McDermott  said.
He noted that governments bear much of the costs of building and maintaining flood defences and compensating flood victims.
As a result, private developers can build on cheap flood-prone land without bearing the full cost of their actions. Consequently, too many people end up living in these risky areas.
The study looked at the effects of more than 50 large floods – which each displaced at least 100,000 people – in over 1,800 cities in 40 countries (including the US and several countries in South America, Asia and Africa) from 2003-2008.
Over the past 30 years, floods have killed more than 500,000 people worldwide and displaced over 650 million people.
McDermott said the problem is likely to become worse as populations increasingly concentrate in vulnerable urban areas, and climate change brings more intense rainfall episodes and sea level rise.
Last week the cabinet agreed to provide an additional €10 million to local authorities for the cost of clean-up efforts following the recent severe flooding.
The funding is in addition to the €8 million already provided for local authorities, which they have yet to drawn down in full.
Hundreds of homes and businesses were evacuated due to the flooding. The final cost of repairing roads damaged by the floods is expected to reach the tens of millions of euro.
The government has also agreed to extend a €5 million Irish Red Cross compensation scheme for businesses to community and sports centres that were impacted by the flooding.