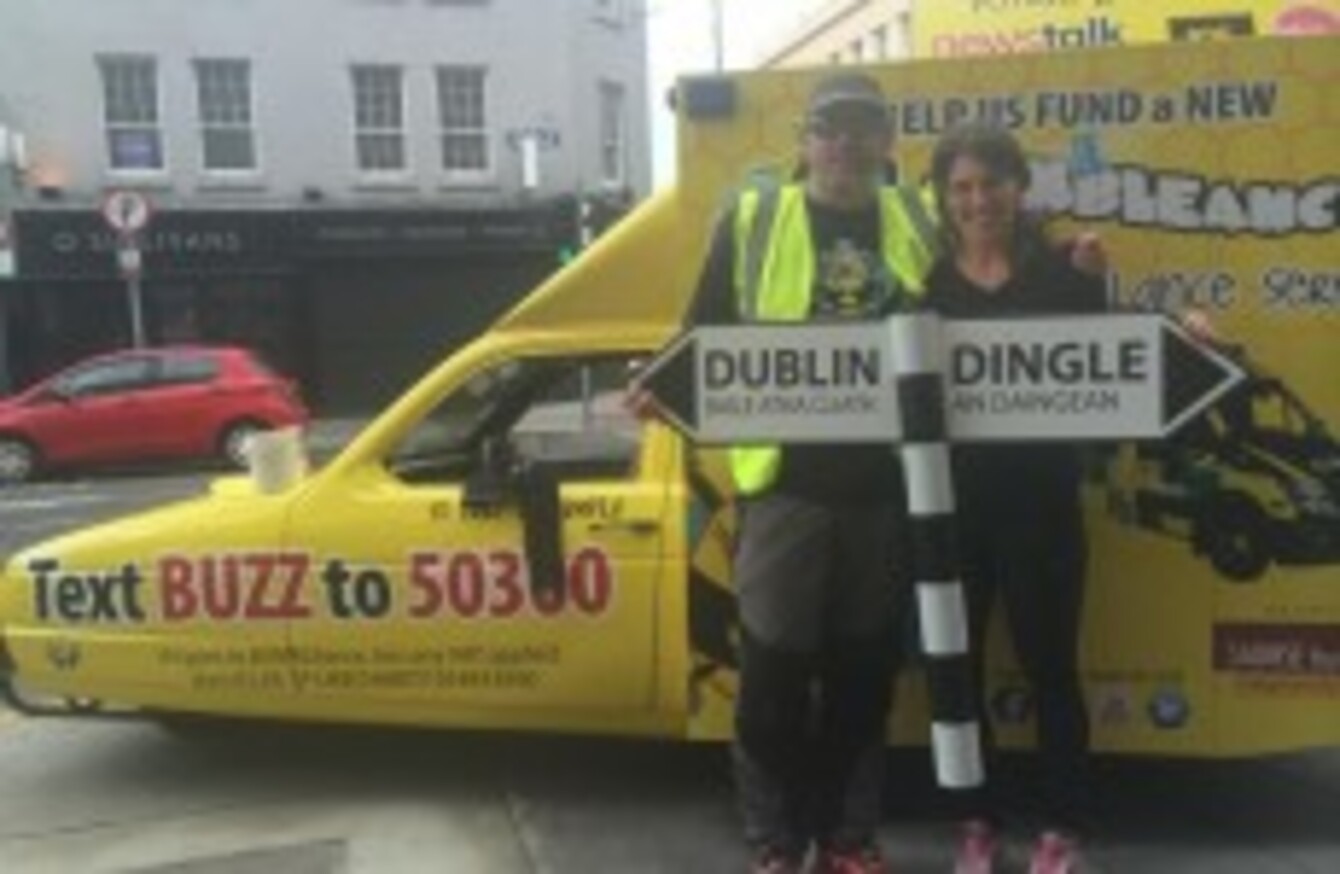 Image: Jayne O'Connor via BUMBLEance
Image: Jayne O'Connor via BUMBLEance
THE PUSH TO raise funds for a second BUMBLEance is well underway but bodies are needed to help push an ambulance to its final destination of Dublin.
A BUMBLEance is a fully interactive ambulance that caters for sick children by taking them to and from appointments, treatment centres and hospices.
It's a free country wide service and this fundraiser hopes to raise the necessary cash to get a second vehicle on the road.
The project is being undertaken by Tony and Mary Heffernan who lost both of their children to a rare disease called Battens, Saoirse in 2011 and most recently Liam 12 weeks ago. Tony told TheJournal.ie:
The stress of such a trip is normally left on the shoulders of parents, however with BUMBLEance, this stress is taken away, the parents and the child can concentrate of spending as much quality time together during the child's remaining days.
The service also offers Angel Trips which is the final journey a sick child and their parents take together before the child grows their Angel Wings.
He said it has transported 158 children over the past year, covering over 50,000km across the country.
Fundraiser 
BUMBLEance receives no state supports and all money raised is used directly to help sick children and their parents.
The BUMBLEance Mega Push team started from Dingle and are on day 6 but need more pushing power to make it to the end.
It's hoped the Mega Push event will raise the necessary €250,000 needed for a second vehicle.
Here's the schedule for the rest of the week;
Today: Birdhill to Moneygall
Tuesday: Moneygall – Mountrath
Wednesday: Mountrath -Monasterevin
Thursday: Monasterevin- Kill
Friday: Kill – Stephen's Green
They badly need people on Wednesday and Thursday, between 15-20 people are needed each day to push the ambulance. One Mega Push volunteer said:
I have been with them for three days so far and the craic is mighty. Lots of people who volunteer have their own stories about how the BUMBLEance made a difference to their children's lives and some very sad stories with people doing it in memory of their lost angels.
The charity is seeking corporate sponsorship, but is also asking people to text the word BUZZ to 50300 to donate €4 to the charity.
Those wanting to get involved can contact BUMBLEance on 083 00 44 444 or online at www.BUMBLEance.com.