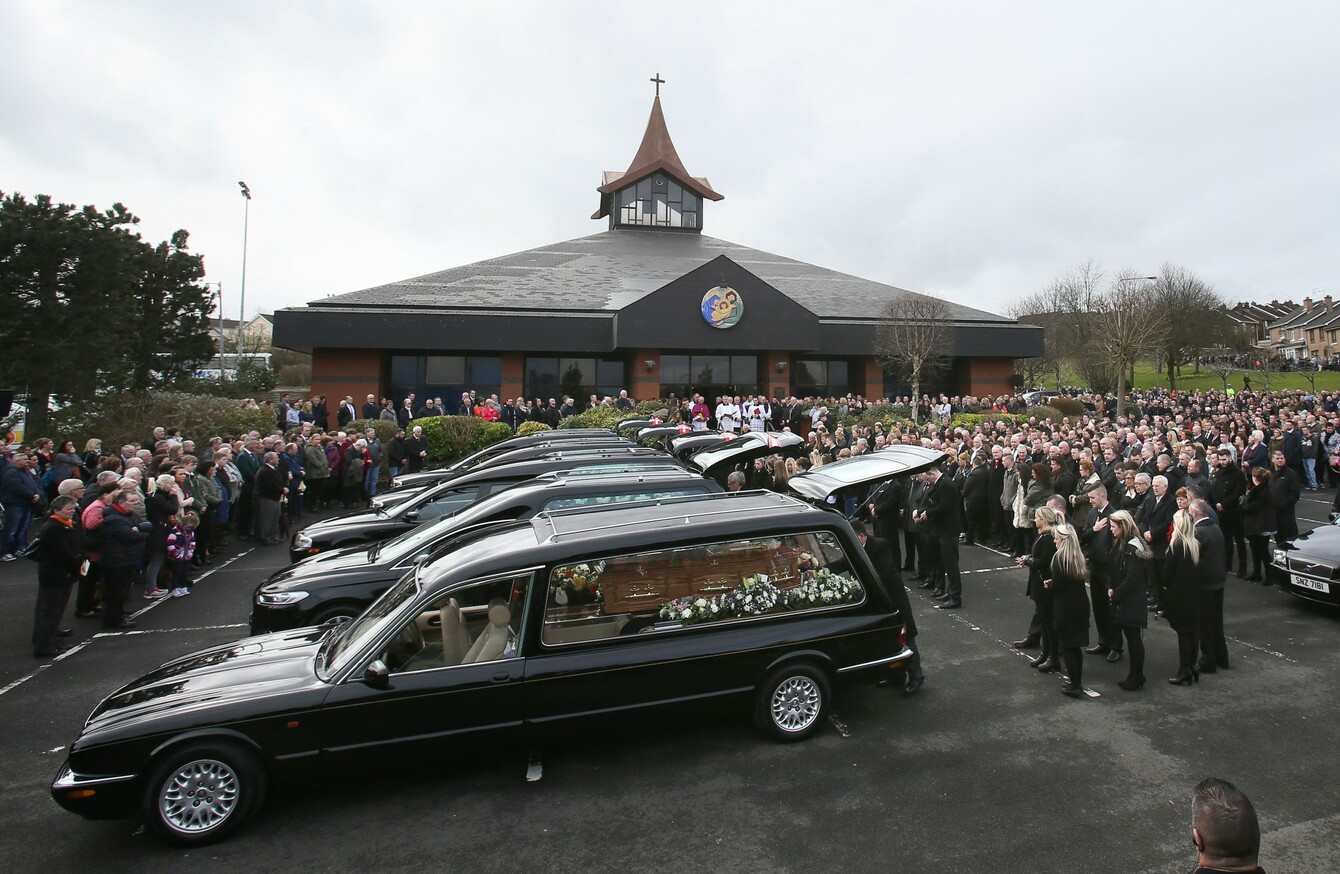 Hearses arrive at the Holy Family Church, Ballymagroarty.
Image: PA Wire/Press Association Images
Hearses arrive at the Holy Family Church, Ballymagroarty.
Image: PA Wire/Press Association Images
THE HOLY FAMILY Catholic church in Ballymagroarty could be anywhere on this island.
The square, red-brick building sits at the crest of a hill which rises from another hill on Derry's northside.
There's a school next door, a Dunnes to its front and a credit union across the road.
That sense of normalcy, however, was broken when five hearses were brought down the Aileach Road, turning into the church car park.
They entered in order.
First, the white coffins of Evan McGrotty (8), his brother Mark (12) and their aunt 14-year-old Jodie Lee Daniels. Then the hardwood caskets of the boys' 49-year-old father Sean and Jodie's mother, 59-year-old Ruth.
Mourners filed into the church, around 400 in total, while roughly that same number stayed in the car park and on grass verges. Neighbours stood at doors and hundreds more lined the streets near local industrial estates and business parks.
All part of a community left shocked at the sudden and tragic loss of five of their own.
Bereft
While the entire island can identify with the setting, few could even fathom how one amongst them was feeling.
"Noel, you have lost a son," parish priest Fr Paddy O'Kane said.
"Shannon and Patrick, you have lost a dad.
"Arthur, your two grandchildren. Mary, your nephew.
"Jim, Marie, Tony, Frank, Dermot, you have lost your brother.
"Nathan, Jonathan, Kyle and Joshua you have lost your mother and your sister.
But you Louise, you are most bereft of all for you have lost your family and our hearts go out to you especially.
Louise James lost her sons, her partner, her sister and her mother in the accident in Buncrana. At the time, she had been on a hen weekend in England.
Just minutes before the car plunged off the slipway in the Donegal town, Evan had told her how he would give her the "biggest, tightest hug" when she returned.
Details like that one brought home to those in attendance what had been lost. Not just figures in a news headline, but an entire family.
When one thought it impossible to feel any more sympathy for the McGrotty and Daniels families, a small detail would wrench even more heartache and further tears from mourners.
Details like how Louise had raised over £16,000 for muscular dystrophy charities following Evan's diagnosis with the condition. Or the visual of Evan, dressed in his pyjamas after being told he had to stay at home from school sick, charging after his mother and brother incredulous that Mark was allowed to attend and he wasn't.
"He dreaded the thought of missing out on his friends for one day," school principal Damien Hartigan explained.
Or of how Mark captivated school audiences in the recent show The Littlest Indian, which called for him to perform with older children.
"Our sixth formers, were quick to realise he had a charm and likeability and looked after him.
A huge void has been created by this tragedy.
Or a simple detail in Jodie Lee's love of Justin Bieber, a reminder that beyond any tributes, she was a regular teenage girl.
Oasis
A spontaneous standing ovation swept across the church when Fr O'Kane mentioned Davitt Walsh, the man who saved Louise James' daughter Rioghnach-Ann.
"There is one little sliver of light, one ray of hope bravely breaking through the dark clouds and it is this," he said.
"Little Rioghnach-Ann has been saved.
"As Louise says to me again and again, 'She is my only reason to go on living.'
This is a desert experience, barren of any comfort, as we search for an oasis of hope in this bleak landscape and as we struggle to find there any refreshing words of life and healing.
Crying
Fr O'Kane said that as the coffins left the wake house in nearby St Eithne's Park earlier in the day, it started raining as if "the heavens themselves were crying".
A heavy rain swept over those standing outside the church during the ceremony, prompting a communal response of umbrellas extending and huddling for shelter.
Those grey skies remained unbroken until long after the five coffins – three white, two hardwood – were taken from Ballymagroarty to their final resting place in the city cemetery.