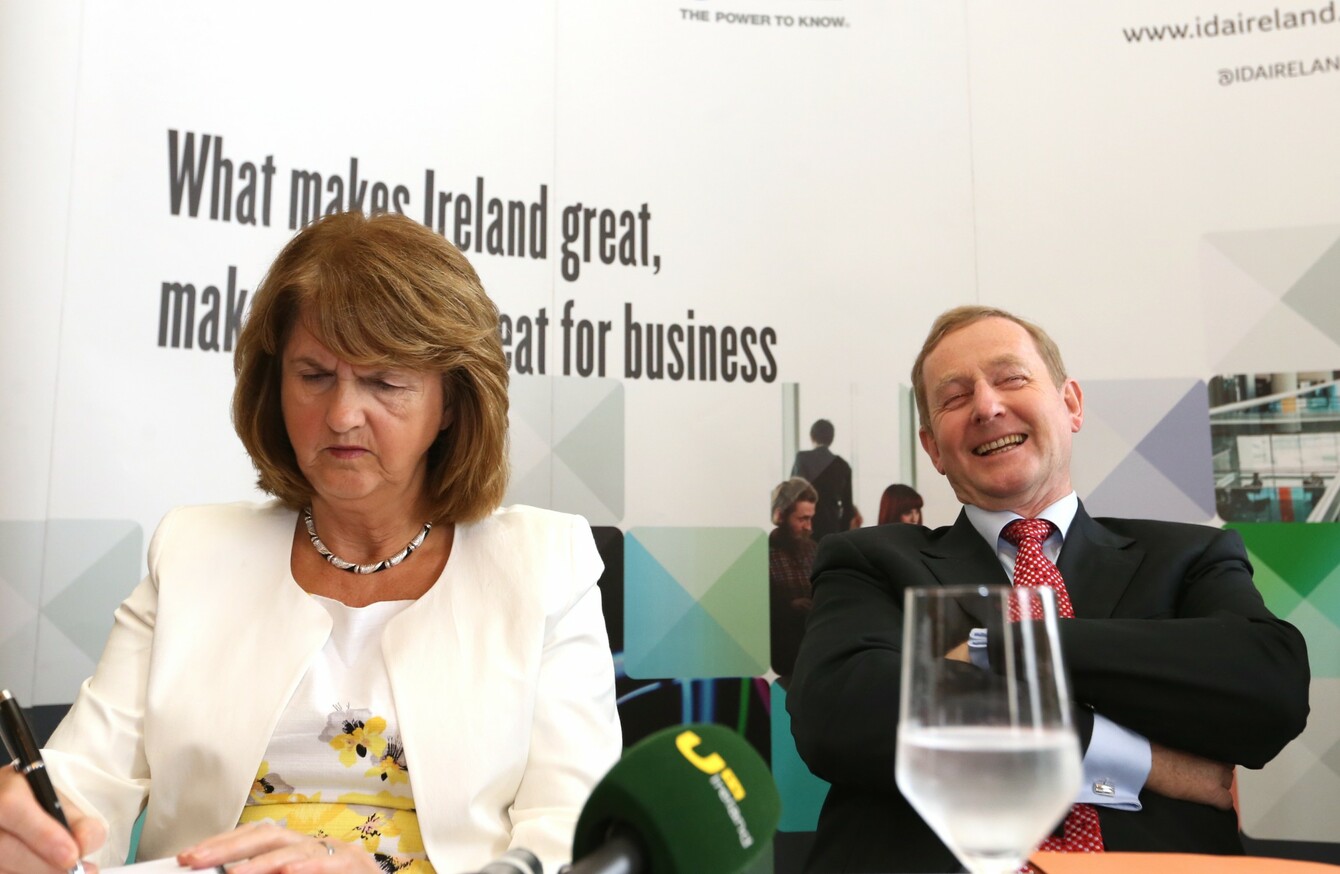 Image: Sam Boal/Rollingnews.ie
Image: Sam Boal/Rollingnews.ie
A WELL-TIMED, carefully-worded put down is a powerful thing.
In 2016, we had plenty of them.
Tweets, throwaway comments and speeches: there are far too many examples in Ireland from this year to list them all.
But they all have one thing in common: whether it came from a politician, a sports star or a musician, they all aimed to cut deeply.
Here are some of the best:
Obedience
Before resigning as Labour party leader following the result of the general election, Joan Burton gave then-deputy leader Alan Kelly a very public dressing down after he had suggested in a February interview with the Sunday Independent that he was his own boss.
When later asked to clarify if Burton was his boss, Kelly insisted: "Oh yeah, of course." Burton was also in no doubt and praised her cabinet colleague, telling reporters:
To be honest, I must say, he's an incredibly obedient employee.
Young and old
Who got the better in this one?
Pearse Doherty was the first to go for the jugular on Prime Time, debating Michael Noonan on the publication of Budget 2017 in October.
Rowing with the veteran Fine Gael TD, Sinn Féin's Doherty rejected the assertion that the party refused to ever vote with the government.
"We vote with the government and you should know that Michael," Doherty said.
I know you're pushing on in years but you're still smart up there.
In response, Noonan channeled his inner Ronald Reagan, quickly quipping back:
I don't think that we should make age an issue. If you don't make age an issue I won't refer to your inexperience and immaturity.
Cheap shot
Pat Kenny became incensed during a Newstalk interview with Sinn Féin's Eoin Ó'Broin recently, after the Dublin Mid-West TD said that he would spend more time with working class people than Kenny would.
Kenny was unequivocal in his response:
Cheap shot. Cheap shot. Cheap shot.
"All my colleagues in Newstalk are not high earners. I know their difficulties. I am mature; I've earned a good living over many years. I started at the bottom like everyone else so don't lecture me on the company I keep."
You can (and should) listen to it here (the disagreement occurs just halfway through) .
"I was in jail"
Chaos erupted in the Dáil chamber at the beginning of December when Fine Gael TD Alan Farrell used Dáil privilege to call for Sinn Féin TDs Martin Ferris and Dessie Ellis to make a statement about the 1983 murder of prison officer Brian Stack.
Farrell said: "The other individuals who are members of this house who he [Gerry Adams] has named and which are already in the public domain, that deputies Ellis and Ferris be given an opportunity to address this house."
Dublin North-West TD Dessie Ellis had this response:
I refute any allegations. For the information, the man in question claims to be a solicitor, I was actually in jail for the period. In Portlaoise and before that in America so you should check your facts. You're a disgrace.
Source: TheJournal.ie/YouTube
Democracy
A gentle rebuke can bite just as deep as a forceful one.
In late November, Chief Justice Susan Denham made a pointed speech where she defended the judiciary, just a short time after Minister Shane Ross said that judges lived "a charmed life".
Without using the Sport and Transport Minister's name, she said: "In our democracy the three great pillars of State – the legislature, the executive and the judiciary – derive their powers from the people. It is a fundamental principle, that each of the great organs of State owes respect to the other.
"Inaccurate discussion and misrepresentation of the position of the judiciary has been a feature of recent public discourse.
Amongst other factors, it is surprising that it has been stated that the judiciary are fighting change – when the opposite is the case – the judiciary have been advocating change, but it has not yet been advanced.
A few weeks later, Ross admitted that his language may have been "too colourful" and said "I'm sorry if it was too colourful".
Witchcraft
RTÉ's announcement that they would cease the production of children's programming in-house was not met with widespread enthusiasm.
Bosco came into TheJournal.ie offices to express dismay at the unpopular decision.
When asked an upcoming show, Bosco reserved this barb for RTÉ:
There's a witch in it and she's scary, she tries to put the children in the oven. Imagine, imagine trying to put the children in the oven. It's a bit like RTÉ trying to put all the children's programmes in the oven. Maybe that's where they got the idea from.
Source: TheJournal.ie/YouTube
Cheating
Irish boxer Michael Conlan was furious after the judges awarded a fight to his Russian opponent Vladimir Nikitin at the Rio Olympics. In a post-match interview, he didn't mince his words:
The AIBA are cheats. They're fucking cheats. It's simple as that. That's me. I'll never box for anyone again. They're cheating bastards, they're paying everybody.
Conlan has since switched to professional boxing, and will make his debut early next year.
Unfair comparison
A 13-year-old Dublin girl took exception to an article written in the Daily Telegraph in August, in which a columnist said Donald Trump had the emotional intelligence of an 11-year-old.
Julia O'Callaghan wrote: "I myself am 13, but I find that people constantly compare grown adults who act like children to the wrong age group. This can be quite offensive.
I suggest that you compare Donald Trump to a four-year-old in future.
Football men
They recently celebrated their 750th podcast, and the Second Captains are relative staples of the Irish sport enthusiast's podcast diet.
Eoghan McDevitt, Kieran Murphy and Ken Early have presented the show since the beginning, and the live version regularly features on RTÉ.
A newcomer to the podcast party is Eamon Dunphy, whose podcast The Stand appeared at the end of November. He's been joined by the usual football panel suspects, including John Giles and Liam Brady.
In a December podcast, Dunphy asked Giles about an opinion that Early had put forward in a recent edition of the Irish Times.
Giles had this response:
It's not necessarily an opinion that football people have. The press come and go, as we know. You mentioned Ken Early. I wouldn't necessarily agree with anything Ken Early says about football.
The Second Captains playfully referenced the comments in a subsequent podcast.