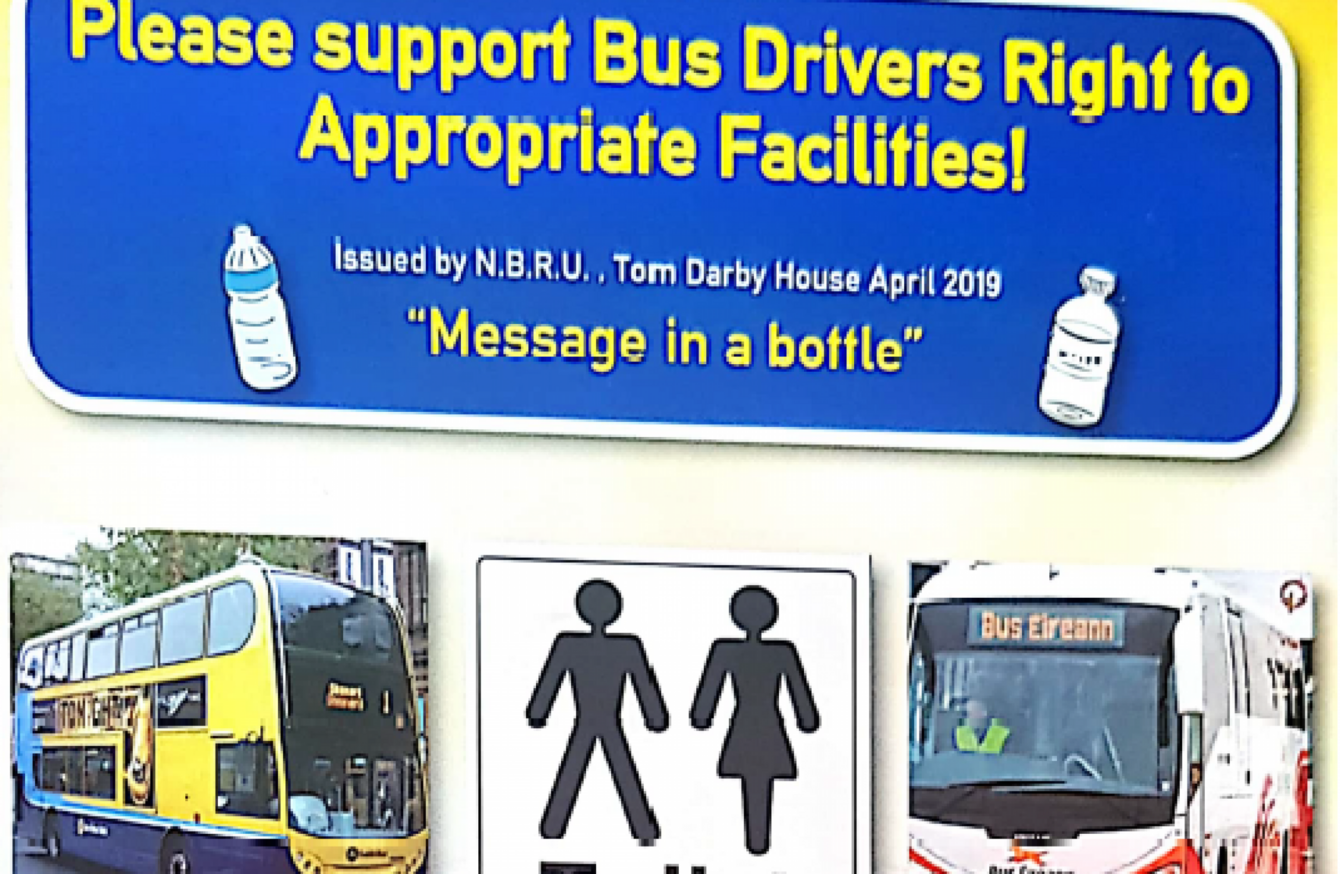 Image: NBRU
Image: NBRU
FLYERS PLACED ON buses across the country this week are asking commuters to support drivers in their demand for adequate toilet facilities.
The leaflets were produced by the National Bus and Rail Union (NBRU) which said drivers of Dublin Bus and Bus Eireann vehicles are "expected to improvise where no facilities exist".
"This can mean literally having to sometimes beg to be allowed use the toilet in a supermarket, takeaway, petrol station etc."
The union said there are occasions where drivers had to "resort to emergency measures" including urinating in a plastic bottle.
"No driver wants to be, or should be, placed in such a situation."
NBRU General Secretary Dermot O'Leary has also written to the two bus operators and the National Transport Authority about the issue.
In his letter, seen by TheJournal.ie, he said there had been numerous attempts by the union to address the issue but that both companies had "failed to put adequate arrangements or protocols in place that would protect our members".
He said the responsibility lies with both the bus companies and the NTA which is responsible for policy and the funding of infrastructure.
"It should never be forgotten that the most valuable resource of any company is those that do the 'heavy lifting', those that operate at the interface between the service being provided and the customer, they of course are the staff, in this case bus drivers."
He pointed out that the Mayor of London last year announced a cash injection of £6 million for the provision of toilet facilities for London bus drivers.
O'Leary called for a clear commitment to providing these facilities, a timeframe for the provision of temporary solutions and a detailed implementation programme for permanent facilities.
"Disrupting services because of the basic human need of having to use wash and sanitary facilities in the 21st century is simple untenable, conversely, the lack of such facilities is not sustainable," he said.
In a statement, Bus Éireann said that the company continues to work with trade union representatives on matters relating to driver facilities around the country.
A spokesman for Dublin Bus also said the company is in ongoing discussions with unions about the issue.