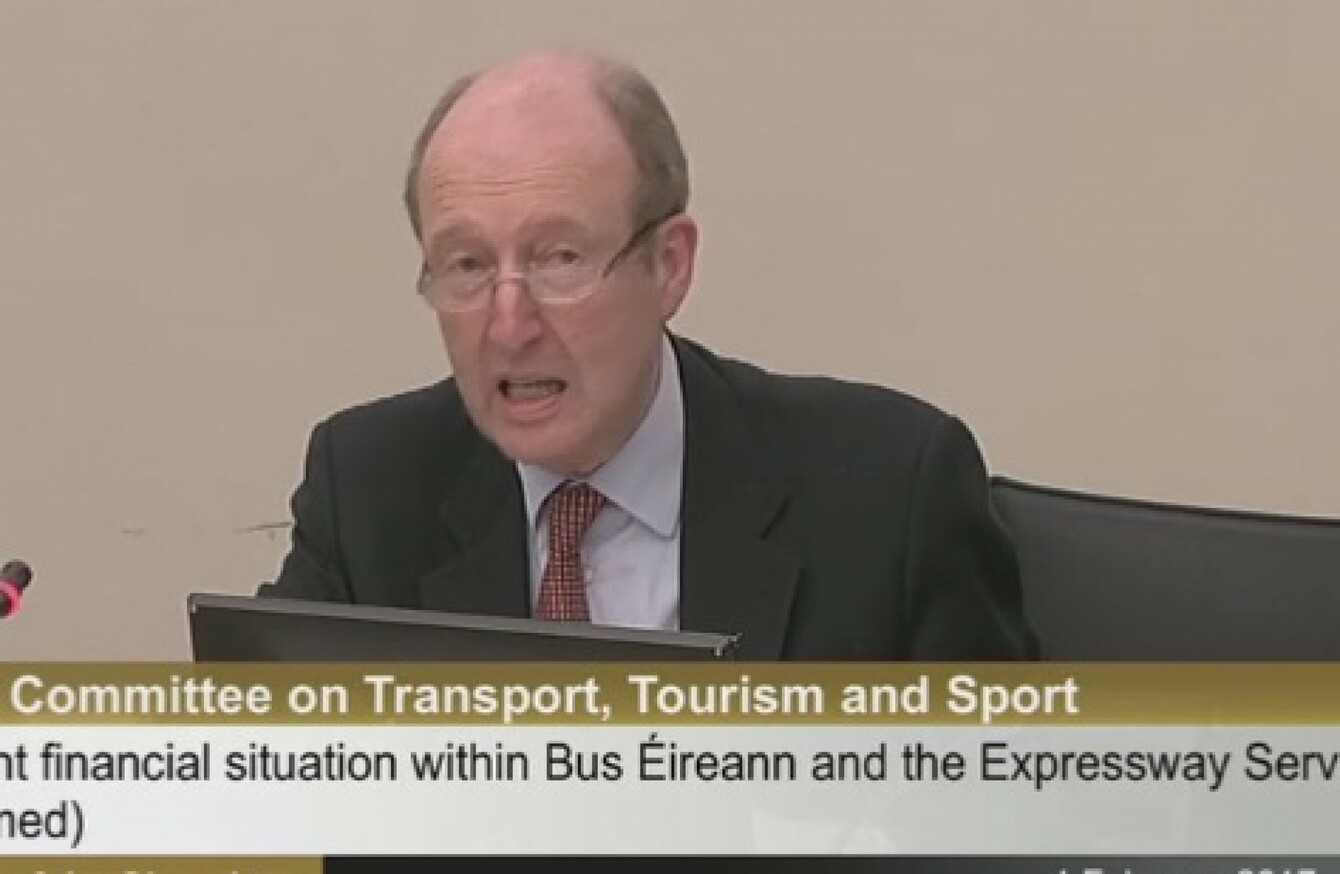 TRANSPORT MINISTER SHANE Ross said he will not come in with his cheque book to solve the industrial dispute with Bus Éireann.
Yesterday, Bus Éireann workers who are members of the Unite trade union voted unanimously in favour of strike action.
Bus Éireann CEO Ray Hernan last week warned that Bus Éireann could face huge job losses if the company's finances aren't brought in line.
Two weeks ago, Hernan wrote to employees to inform them of the "critical state" of the organisation's finances.
Strike 
In recent weeks, pressure has been mounting on the minister to intervene in the dispute so as to avoid future strike action that would discommode the public.
Appearing before the Joint Committee on Transport, Tourism and Sport, Ross said there is a "misunderstanding" in the public domain that he has a role to play in solving the dispute.
"There is nothing I would like to see more than a satisfactory end to this," he explained.
It would not help if I were to get involved, as it would give a misrepresentation… My intervention would do more damage than good.
He urged all parties to use the "machinery of the State" to deal with the issues.
Ross said as he understands it, both parties – the unions and Bus Éireann management – have said there are no pre-conditions to entering into talks.
The two parties don't have any preconditions  - then it makes you wonder why they are not talking… I cannot understand in light of what was said last week what is hindering them from coming to the table.
Sinn Féin TD Imelda Munster asked the minister if he would ask the company to put aside the letter issued to employees last week which outlined a number of measures it proposed would deal with the finance issues.
She said the letter was essentially an "ultimatum" to workers and it "inflamed matters".
Ross said he wanted to be clear that he was not going to do that.
"I will not instruct or advise the letter to be set aside," he said, adding that he did not believe the contents in the letter contained preconditions, but were "stated positions".
He urged unions and management to go to the negotiations with "a blank sheet of paper".
He appealed to both parties to repeat their claim and commitment that there are no preconditions. He said he was appealing to both the unions and management.
"Let them say it tonight – there are no preconditions."
Expressway 
The minister said it is the commercial arm of the bus service – Expressway – that is causing major issues for the company.
He said the government could not intervene as it was dealing with taxpayers money.
"The taxpayer cannot fund the commercial enterprise of one operator and not the other," he said, stating that it goes against European law.
"I am not going to push anybody to make Expressway exit from Bus Éireann… I am not going to dictate if Expressway should be closed down or not."
However, he said that should routes around the country be forced to close, the National Transport Authority is on hand to ensure no community is left in isolation.
Fianna Fáil's transport spokesperson Robert Troy said the minister's "lack of leadership" over the last 12 months allowed this situation to arise.
Ross denied this was the case and said he has met with transport companies regularly.
Sinn Féin President Gerry Adams TD, speaking in the Dáil during Leaders' Questions this afternoon, said the Minister for Transport needs to engage with all stakeholders to find a resolution to the current crisis at Bus Éireann.