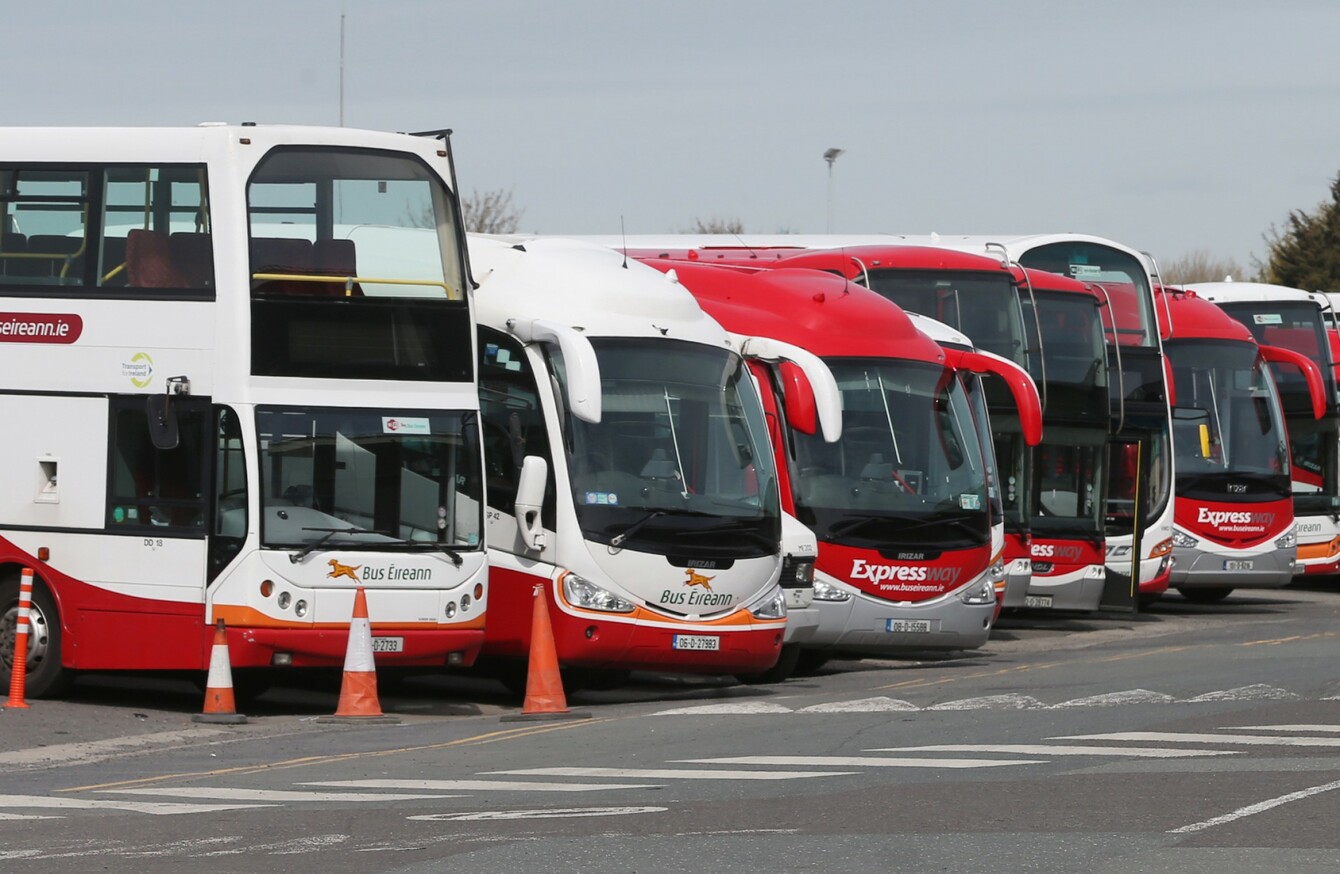 Bus Eireann coaches parked in the Phibsboro bus depot.
Image: Niall Carson/PA Wire
Bus Eireann coaches parked in the Phibsboro bus depot.
Image: Niall Carson/PA Wire
BUS ÉIREANN WORKERS are to go on indefinite strike from Monday 20 February.
The Bus Éireann Trade Union Group, which represents members from five different unions, says the action is being taken because of an "appalling attack on semi- state workers."
The decision comes following cost-cutting measures announced by Bus Éireann included cuts to wages and the transfer of staff to different routes.
After the unions voted to authorise industrial action, the group of unions this evening said they would be engaging in an "all-out strike".
"Our representatives have today decided to engage in an all-out strike, effective from the 20 February 2017 in response to this appalling and unprecedented attack," the group said in a statement.
It remains a matter for Bus Éireann to decide if it wants to run the risk of bringing travel chaos to bear on the communities it is obliged to serve, or enter meaningful talks with the Trade Union Group without preconditions.
Bus Éireann said last week that the company faces job losses if costs weren't cut at the semi-state. The current financial problems have stemmed from the costs associated with Bus Éireann's Expressway service.
Transport Minister Shane Ross has argued that the government can not intervene with taxpayer's money for the commercial Expressway service because of European law.
In a response to the unions this evening following the strike decision, Bus Éireann's acting CEO Ray Hernan said that the company is happy to enter talks and that he is:
More than willing to hear any alternative proposals they have for achieving savings of €30m.
Hernan added that: "the necessary efficiencies must be found within the company because it is a long-term solution and not a short term fix, which is required."
Ross said he is disappointed at the action being taken.
"A strike will be very damaging to the travelling public, the workforce, rural communities and the company itself," the minister said.
He also echoed the call from the union for both parties to enter talks "without any preconditions."
"Through the WRC or Labour Court, the State can assist both the staff and management in discussions to resolve this dispute," the minister said.