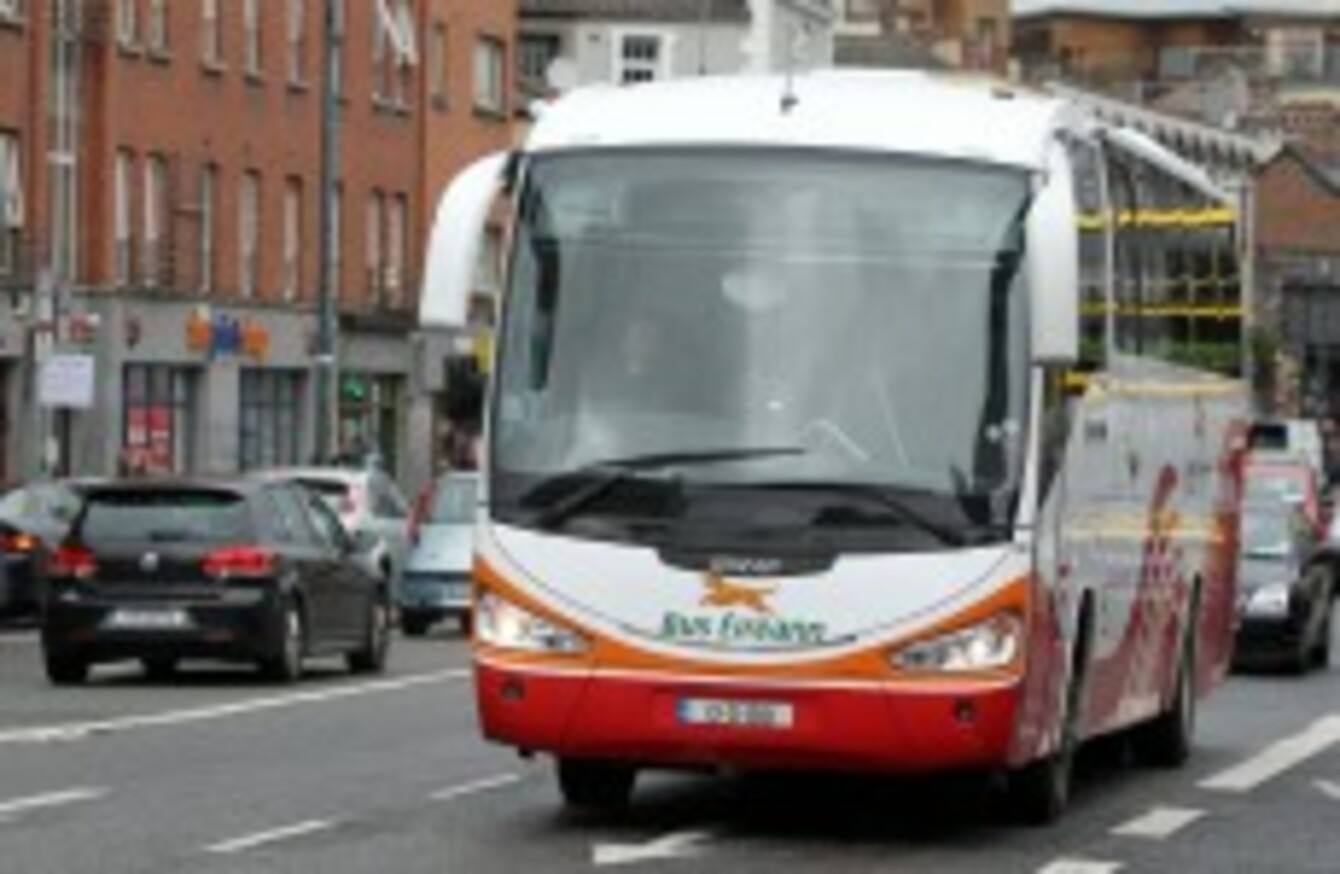 Image: Sam Boal/Photocall Ireland
Image: Sam Boal/Photocall Ireland
A PASSENGER WHO travelled on the Bus Éireann Letterkenny to Dublin route last weekend has complained of "abuse and aggression" by a group of youths who drank alcohol, threatened passengers and threw urine around the bus throughout the journey.
Speaking to TheJournal.ie, the 24-year-old said she and her boyfriend were returning from a holiday in Monaghan last Sunday evening and because it was full, they had to sit at the back of the bus, right in front of the troublesome youths.
"We got the last two seats together toward the back of the bus, where the three young guys from Dublin were also sitting," she explained. "They were a bit loud and rowdy but we thought nothing of it to begin with until a stench of vomit filled the air."
The three teens "boasted" about having gotten sick earlier in the journey while swigging vodka from a bottle and singing.
We took no notice until they started kicking our seats, throwing around alcohol, shouting abusive slurs and peeing in cups.
Further into the journey, the youths became more abusive, she said, yelling threats like "I'll beat the s**t out of you" and "I'll throw p**s on you" at passengers.
They then proceeded to do just that, flinging urine in the air "splashing everything in front of them".
Intimidated driver
At this stage, the passenger said her boyfriend "had enough" and went to complain to the driver. The three males called him a "p***k" and threatened to "box him" as he made his way to the front and asked the driver if he was going to do anything about it.
My heart actually bled for the driver. He was obviously really intimidated too and he just looked really helpless and said he couldn't really do anything about them. I'm not blaming the bus driver at all, it's not very fair expecting them to control bad behaviour like that, they're hired to drive the bus.
She and her boyfriend moved to seats closer to the front when there was more space but said they felt so threatened that they rushed off the bus as soon as they arrived at Bus Áras and got straight into a taxi.
"I don't know if they would have gone through with the threats they made but it was very scary and at that stage we just wanted to get home," she said.
'Not acceptable'
The 24-year-old has not made a complaint to Bus Eireann because she said she doesn't blame them for what happened.
"It would have been massively appreciated if the driver had kicked them off but it's not acceptable that we live in a society where a bus driver has to control abusive young people as part of his job," she said.
A spokesperson for Bus Éireann said that it condemns anti-social behaviour on buses which can cause distress and also "put at risk the safety of out customers, our drivers and our fellow road-users".
Bus Éireann has a range of measures in place to deter anti-social behaviour. Vehicles are fitted with internal and external CCTV cameras. Our drivers also have a direct radio link to our control centres so they can immediately alert a supervisor of any potential anti-social behaviour on the vehicle they are driving. They can also contact the gardaí if required.
They said drivers are issued with "clear instructions" that if there is anti-social behaviour taking place on the vehicle they are driving – they are to immediately seek the assistance of a supervisor or the gardaí if required.
"We would ask the customer in question to make a complaint directly to the company so that we can fully investigate this matter and we will take the necessary action if any of the customers travelling on this service were engaged in anti-social behaviour," they added.