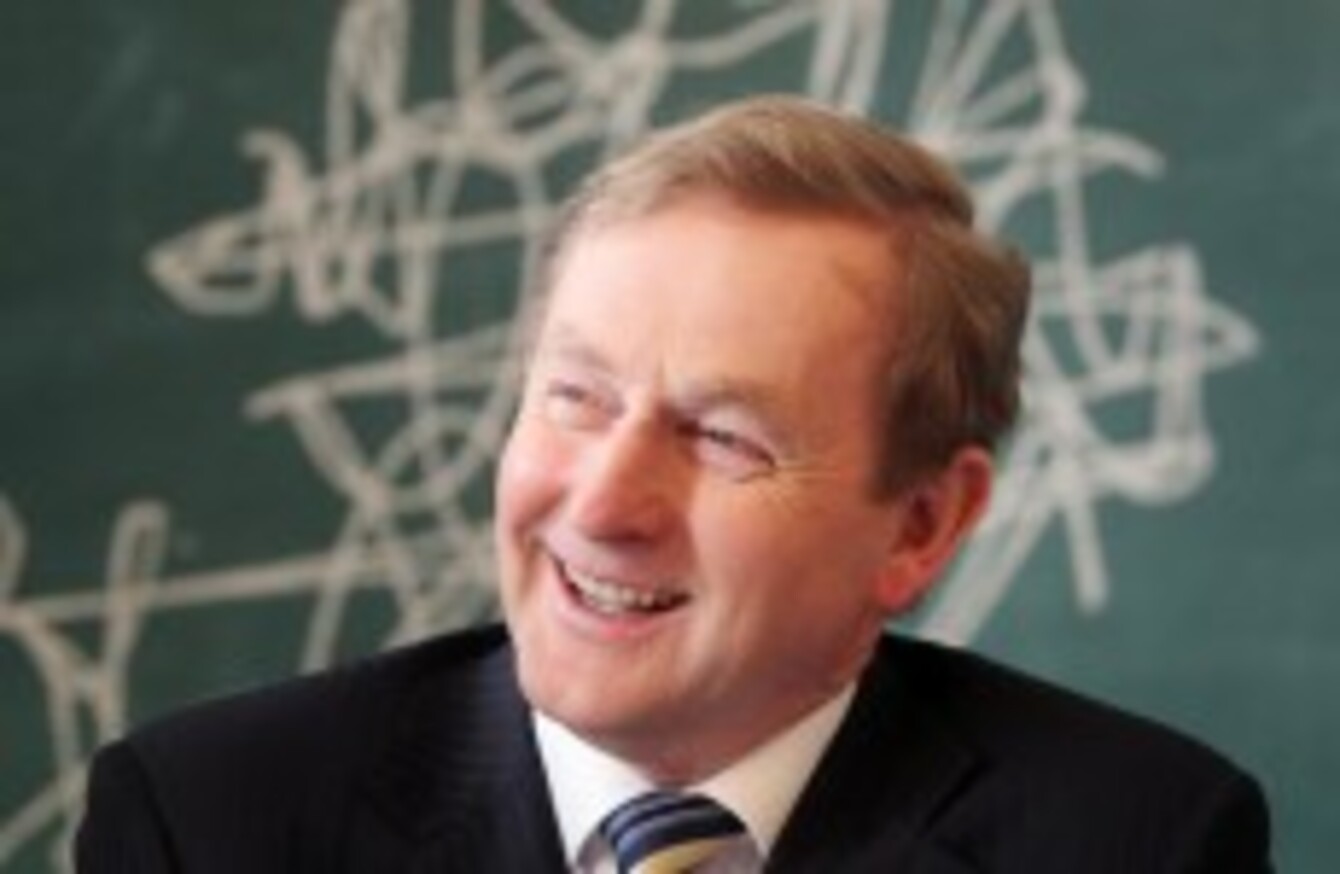 Enda Kenny could stand to benefit from holding two by-elections on 23 May.
Image: Sam Boal/Photocall Ireland
Enda Kenny could stand to benefit from holding two by-elections on 23 May.
Image: Sam Boal/Photocall Ireland
IT'S A MAY surprise from the government as it now looks likely that writs will be moved next week for two by-elections to be held on the same day as the local and European elections on 23 May.
This morning's Irish Independent appears to confirm longstanding rumours that rather than wait until later this year, the government, and particularly Fine Gael, will take a gamble on running votes for the vacant Dáil seats in Dublin West and Longford-Westmeath.
The logic is that other parties are focused on the local and European elections and will be caught on the hop with the largest party in the State, with its significant resources and important local factors in its favour, able to capitalise.
Most parties' are understandably focused on getting as many councillors and MEPs elected as possible.
The Dublin West vacancy arises out of the resignation of independent TD Patrick Nulty last month while the recent death of Fine Gael TD Nicky McFadden means voters need to go to the polls in Longford-Westmeath as well.
The Taoiseach could have waited until later this year when it is likely there will be more by-elections as a result of a Minister – almost certainly Phil Hogan – being appointed to the European Commission. As well as this, the European elections could also create more Dáil vacancies with TDs including Fine Gael's Brian Hayes and Simon Harris and independent Luke Ming Flanagan all bidding for Brussels.
Advantage Fine Gael in Longford-Westmeath
In Longford-Westmeath, Fine Gael is almost certain to run McFadden's sister, Gabrielle McFadden, who told the Irish Times at the weekend that she had promised her sister she would seek the nomination.
However, the current Athlone mayor could face an internal contest with local FG councillor Peter Burke telling TheJournal.ie yesterday he would "strongly consider" putting his name in the race.
Several other possible candidates in Longford-Westmeath told us yesterday that their focus in recent weeks has been on retaining their council seats.
"I am trying to concentrate on the local elections. I believe a lot in local democracy," the possible Labour candidate Denis Leonard said yesterday.
Fianna Fáil councillor Aidan Davitt said he hadn't given it any thought: "I'll have to talk to the party, talk to my supporters and see their opinion on it before I look it."
Davitt may well be told that he can't run with speculation that Fianna Fáil may instead opt for Aengus O'Rourke, the son of former minister Mary O'Rourke (above) who lost her seat in the 2011 general election. Another FF councillor throwing their name in the hat is Longford County Councillor Padraig Loughrey who said it is his "firm intention" to put his name forward.
Sinn Féin will run Paul Hogan, but deputy leader Mary Lou McDonald admitted today that the party is "dealing with local and European elections" and that Gabrielle McFadden would be "strongly positioned".
Among the possible independent candidates, local councillor Kevin Moran is being strongly tipped to run having picked up over 6 per cent of first preference votes in 2011.
Running to catch-up in Dublin West
Meanwhile in Dublin West, the Socialist Party is tipped to do well with its councillor Ruth Coppinger, who came third in the 2011 by-election, likely to be the candidate but the party will suffer from stretched resources as its members also try to get incumbent MEP Paul Murphy re-elected in Dublin as well as councillors across the country.
Fianna Fáil's likely candidate David McGuinness could face a similar problem as his focus up to now has been on seeking re-election to the council. The party could yet opt for another candidate such as local activists Edward McManus or Jack Chambers.
That's why Fine Gael hopes that a high-profile candidate like Eamonn Coghlan will steal a march on the Socialists and Fianna Fáil. Coghlan has never run (no pun intended) in an election before, but his name recognition may be of benefit as will the fact that others likely to be running in the constituency will also be trying to win seats on the council.
Not that it's any confirmation, but it's surely no coincidence that Coghlan joined Twitter yesterday:
Labour, which is unlikely to repeat its 2011 by-election success, will run either Mary McCamley, who was co-opted onto Patrick Nulty's old council seat, or fellow local councillor John Walsh. Speculation about Joan Burton's daughter Aoife Carroll is nothing more than that and the Minister herself said this morning "absolutely not".
Sinn Féin will run Paul Donnelly, who ran in the general election and the by-election three years ago while the Green Party will pick local activist Roderic O'Gorman who performed strongly in 2011.
Of the independents, mortgage campaigner David Hall is strongly tipped to run but, like others appeared to be caught on the hop this morning: