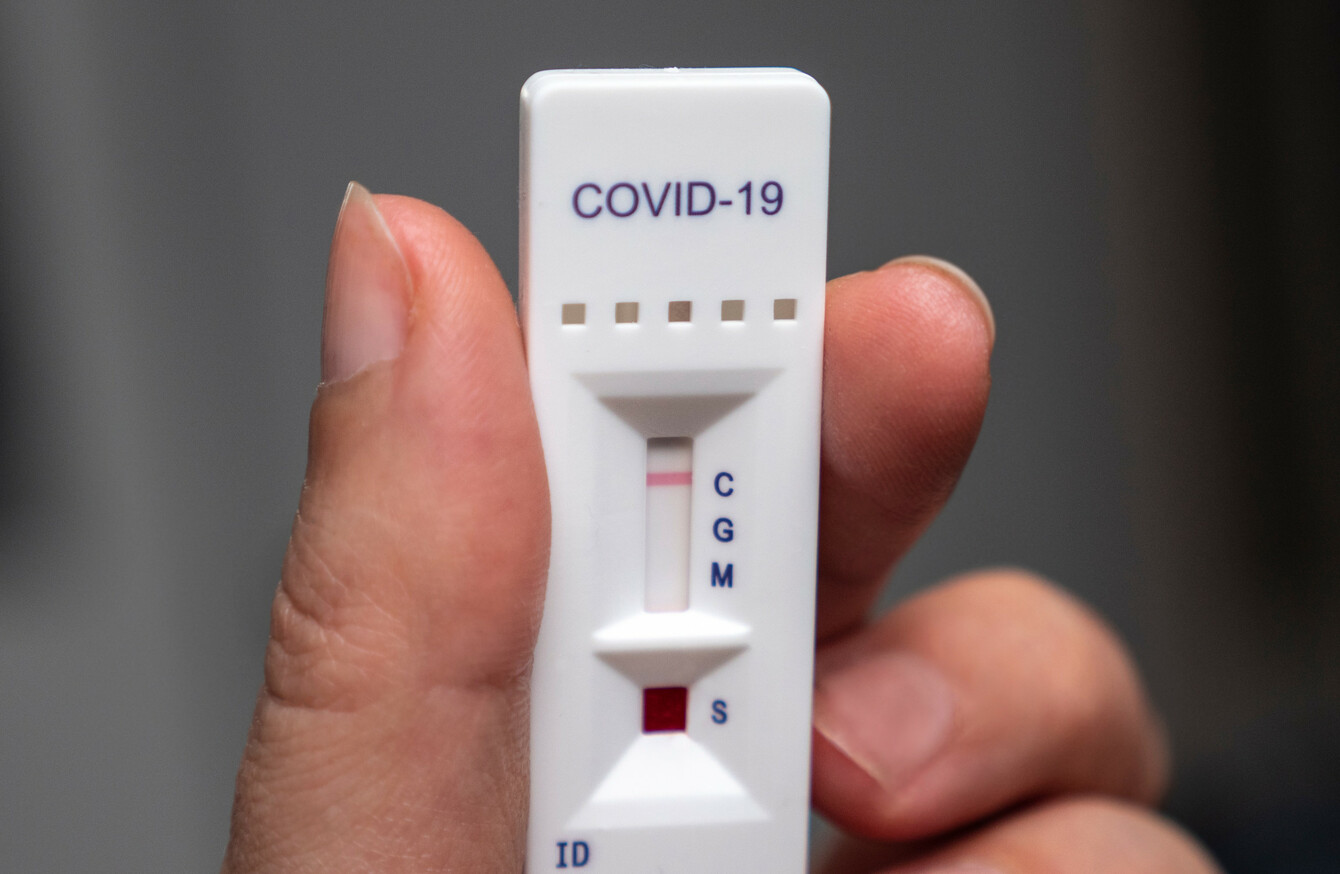 Image: Shutterstock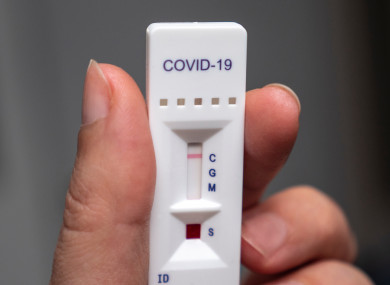 Image: Shutterstock
Updated Nov 23rd 2021, 9:00 PM
A MEMO ON the subsidising of antigen tests for use by the public should be ready to be brought to Cabinet either by the end of the week or next Tuesday, according to Tánaiste Leo Varadkar.
It was widely expected that Health Minister Stephen Donnelly would bring proposals to Cabinet today on the plans for reducing the cost of antigen tests.
However, no memo was brought, with government sources stating that work was ongoing with the likes of pharmacists and retailers as to how to make the tests more affordable. 
When asked about the delay, Varadkar said this evening that the objective is to get them down to a "reasonable cost" which he said is between €2 and €4 per test. 
Sources have said that contracts have yet to be drawn up and conditions around the cost per box is still to be determined.
"We're working with the pharmacies, and also the supermarkets and retailers on that," said Varadkar, who said his department is working alongside the Department of Health on the matter.
"We could have a memo by the end of the week, it could be next Tuesday, but I think it'd be this week or next," he said.
When asked when details might be finalised, a government spokesperson said that no deadline had been set.
Speaking today, Finance Minister Paschal Donohoe said that no official decision has been made and that Health Minister Stephen Donnelly is to bring recommendations to Cabinet in the coming days. 
"We are looking at what will be the cost in relation to this. But of course anything that slows down and contains the spread of Covid at the cost of that has tended to be a very good investment," Donohoe said. 
He added that plans are being drawn up as to how an adequate supply of tests will be in the right places at the right times.
The Government had been considering the introduction of subsidised antigen tests, which would be made available at pharmacies, but there have also been considerations about what role retailers could play.
Currently, one antigen test can cost less than €10, and a pack of five can cost up to €30.
The plan comes despite reports over the weekend that Chief Medical Officer Dr Tony Holohan sent an email to the Health Minister Stephen Donnelly last week warning against the plan to roll out reduced-rate antigen tests.
Higher Education Minister Simon Harris also confirmed that the final decision is yet to be made on a Government-backed subsidy for antigen testing.
Harris said Donnelly will soon bring a final proposal to Cabinet for the public to be provided with cheaper antigen tests.
No decision made yet 
"There is a final decision needed in relation to the subsidy and the cost.
"And I've no doubt the Minister for Health will bring that forward shortly. But I should say we've come an awful long way on antigen testing," he said.
Harris said that since June, 25,000 rapid tests have been used at University College Dublin, Trinity College Dublin, NUI Galway and University College Cork as he defended the Government from criticism that it has been unwilling to wholeheartedly back antigen tests.
"They are free in many circumstances. So we're not charging the students and the staff. We're not charging close contacts. There isn't a cost as far as I know, in the nursing homes, and whether you do that more broadly is a matter for the Minister for Health to obviously bring advice forward to Government," he told reporters at Dublin Castle.
Harris, a former health minister, appeared alongside Trinity College Dublin immunology expert Professor Luke O'Neill to call on people to submit ideas to the Government's Creating our Future campaign.
"I certainly know in my own life, more and more people are just getting on with it as well," Harris said.
"And people are buying the antigen test in the supermarket, in the pharmacy, but I accept that there's a cost associated with that.
"And if we want people to do that regularly, and I do want to see people do that regularly, I think it's important that we help them with the cost."
Harris also said it is important, even as Covid-19 cases rise and pressure on hospitals grows, not to "catastrophise" the situation.
"We all just need to proceed with caution. We do have to be careful not to catastrophise the situation as well."
"This is different to last Christmas. It's a moment of challenge, absolutely. But it's a different challenge," he told reporters.
Should have been introduced months ago
Prof O'Neill said he would have liked widespread antigen testing to have been introduced several months ago.
"I feel we should have got the message out pretty clear that these are very useful, this is the way to use them.
"And I would have done that three, four or five months ago, really. I'm slightly saying it's been a bit slow. Now we're getting there, though."
He also said the Irish Government should use Merck's anti-Covid pill.
The European Medicines Agency has said that while the drug has not been approved, individual states can decide whether to use it to treat the most at-risk people.
#Open journalism No news is bad news Support The Journal

Your contributions will help us continue to deliver the stories that are important to you

Support us now
Prof O'Neill said it could cut hospital admissions by up to 50%.
"We should get that out now in our country, because that will help people at risk of severity and that will decrease hospitalisations."
"Can you imagine if we'd half the people ending up in hospital now, less pressure on hospitals now?"
Earlier, Sinn Fein health spokesperson David Cullinane said Mr Donnelly was "not at the races" and accused him of not being "on top of his brief".
"I have to say throw the kitchen sink at all of the tools that are at the state's disposal, an individual's disposal, to combat the spread of Covid-19.
"And that was the ambition – testing has a role to play. And I think it's incredible that we still don't have a plan. And we still don't have any notion of what the Government is going to do in relation to costings.
"They've been talking and talking, talking about antigen testing, and people are getting really fed up of the incoherency, the lack of planning, the lack of engagement and the lack of urgency coming from Government."
Public health officials reported 5,634 new cases of Covid-19 in Ireland yesterday. There were 684 Covid-19 patients in hospital, of whom 126 were in ICUs.
A Cabinet sub-committee yesterday discussed support measures for the hospitality sector. It was anticipated that the government may pause plans to move to a two-tier payment programme with the Employment Wage Subsidy Scheme (EWSS), but no changes were agreed yesterday.
The committee also discussed the Pandemic Unemployment Payment (PUP), which was cut last week. There have been calls for the government to reverse this reduction following new measures and public health advice relating to the hospitality sector and socialising. 
However the government has indicated it will not reinstate previous rates of PUP. 
Separately, Housing Minister Darragh O'Brien will bring a memo to Cabinet today on the establishment of the independent Commission on Housing, which will consider long-term housing policy in Ireland.
The minister is to seek expressions of interest for membership of the commission, which is set to be established before Christmas.
There will be twelve members on the commission, and it will also have ability to establish sub-committees to deal with various issues and to seek expert views on housing.
The terms of reference for the commission will be published once its establishment has been approved by Cabinet.
It is expected the commission will examine the wording of a possible referendum on housing, as well as other issues such as cost and quality of housing, construction sector capacity, and the types of tenure available.
Contains reporting by Christina Finn, Garreth MacNamee and Press Association