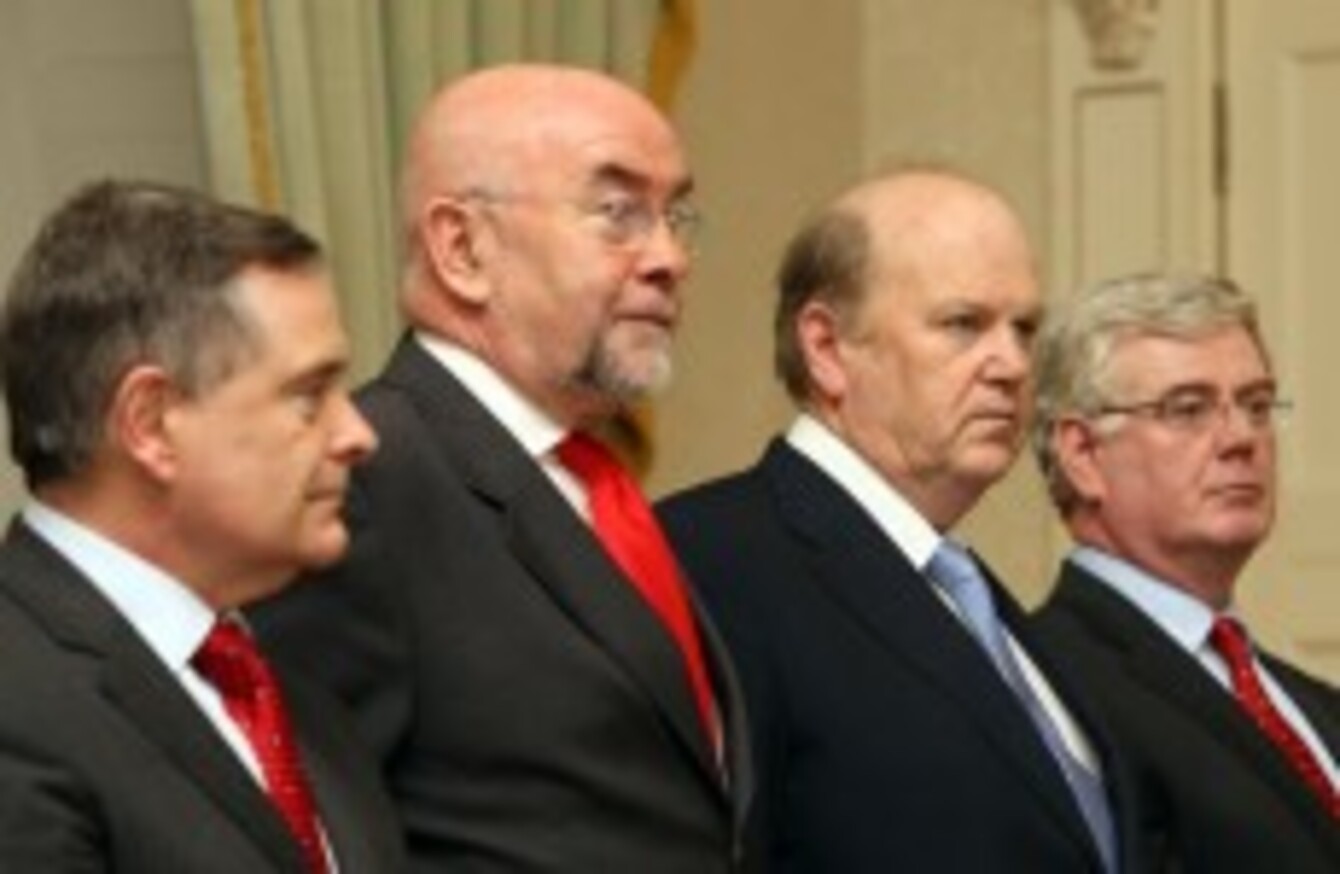 Members of the current Cabinet pictured in 2011.
Image: Leon Farrell/Photocall Ireland
Members of the current Cabinet pictured in 2011.
Image: Leon Farrell/Photocall Ireland
THE REFORM ALLIANCE has unveiled a raft of proposed reforms to the political system which would radically overhaul the way politicians are paid, the way the party whip system is applied and how long ministers can serve.
The group of expelled and former Fine Gael TDs (they're still not a party, as members had to stress several times in the course of this morning's press conference) say their plans will now be circulated to all party leaders and ministers.
"All of these can be implemented now," Deputy Denis Naughten told reporters today.
We're not talking about something that has to wait five or ten years. We would hope that we can get a level of engagement and get delivery on them.
Their collection of 'Reform Ideas' was put together in the wake of discussions at a large-scale conference held in the RDS back in January. A consultation process has also been taking place via the group's website.
So what are they proposing? 
Perhaps the most eye-catching proposal from the group is their idea to introduce performance-related pay for politicians.
Under the plan, a TD's or senator's salary increase or decrease would be linked to average earnings in the private sector — as well as other indicators of improvements in the economy and society in general.
How would that be implemented?
The RA's suggesting a sort of 'quality of life index' based on a formula to be drawn up by the Department of Public Expenditure and Reform, which would include indicators like employment and competitiveness.
TDs' and senators' salaries would then be benchmarked against those indicators — and if overall quality of life index starts to go down, members' salaries would go down.
If the index rose, politicians would get a pay-rise — but only at a maximum rate equal to average private sector increases.
Senator Fidelma Healy-Eames, one of three RA members who hosted this morning's press event, rejected any suggestion that the change could mean that in future politics only attracted independently wealthy people.
"Ultimately politics should be about public service," Healy-Eames said.
It's a privilege to serve, it's a privilege to be a minister. It's a very short time that you should be given in that role and so it should not be about the perks of pensions and top-up pensions.
Term limits
The RA plan also suggests limiting the terms of office for Cabinet ministers to one sitting term, plus another two years (so, seven years at most, effectively).
It's also suggested the Taoiseach would have to appoint two Cabinet members from the Seanad (as already permitted by the Constitution) in order to bring further independent expertise to the Government's top table.
TD Billy Timmins said the proposal was aimed at breaking the cycle of having 'life-long' Cabinet Ministers.
He said a situation had arisen in recent years whereby once someone was made a minister it was automatically expected they remain in a senior position in any new administration.
"I think the last Fianna Fáil government is a classic example," Timmins said.
A good friend of mine [...] he alluded to the Leitrim football team and said its hard to get on and its even harder to get off.
"That can be the case with some of our Cabinets, where its difficult to get on them but once you get on it's very difficult to get off."
Source: Video TheJournal.ie/YouTube
Other proposals
The Reform Alliance members also unveiled a number of proposals relating to the way the Dáil works and how the Budget is agreed, amongst other measures.
It wants to abolish the country's strict whip system and allow party members to vote as they wish, except on issues of confidence and budgetary matters.
It says the reform would force ministers to 'to actively persuade a majority of members of Dáil Éireann that any new law and its provisions are in the best interest of the country as a whole'.
And in terms of drawing up the Budget, the group says that all members of the Oireachtas, whether alligned to a party or not, should be given a chance to make proposals on taxes and services.
It's suggested the process, which would be conducted through committees and both houses, would allow opposition and government TDs to "collectively play a genuine role in creating policy" and prevent 'groupthink'.
Denis Naughten said the plan was about "giving focus to individual TDs" to hold the Government to account.
These are straightforward, implementable, practical proposals which can be delivered tomorrow morning.
PS: A note from the sports desk, on that Leitrim analogy from Billy Timmins:
"In traditionally 'lesser' footballing county's such as Leitrim, promising footballers often remain on county panels for numerous years despite obvious dips in form. One good game is all it needs for these lads to cement county careers, for the likes of Kerry and Dublin if you've one bad game it's curtains.
"Might explain why Leitrim have won two titles in over 100 years, but they're not the only ones living off blind hope." — Eamon Donoghue