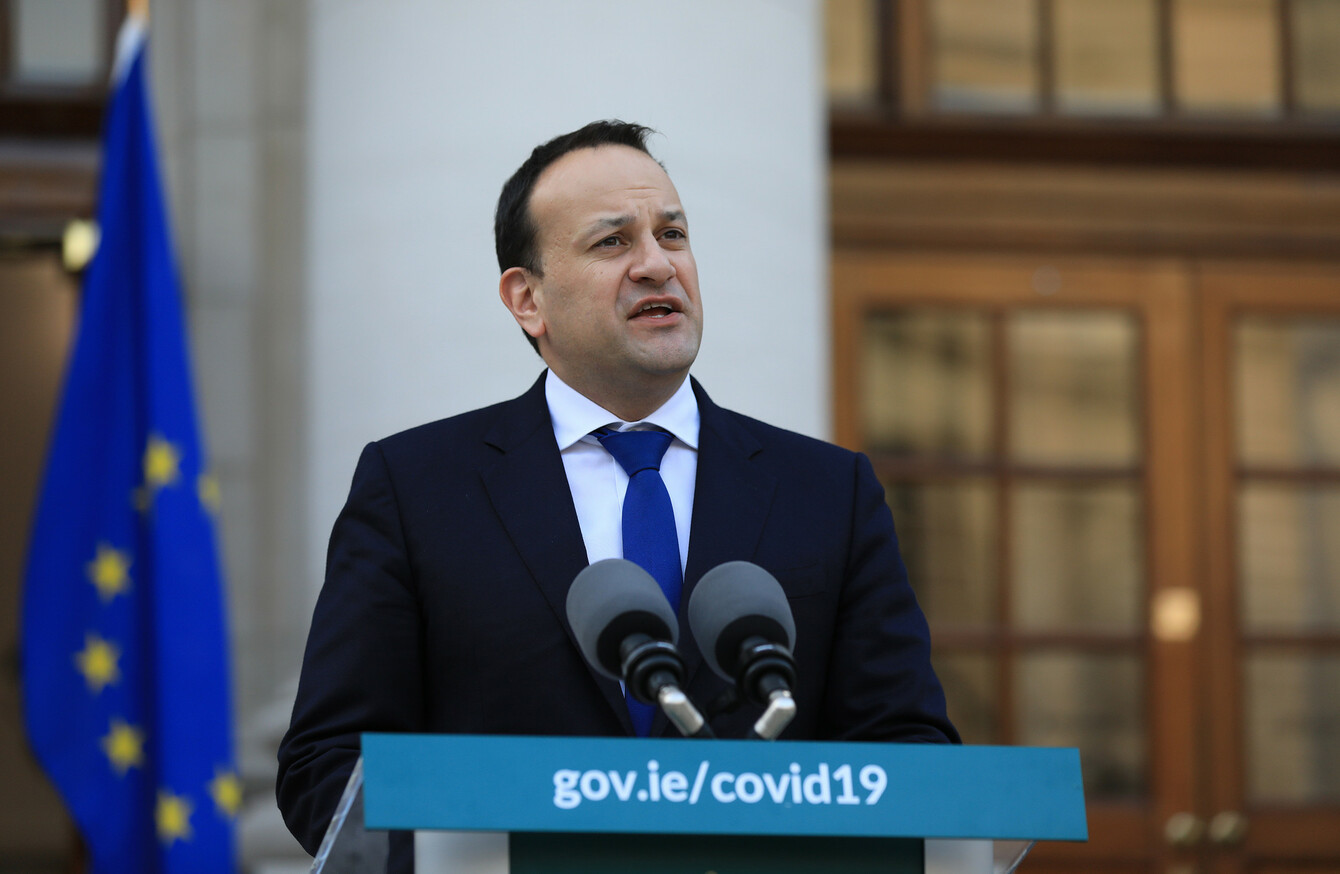 The Tánaiste will bring the proposals to Cabinet today.
Image: RollingNews.ie
The Tánaiste will bring the proposals to Cabinet today.
Image: RollingNews.ie
Updated Wed 3:02 PM
CABINET HAS SIGNED off on new legislation to give all workers the right to paid sick leave.
The government's statutory sick pay scheme will be phased in over a four-year period, starting with three days per year in 2022, rising to five days payable in 2023 and seven days payable in 2024.
Employers will eventually cover the cost of 10 sick days per year in 2025. The statutory days a minimum level of sick pay a company must provide but they have the feeedom to offer more.  
Tánaiste and Minister for Enterprise, Trade and Employment, Leo Varadkar said it is being phased in to help employers, particularly small businesses, to plan ahead and manage the additional cost, which has been capped.
Sick pay will be paid by employers at a rate of 70% of an employee's wage, subject to a daily threshold of €110.
The daily earnings threshold of €110 is based on 2019 mean weekly earnings of €786.33 and equates to an annual salary of €40,889.16.
It can be revised over time by ministerial order in line with inflation and changing incomes.
The rate of 70% and the daily cap are set to ensure excessive costs are not placed solely on employers, who in certain sectors may also have to deal with the cost of replacing staff who are out sick at short notice.
Speaking to reporters this afternoon, Varadkar said that the State is not contributing to the sick pay scheme and that the cost will be borne by employers. 
He said this is why it is being phased in: 
That is why we're adopting this approach of phasing it in over a number of years, recognising that this is an additional cost of employers, which some of them will find hard to meet. But I would bear in mind and I'd ask employers to consider that, during the course of the pandemic, employers and small employers in particular have received exceptional support from the State from taxpayer
Tánaiste @LeoVaradkar launching govt's Statutory Sick Pay scheme, which will mean employees by 2025 will be entitled to 10 days sick leave on 70% pay.

The sick pay/leave must be certified by a doctor. pic.twitter.com/Ieg2PdIUZk

— Rónán Duffy (@ronanduffy_) June 9, 2021
An employee will have to obtain a medical certificate to avail of statutory sick pay, and the entitlement is subject to the employee having worked for their employer for a minimum of six months. 
Once entitlement to sick pay from their employer ends, employees who need to take more time off may qualify for illness benefit from the Department of Social Protection subject to PRSI contributions.
Asked about the requirement that a doctor's cert is required, Varadkar said that employers can "choose" to trust their employees and not require one but that it is "reasonable" to include it in the Statutory requirement.
He also said that he appreciates that some lower paid workers may struggle to pay for a doctor but that if they do the sick pay will retrospectively cover their period of certified leave even if they attend the doctor a number of days into their sick leave. 
"About 40% of people, those least well off in our society, have a medical card and don't need to pay for the doctor. But I appreciate that there are others who do," he said. 
We felt that if we were bringing in a system of sick pay, we have to have some form of control, some form of verification. And the obvious one is a doctor's note. Of course, it is open to employers not to require that, they can accept or trust their employees if they so wish, but in terms of legal requirements a legal minimum, we're saying that sick pay has to be paid from day one. There's no waiting days but a doctor's note is required. 
He added: "Say for example somebody is out sick and it's the second day or the third day they're out sick, they go to their doctor, the doctor gives them the sick cert for five days or for a week, they get the full amount. So you don't need to attend the doctor on day one." 
Varadkar said the new provisions will provide a minimum level to protection to employees who may have no entitlement to company sick pay schemes.
He said that "roughly speaking about half of workers in Ireland have sick pay and about half don't"
"I believe this reform is part of the pandemic dividend, the more inclusive economy and fairer society we are going to build once the pandemic is over.
#Open journalism No news is bad news Support The Journal

Your contributions will help us continue to deliver the stories that are important to you

Support us now
"It's not right that people feel forced to go to work when they are sick and it's not good for public health. I know how difficult the past year and a half has been for workers and employers alike.
"We are only now getting back on our feet and are not yet out of woods. By phasing this in over a four-year period, we are taking a balanced approach to plug a well acknowledged gap in our social protections while also responding to the cost concerns of small businesses in the current economic environment," said Varadkar.
He said the scheme is designed to be fair and affordable with the minimum complexity and administrative burden for employers.
The legislation will expressly state that this does not prevent employers offering better terms or stop unions negotiating for more through a collective agreement, including agreements already in place. 
Around half of employers already provide sick pay, but some workers, including some lower paid employees, do not have access to this support when they fall ill. 
The new sick pay legislation follows similar measures already introduced to enhance employment rights including paternity benefit, parental leave benefit, enhanced maternity benefit, treatment benefit, and the extension of social insurance benefits to the self-employed.
The Tánaiste will publish a regulatory impact assessment on the Sick Leave Bill, which will set out the associated costs and benefits, as well as the proposed arrangements for implementation.
- With reporting by Christina Finn and Rónán Duffy