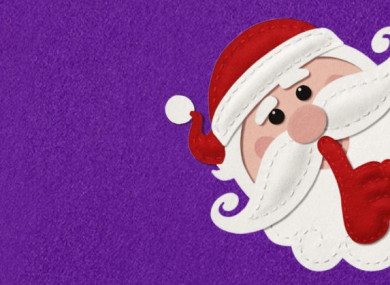 IT'S THAT TIME of year again. Letters are going to Lapland, stockings are ready to be hung, and children around the country are asking themselves if they've really been good. 
But whether you've been naughty or nice this year, we've teamed up with Cadbury to make Christmas on TheJournal.ie a great one – thanks to a very special Secret Santa.
We'll be rewarding some unsuspecting lucky readers with a special Christmas present: a festive hamper of Cadbury chocolate, plus a €150 One4All voucher. And all you have to do for a chance to win is:
Not pout
Not cry
Get into the Christmas spirit with a festive comment on TheJournal.ie
Here's how it works: From December 3, Cadbury Secret Santas will be working on TheJournal.ie, checking (and checking twice) the comment sections of articles about Christmas.
They'll be watching out for the best comments – personal memories, shared thoughts, warmhearted Christmas wishes. And between now and the big day, nine readers of TheJournal.ie will be winners. 
So for your chance to win the Secret Santa gift of a lifetime, look out for Christmas articles from Monday – and leave your best comments underneath!
Be good, for goodness' sake.
This Christmas, Cadbury want to give everyone the chance to be a Secret Santa and secretly send Cadbury chocolate to their loved ones. So what are you waiting for? Join the biggest Secret Santa ever by visiting secretsanta.cadbury.ie. 
Winning comments will be selected from nine Christmas-themed articles between December 3 and December 21 2018. The winners will be alerted by a Cadbury Secret Santa replying to their original comment, and must respond by email to claim their prize. Comments on other articles will not be monitored. Santa's decision is final. Full Journal Media terms and conditions are available here.