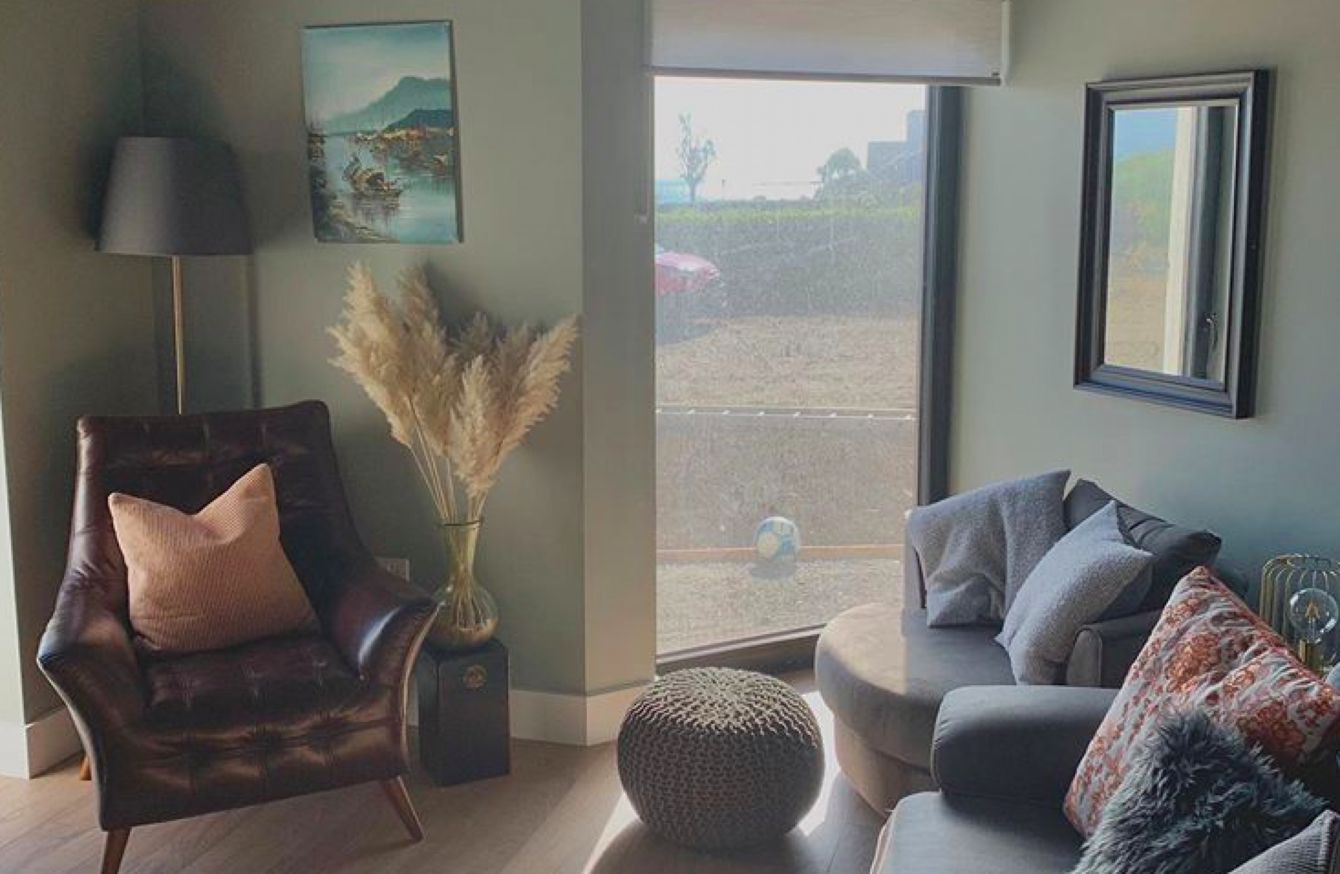 Image: Instagram/pebblebeachhouse2020
Image: Instagram/pebblebeachhouse2020
About you
Name: Caitriona Hughes (@pebblebeachhouse2020)
Age: 40
Occupation: Stay at home mum
About your home
Location: North county Dublin
What type of house? It is a new build: a part single storey  part two storey house
How many bedrooms and bathrooms? We have three bedrooms and four bathrooms, and can use our den as a guest bedroom when needed.
When did you move in? Three months ago.
Who lives there? I live here with my husband Jonathan and four children: Ríain (11), Caoimhe (9), Maitiú (6) and Fiadh (4).
What made you choose this design over others?
We wanted a design that would fully take advantage of all movements of the sun, from rising to setting, and of course that would allow us to enjoy the sea views. Shaping the design with our architect was something we really enjoyed.
What are some of the smartest storage solutions in your home?
Practicality, functionality and storage were high on our priority list when designing this home. It is such a relief to finally have somewhere to put the coats, hats, gloves, boots, shoes, wetsuits, and everything else that comes with a family of six.
We now have a closet at the front door and also a boot room by the back door which takes care of the majority of all that. We also have a separate (tiny) laundry room, which I love, as baskets of washing were the bane of my life. Lots of people say they want a huge utility rooms, but ours is super compact and works perfectly.
Is there any part of your home that makes it unique?
I think our four-angled east facing windows are pretty unique. Instead of facing directly into our neighbours' houses, they point out to the sea. So we have total privacy and can fully appreciate all those sunrises. I love following the sun around the house with our morning, afternoon and evening terraces.
How does a typical day start in your home?
Right now we are living a much slower paced life. I would normally wake at 7.30am and go downstairs into the kitchen, make sure the kids are sorted with their breakfast and then I bring up a coffee to the balcony off the master suite (weather permitting of course). I would then usually do some form of exercise outside, be it a swim, a run or a beach workout.
#Open journalism No news is bad news Support The Journal

Your contributions will help us continue to deliver the stories that are important to you

Support us now
How does a typical day end in your home?
In the evening after the dinner clean up and kids' bedtimes, we would take full advantage of a sunset, if it's on offer. Our open plan kitchen living room lights up bright orange during a good sunset, it opens out to the evening terrace and truly is a sight to behold Bedtime is around 11pm.
Would you change anything if you were doing it again?
It's all very new to us now and we haven't spent a winter in the house so that could change things but currently I wouldn't do a thing differently with the design or decor.