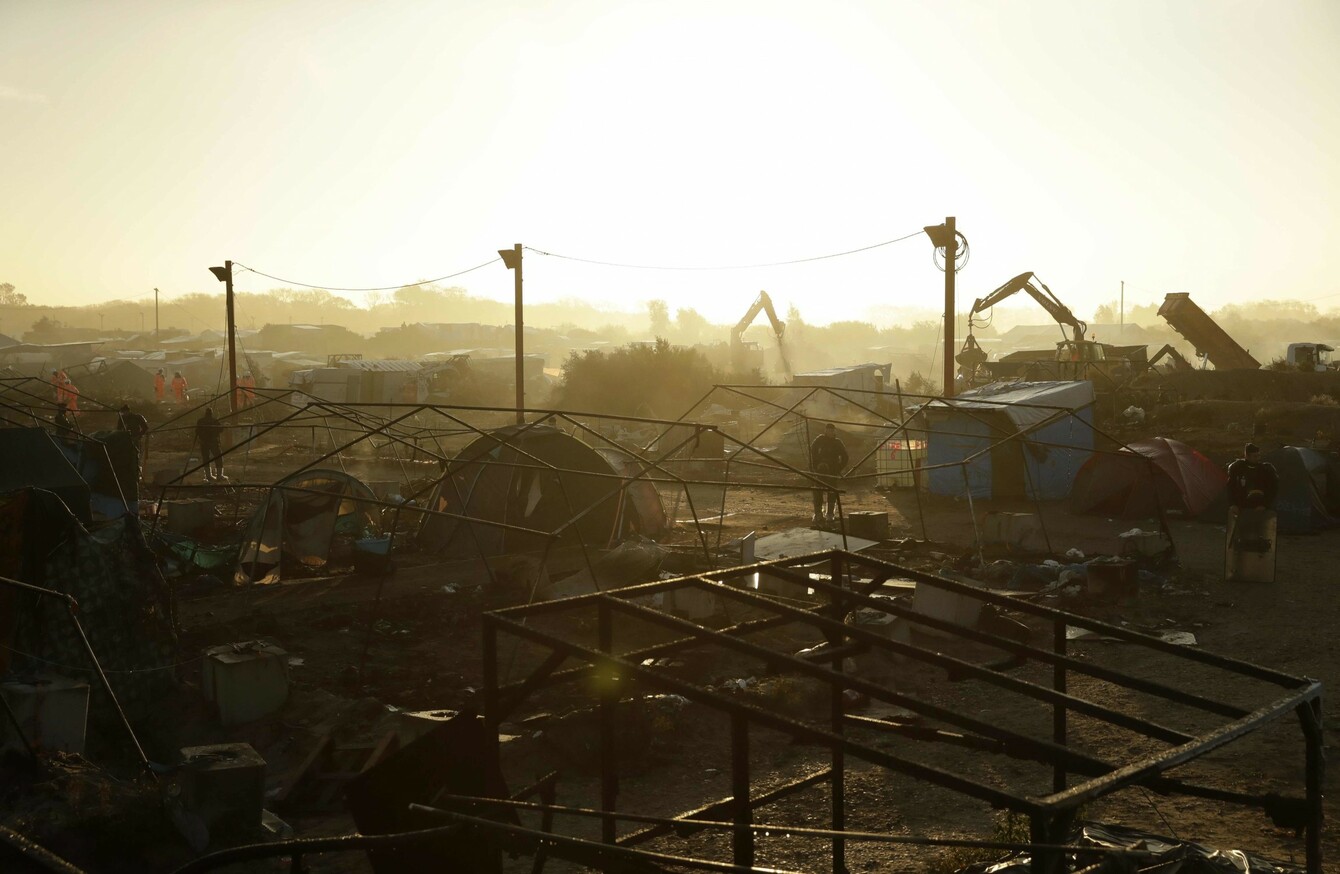 The makeshift migrant camp in Calais was cleared by French authorities.
Image: Matt Dunham/PA
The makeshift migrant camp in Calais was cleared by French authorities.
Image: Matt Dunham/PA
THE FIRST 20 unaccompanied minors coming to Ireland from the Calais migrant camp are all young boys aged 16 and 17 and will be here in the coming weeks.
Minister for Children Katherine Zappone confirmed today that arrangements to bring the migrants to Ireland are at an advanced stage.
"Last week my officials were with Department of Justice officials in France beginning to identify how we're actually going to say what children and young people will be coming," she said.
In addition to that, Túsla and my department have been working very hard to first of agree on the legal status they will have when they come and secondly then the kind of supports they will require, especially accomodation.
The minister said that the accommodation is ready for their arrival and that most of the young migrants coming here will be placed in "very small residential settings".
The first 20 of the unaccompanied minors will be here in the coming weeks and then a further 20 will follow. All of these young people are teenage boys aged 16 or 17, the minister said, adding that this gives rise to specific challenges.
"My understanding in speaking to Túsla and my officials is that all of them are boys and they're 16 and 17 years old. So we really have to think about their needs and experiences, boys becoming young men who've been in conflict and terror and have been without their families. So that's what we're getting ready for."
The minister said that cost of providing services and accommodation to the 40 minors will be about €11.3 million and that she will be discussing funding with Cabinet colleagues today.
"There is a will to do it and we will find a way," she said.
A spokesperson for independents in government said that any additional money needed will be made available from savings found in the Department of Children.
The spokesperson also said that when the migrant children turn 18 they will receive the same supports available to children in State care who turn 18.
It's understood that once the children turn 18 they can remain in Ireland or they may decide to move on if they choose.
Túsla are taking on an extra 20 social workers to help deal with the new arrivals.
- With reporting by Christina Finn.