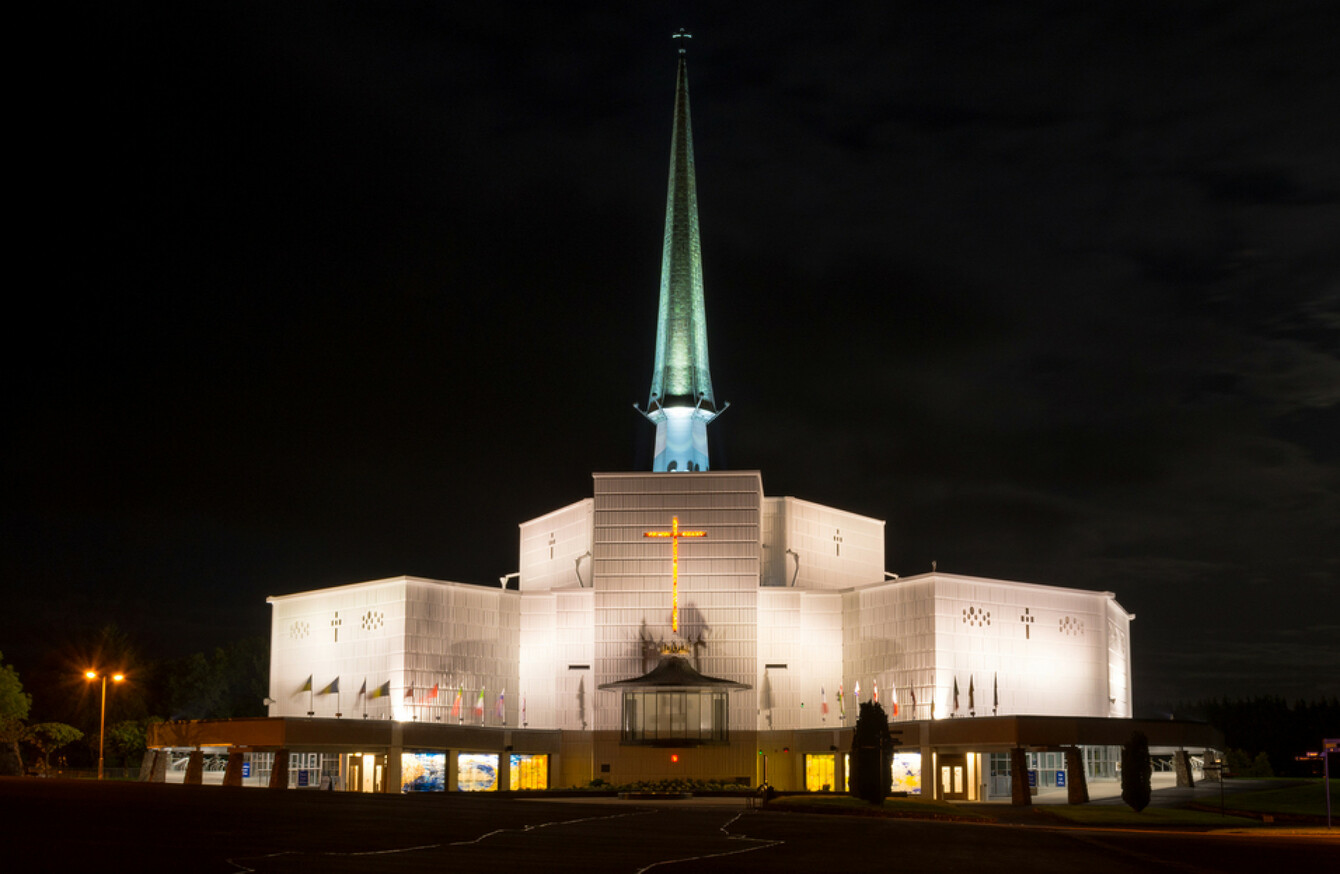 Basilica of Our Lady of Knock will light up red on 28 November.
Image: Shutterstock/Thoom
Basilica of Our Lady of Knock will light up red on 28 November.
Image: Shutterstock/Thoom
PARISHES AROUND IRELAND are being asked to turn their churches red to remember "martyred and persecuted Christians historically and presently" later this month. 
The Irish Catholics Bishops' Conference has encouraged parishes to take part in the Red Wednesday campaign, organised by Aid to the Church in Need Ireland (ACN). 
"On Red Wednesday, we remember the horrific reality of religious violence and intolerance in our world and we state definitively that those who do not respect freedom of thought, conscience and religion must be held to account," Bishop Alan McGuckian of Raphoe, Co Donegal said. 
On 28 November, some major landmarks around the world will light up "blood red" including some Irish ones like St Malachy's Church, Armagh, the national shrine of Knock, Mayo, the Cathedral of the Immaculate Conception, Sligo and St Mary's Pro-Cathedral, Dublin.
ACN Ireland will be providing the participating parishes with packages
including red light filters to illuminate churches in red, complimentary catechetical
materials alongside a suggested format for conducting homilies and Red Wednesday.
Theresa Traynor, ACN Ireland spokesperson told TheJournal.ie that it's hoped that Red Wednesday can highlight the persecutions against Christians that are ongoing today and not just what occurred in the past.
It's a thing we don't really think about because we are living in a different reality.
According to Bishop McGuckian, Westerners have difficulty thinking of Christians as the victims of persecution today. 
"The truth is that in our modern world Christians are more likely than ever before to suffer being imprisoned disappeared, sexually harassed, tortured or executed," he said. 
Traynor referenced the most recent case of the Pakistani Christian woman who spent eight years on death row for blasphemy.
Asia Bibi's was imprisoned following an incident in 2009 when she was asked to fetch water while out working in the fields.
Muslim women labourers objected, saying that as a non-Muslim, she should not touch the water bowl, and reportedly a fight erupted.
A local imam then claimed Bibi insulted the Prophet Mohammed – a charge she denies.
A week after being freed from jail, Bibi remains in limbo, with negotiations apparently under way to allow her to leave the country despite objections from Islamist hardliners demanding her execution.
Traynor said it is important that Christians show their support for the campaign by wearing an item of red clothing on the 28 November.  
With reporting from AFP.