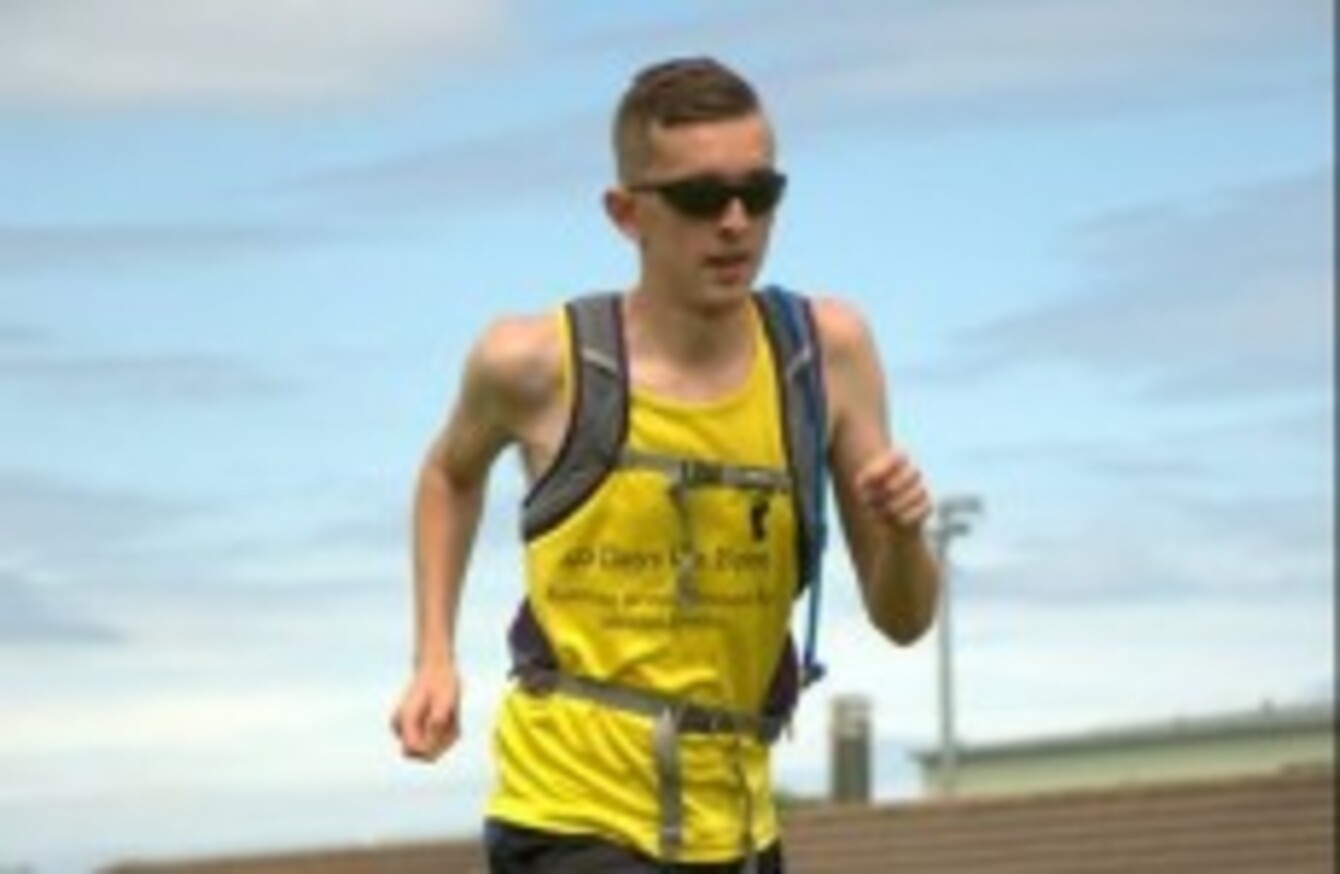 Callum Jacobs
Callum Jacobs
AN AMATEUR RUNNER will attempt a massive challenge beginning tomorrow morning, when he plans to begin the equivalent of 33 marathons in 40 days.
Callum Jacobs (23) is an amateur runner from Bray, Co Wicklow who is about to set out on the journey of running the perimeter of Ireland in 40 days.
At the beginning of January, Callum had never run a marathon in his life. His first was in April.
"Arrogant, stupid and insane would come to mind if someone were to tell me that they were planning the same, and to some extent they would be right" he writes on his site.
On Sunday 27 July, he will start out in Bray, averaging six marathons a week for six weeks, allowing some time for recovery and potential injuries.
Setbacks
In the middle of June, only mere weeks from starting this challenge he found himself suffering from ITB Friction Syndrome, which causes swelling and severe pain in the knee.
This injury ruled out several weeks of training and almost led to him cancelling the entire event.
"Since the ITB problem occurred over a month ago I've had a couple of very dark moments indeed. Severe self-doubt started to creep its way into my mind set and began infesting my thoughts" he writes on the site.
After several weeks of recovery and persistent physiotherapy, Callum is will embark from Wicklow to Cork city in his first week with stops in Limerick, Bundoran and more on the cards.
What's it all for? 
But why do it in the first place? Callum is undertaking the gruelling challenge in aid of Pieta House, which opened its doors in January 2006 and is the first charity of its kind in Ireland. Pieta House offers a specialised treatment programme for people who have suicidal ideation or who participate in self-harming behaviours.
In particular the centre will target the people who have already attempted to take their life. This service is free of charge.
Callum said that he was "inspired by a couple of my friend's unbelievable resolve when they faced depression, anxiety and suicidal tendencies at very hard times in their lives and pulled through these times, wiser and stronger.
"Pieta House supported one friend in particular through a very dark stage of her life and she has come through it with such an inspirational attitude towards living. They are a fantastic organisation selflessly supporting people who are in very dark times and for them, and the people they support, I wanted to show my gratitude by fundraising in aid of them."
You can support follow Callum's journey on 40daysonfoot.com.