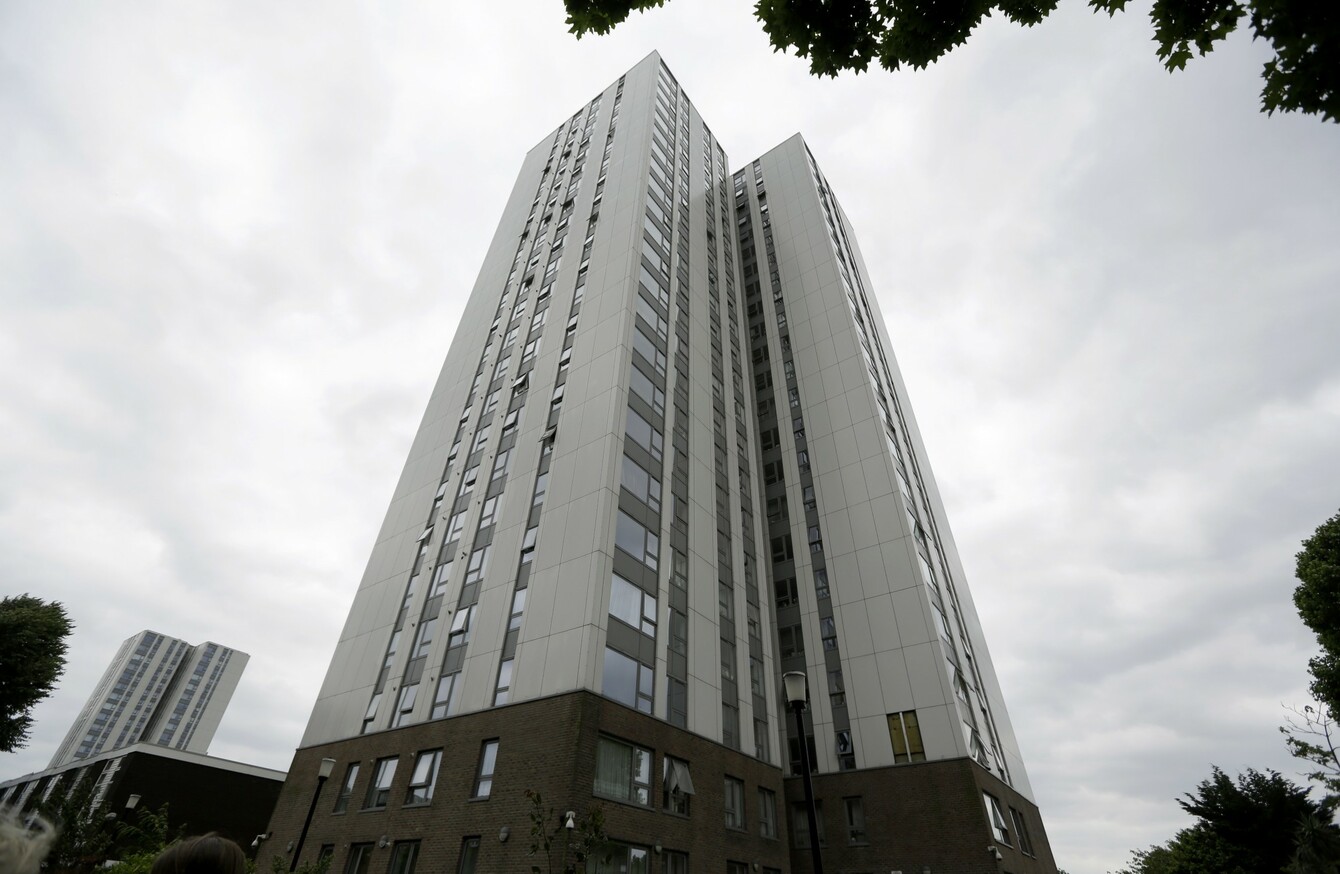 A view of Burnham residential tower on the Chalcots Estate showing the bottom section of the building after cladding was removed.
A view of Burnham residential tower on the Chalcots Estate showing the bottom section of the building after cladding was removed.
FIVE TOWER BLOCKS with 800 homes are being evacuated in Camden over concerns around fire safety.
The cladding on five of the Chalcots Estate towers is similar to the materials on Grenfell and have been widely blamed for the rapid spread of the massive blaze last week that is presumed to have killed 79 people.
The dramatic snap decision follows urgent testing of the towers' exteriors, which were installed by the same contractor as the Grenfell Tower. As a result, Chalcots residents were being sent to hotels across the city
It was originally reported that just one tower block was being evacuated, but that was later extended to all tower blocks the council had checked with London Fire Brigade.
Speaking to reporters, Georgia Gould, leader of Camden Council, said the the London Fire Brigade had told the Council that they "could not guarantee" the residents' safety.
"And so I've made to really, really difficult decision to move the people living there into temporary accommodation while we do the urgent works to guarantee safety," she said.
Gould said the Council had made the decision to evacuate residents "about two hours ago".
Anger
Speaking to reporters at the scene of the evacuation, residents expressed anger that the council had left it until 8pm on a Friday night to start moving them.
Michelle Urquhart, who has been living in the Chalcots Estate's Bray tower, said the situation was "frightening".
"I don't know where we are going to go.
"One man in a suit said to me 'you can't stay here tonight'.
We have been living in these flats for the last 10 years with this cladding.
Chalcots resident Shirley Philips told Sky News television she had been given no notice before being told she must leave her home.
"It's absolutely disgusting.
I had a fire safety check done today. Why have they left it till 8:30 on Friday night to start getting residents out? Where do they think we're all going?
"Hugely distressing"
In an earlier statement Gould said the council was determined ensure the safety of its residents.
She said that the the "Taplow block needs to be temporarily decanted while we undertake urgent fire safety works so that residents can be fully assured of their safety".
This means that we need to move residents from their homes and into temporary accommodation.
The council said that it anticipated that these works would be completed in "three to four weeks".
"We realise that this is hugely distressing for everyone affected and we will be doing all we can, alongside the London Fire Brigade and other authorities, to support our residents at this difficult time," Gould said.
"The Grenfell fire changes everything – we need to do everything we can to keep residents safe.
You will appreciate that this is an emerging situation and we will be providing regular updates.
Cladding is material that is put on the outside of the buildings to improve its energy efficiency and insulation.
It has been implicated in the Grenfell Tower fire in London last week in which 79 people are believed to have lost their lives.