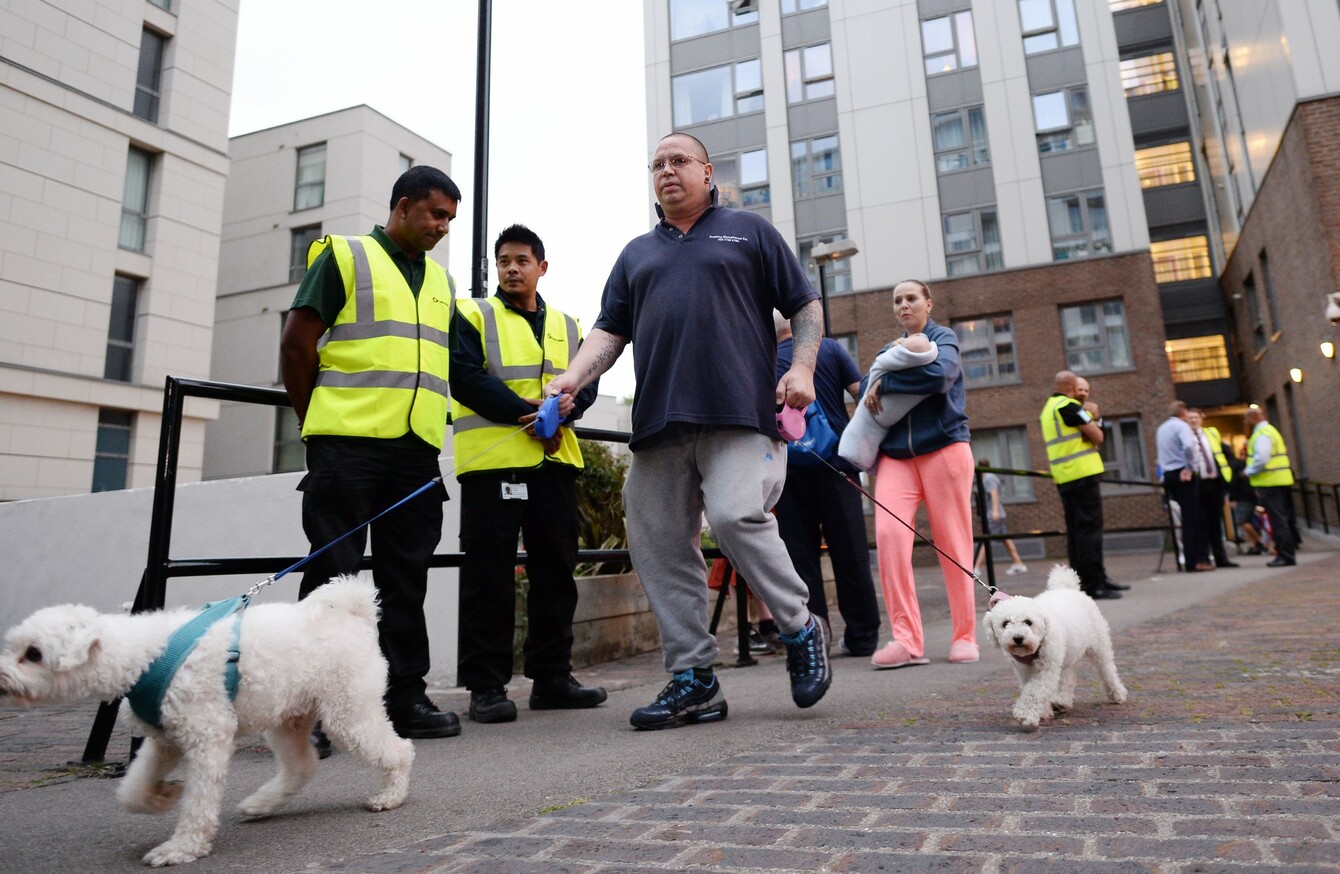 Image: Stefan Rousseau/PA
Image: Stefan Rousseau/PA
Updated 11.21am
RESIDENTS OF FIVE London tower blocks evacuated last night over fire safety concerns have criticised the last-minute evacuation and 83 have reportedly refused to leave their homes.
The dramatic snap decision follows urgent testing of the Camden towers' exteriors, which were installed by the same contractor as the Grenfell Tower, where 79 people lost their lives in a fire.
Speaking to reporters, Georgia Gould, leader of Camden Council, said the London Fire Brigade had told the Council that they "could not guarantee" the residents' safety.
"And so I've made to really, really difficult decision to move the people living there into temporary accommodation while we do the urgent works to guarantee safety," she said.
Some 800 homes in total were evacuated last night and residents expressed frustration at the lack of notice they were given and at the inadequate arrangements put in place for them. The BBC reports 83 people have refused to leave their homes on the Chalcots Estate.
Camden Council leader Georgia Gould said if people choose not to leave their homes it would "become a matter for the fire services".
"It's totally crazy. What difference would another night have made?" asked Melanie Tham as she evacuated her home. "I was at my boyfriend's, I received a text message, and I had to rush back home. They told us we had to evacuate before midnight."
Leaving on foot, some with suitcases and bags, hundreds made their way to the nearby Swiss Cottage library to be allocated a hotel for the night after the council block-booked rooms across London. The council is also asking residents to stay with friends and family if possible.
They are expected to be out of their homes for up to four weeks.
'It was a mess'
Ahmed Mohamed, 19, who lives in the Taplow tower with his parents and two sisters, said they were alerted by a neighbour.
"It was a mess. We only had five minutes to get our stuff," he said.
I don't know why they're telling us to evacuate 800 homes right now. We could've packed our stuff nicely and they would've have time to rehouse people.
Residents will be allowed in to collect more belongings today, under escort from the fire brigade.
Shirley Philips told Sky News she first heard about the evacuation while watching the news in her second floor flat.
When asked how much notice she had been given she replied: "None. No notice. I picked it up on your news programme."
I think it's absolutely disgusting.
"Why have they left it until half past 8 at night to start getting residents out? Where do they think we're all going? This is a massive tower block," she said.
They've started evacuating Bray [tower block], so where are we all going?
Another resident told Sky News he received a letter yesterday morning from the council but there was no indication in it that they would be asked to leave their homes.
"They said they're going to fix it, they didn't say nothing about we're going to get moved out. This is all in a panic, I just left work."
#Open journalism No news is bad news Support The Journal

Your contributions will help us continue to deliver the stories that are important to you

Support us now
'I am in shock'
However, some residents are glad the council has taken such swift action. "I am in shock, I don't believe it", said mother-of-three Adelina who lives in the estate's Burnham tower.
"I think it's the right thing to do if it's health and safety. I'd rather be safe."
Pippa Wordsworh told AFP she was "very frightened" after hearing her tower block had the same cladding as the Greenfell Tower.
"This cladding looks nice. We had no idea it could be so dangerous," she said.
Britain is now carrying out emergency checks on cladding installed on social housing tower blocks across the country, with 600 identified as potentially dangerous in England alone.
Cladding on 14 towers in different parts of the country has so far been found to be "combustible".
Casey Oppong head of the tenants' association in the estate's Blashford tower, blamed the use of multiple subcontractors for work on council tower blocks for putting fire safety at risk, saying that "in the end, there is no control".
"The scariest thing to know is that if it happened to Grenfell, it can happen to us," he said.
- With reporting from AFP.