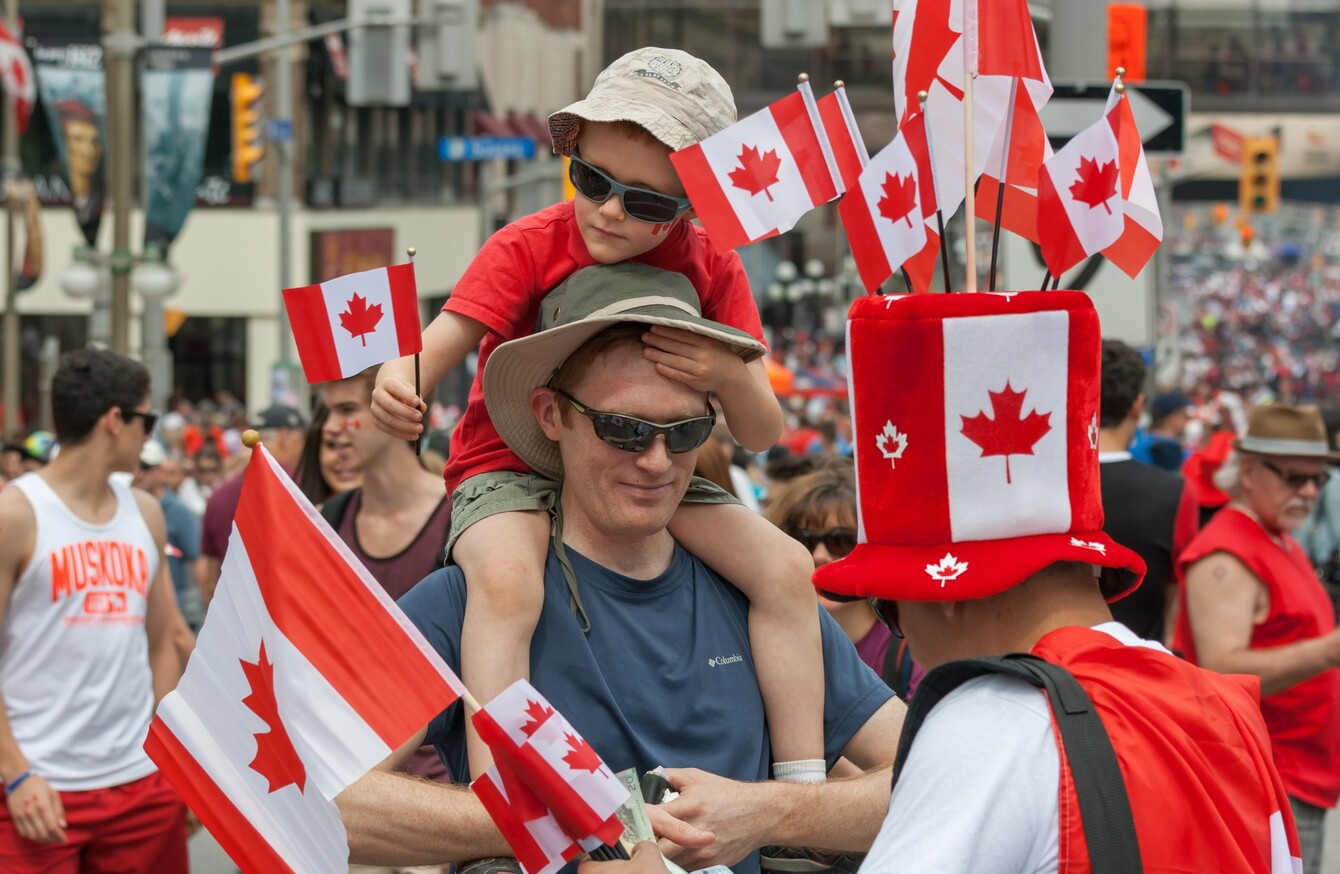 File Photo: A man buying Canadian flags for his family during Canada Day on July 1 in downtown Ottawa.
Image: Shutterstock/David P. Lewis
File Photo: A man buying Canadian flags for his family during Canada Day on July 1 in downtown Ottawa.
Image: Shutterstock/David P. Lewis
CANADA WILL CELEBRATE it's 149th birthday on 1 July this year and Monaghan town will be decked out in festive bunting to celebrate.
For the first time ever the county is holding a 'Canada Day in Monaghan' festival to remember the several thousand Monaghan natives who emigrated to Canada almost two centuries ago.
Chairperson of the Canada Day Organising Committee and Monaghan Municipal District Councillor Sean Conlon explained:
Prince Edward Island (PEI) is home to the largest concentration of Monaghan descendants outside of Ireland.
"The upcoming Canada celebrations are an opportunity to acknowledge the shared culture, heritage and genealogy that our communities share, and further strengthen those bonds for the present and future generations."
Monaghan County Council established twinning links with authorities in Canada on Prince Edward Island over two decades ago.
Conlon stated that the Canada day in Monaghan Festival "builds on the long established County Twinning agreements forged in recognition and remembrance of the several thousand Monaghan natives who emigrated almost two centuries ago to the Atlantic Maritimes region in northeastern Canada".
The Canadian Ambassador to Ireland His Excellency Mr Kevin Vickers will officially get things underway at Monaghan Courthouse with the raising of a Canadian Maple Leaf flag alongside the Irish Tricolour and a playing of the Canadian national anthem "O Canada".
Links
A Canada Day Lecture entitled 'The Backward Look: From Monaghan to . . . the Monaghan Road, Prince edward Island' will also be delivered by Professor Thomas O'Grady, Director of Irish Studies at the University of Massachusetts Boston.
Thomas O'Grady was born and grew up on Prince Edward Island. His great-grandfather on his mother's side, Arthur Delaney, was born in Emyvale, Co. Monaghan, in 1842.
His talk on Canada Day will use as its starting point Seamus Heaney's important observation on "place" in the Irish imagination.
Specifically, he will draw links between Monaghan and Prince Edward Island is based first on the historical connections inscribed by his father, Brendan O'Grady, in Exiles and Islanders, his detailed account of the coming of the Irish to PEI:
Of the ten thousand immigrants who came directly from every county in Ireland to settle in Prince Edward Island in the first half of the nineteenth century, the largest single group unquestionably originated in County Monaghan.
Saturday and Sunday will include a variety of guided bus and walking tours through parishes and sites of significance relating to life in Monaghan many years ago and relevant to the emigration of large numbers from Ireland to North America.
The event is being organised by a local 'Canada Day in Monaghan Committee' and Monaghan County Council, the local authority that established twinning links over two decades ago with authorities in Canada.