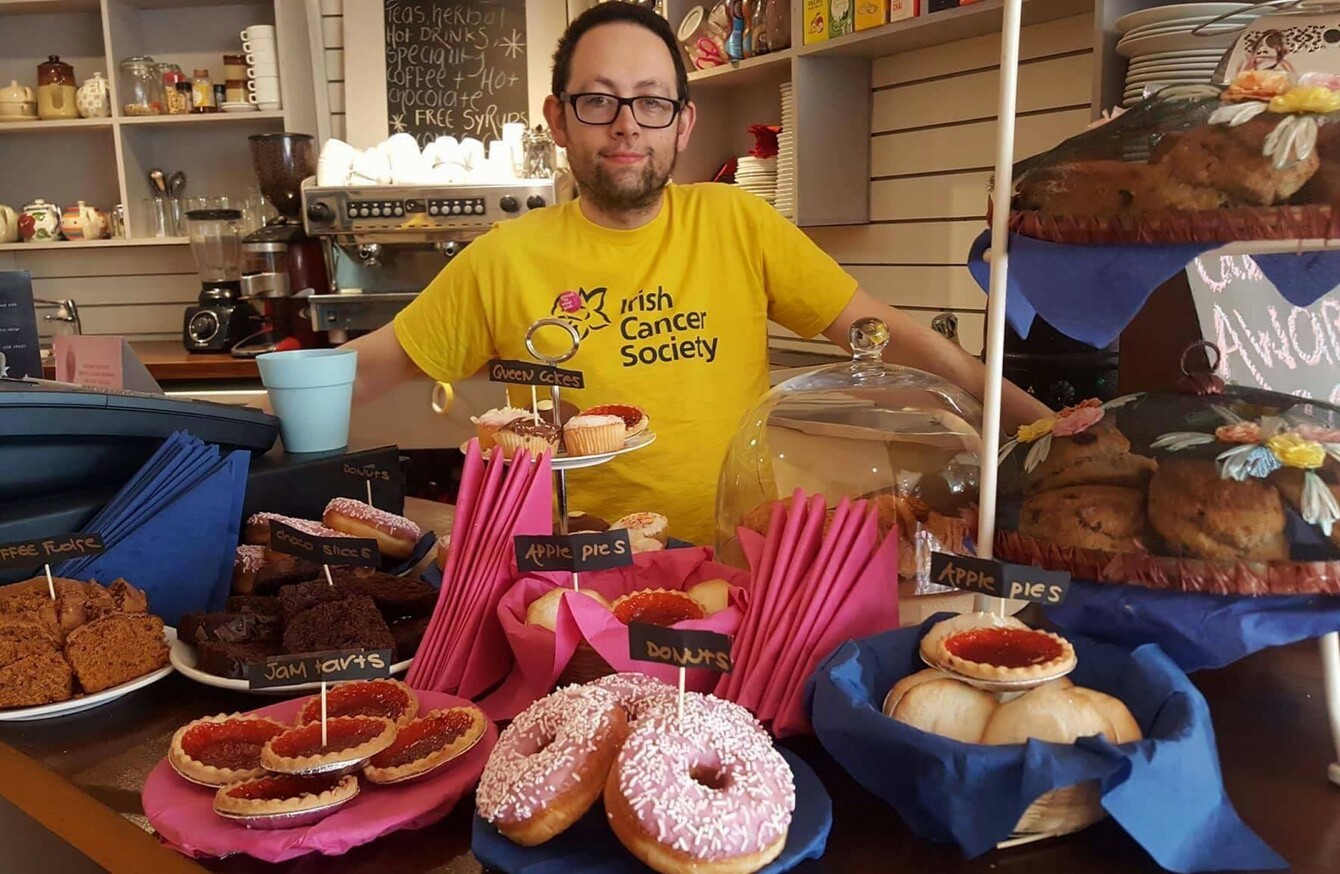 Image: Facebook/The Bazaar Coffee Shop
Image: Facebook/The Bazaar Coffee Shop
WHEN MICHAEL REYNOLDS noticed a lump on his chest at age 30, he hadn't really considered one of the less likely possibilities of what it could mean – a breast cancer diagnosis.
But when the pain got so extreme that he ended up in the Accident & Emergency Department of Sligo University Hospital, that was exactly what it was. Unfortunately, Reynolds was one of the estimated 18-20 men each year diagnosed with breast cancer each year in Ireland.
We're now one month out from Cups Against Breast Cancer - an Irish Cancer Society appeal to the public to hold a coffee morning on October 11. It's all to raise much-needed funds for people affected by breast cancer just like Michael. Here, he shares his story…
'A complete shock'
I suppose it all started in February 2016 when I discovered a lump on my left breast. I was worried so I went to my GP, who put me on a waiting list to see a specialist. But when both the pain and anxiety got so bad I had to go to A&E, the team there had a look and realised that the lump seemed suspicious.
The next day, I was sent for a biopsy in University Hospital Galway. They soon realised that I had breast cancer that was between stage II and stage III and I was sent for a mastectomy on my left side. I had four sessions of chemotherapy three weeks apart, and was treated by an incredibly supportive team in Sligo University Hospital.
Male breast cancer was something I was aware of as once I had discovered the lump, I tried to rule everything out. At the same time, it was a complete shock when the consultant came in and said what it was – as a man you don't jump to male breast cancer.
Painful swelling
These days, I'm completing a five-year course of Tamoxifen which is a hormone replacement therapy, so I'll take one pill a day for the next two years. I look after my diet and feel fairly well-adjusted.
But one of the main side effects that I have is lymphoedema – I had lymph nodes removed from my arms during the surgery and sometimes it can flare up. I didn't know anything about the condition but it's actually something that affects a lot of people who need to have surgery for breast cancer.
The lymphoedema causes pain and swelling and sometimes I need to wear a sleeve for a couple of days if it's bad. I also need to be careful on long-haul flights to move my arm around as much as possible.
The mental impact
I always say that cancer is as much a mental as a physical ailment. It's important for anyone who goes through it whether at stage I, stage II or stage III that they avail of the support that's there. Their hospital team can only go so far with their emotional support.
I was lucky to have access to a fantastic counselling service in Sligo that I availed of, that worked specifically with people going through cancer. It's so difficult even with counselling, I can't imagine going through cancer without it.
Support from the Irish Cancer Society is also very important to me. If I've any flare ups with lymphoedema or if I had any big checkups coming up, I would get in touch with their Cancer Nurseline (1800 200 700). Fortunately, I'm at the stage of my treatment where I know the path that I'm on but if anything goes wrong, I know they're at the end of the phone.
What I found in particular is once that the chemotherapy stage is over and you're away from hospital and treatment, you are out on your own. And you need to plan after that how you're going to deal with it. That's a great place where the Irish Cancer Society can step in and give you guidance if you are in trouble or your mental health isn't that great.
Facing breast cancer as a man
It would be awful to be a position where you don't get checked because it doesn't occur to you that it could be breast cancer. We really need to push men to go to their doctor if they do find a lump or bump – especially the older generation. 
The first year I was involved, a lot of the stuff around breast cancer was tiered towards the colour pink, which we were happy to support but I think we need to make people aware that it is something that affects both males and females. Even though it's mainly associated with women, men do get it too. 
The main thing I get is a lot of men don't realise they can get breast cancer – you don't think it's a possibility but there is a chance. There are about 20 cases in Ireland and they make up about 1% of all breast cancer diagnoses. If you notice any lump or bump, as soon as you have a feeling in your gut that something isn't right, it's so important to go to the GP – the worst that happens is you don't go and it spreads too far.
For me, it was a lump on my left breast so it was quite obvious but you can find that the nipple could be quite red or you might notice a discharge coming out of it. The best diagnosis is one that's caught early, particularly for breast cancer. Twenty years ago, breast cancer was in the high 60s for survival – these days it's the high 80s, as long as it's caught early.
What can others do?
The Irish Cancer Society is reliant on donations to provide free services and fund cancer research. With things like counselling and the Cancer Nurseline, it's so important for people to have access to those services, especially those who might not be able financially to access them through the health system.
Cups Against Breast Cancer is a great way for people to get involved and show their support – anyone can organise a coffee morning with family, friends or workmates.
For three years in a row, we hosted a Cups Against Breast Cancer morning in our cafe in Roscommon and until 12 or 1 o'clock, we put everything we make towards the Irish Cancer Society. It's always one of our busiest days of the year and people are always so generous – it's a great way of raising awareness.
If you do want to take part, just can register with the Irish Cancer Society to get your fundraising pack. Their team is there for you too if you're not sure what you want to do – they can advise you on the best way to get involved. Get onto social media, share the fact that you are doing the event as early as possible – the local community will support you.
Want to do what you can to help people like Michael when they really need it? The Irish Cancer Society's Cups Against Breast Cancer campaign raises much-needed funds for people affected by breast cancer. Get your cups out for a good cause on Friday, October 11th. Find out how you can host a coffee morning in your community, workplace or office or check some other event ideas here.