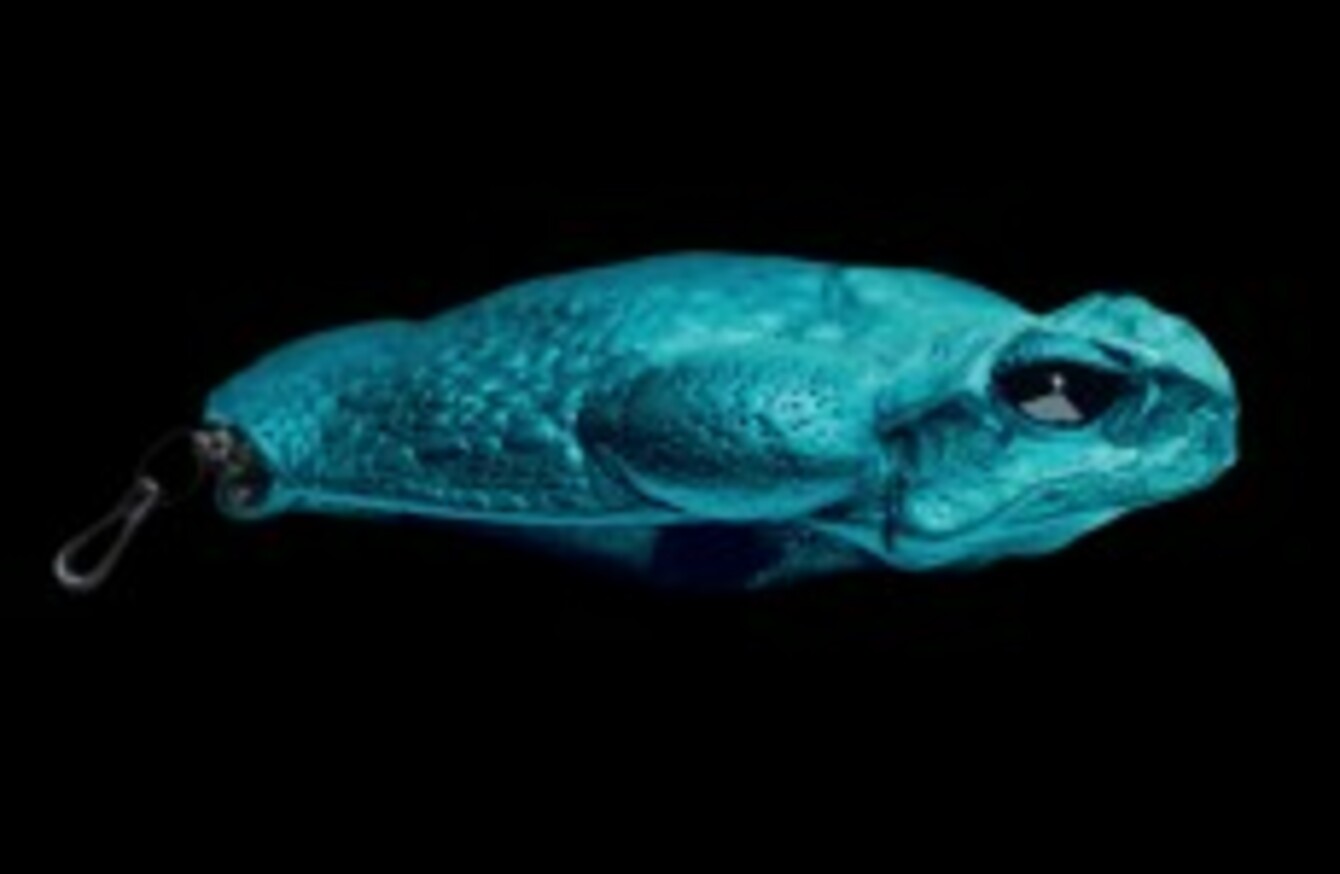 A purse made from the toad skin, with a crystal replacing its eye.
A purse made from the toad skin, with a crystal replacing its eye.
ONCE UPON a time a poisonous cane toad lived in the South Sea Islands, unloved and unwanted. Condemned as an ecological disaster, the Australian army was even deployed to get rid of it.
Then one day a Polish designer waved her wand and the plain old cane toad turned into a… bag.
Monika Jarosz's luxury Kobja brand claims to be inspired by the fairytale idea of the "toad that transforms itself into Prince Charming".
Introduced from South America decades ago to control the native cane beetle, the cane toad may have outstayed its welcome in the South Sea Islands, but today their skins have become an expensive luxury fashion material.
A friend unknowingly set the wheels of innovation in motion by giving Jarosz a stuffed frog from New Zealand as a gift.
"(It) disgusted me but ended up by fascinating me," she said.
Three years later, and her luxury accessory business is producing bags, belts and purses made from whole skins, set with semi-precious stones or Swarovski crystals in place of the eyes.
The leather items  are now sold in Asia, Europe and the US.
A purse can cost between between €220 and €250, depending on the country, while a large bag would be priced at around €1,200.
A belt from Jarosz's collection. Image: Kobja.com
Jarosz came to France from Poland 12 years ago to work as a model before developing an interest in design, in particular working with unusual materials.
Fascinated by the stuffed frog, she recalled that the more she stroked it the more the idea of creating something "really good like a jewel" from a similar material started to take shape.
But finding skins to work with presented a problem. In vain, Jarosz made inquiries with restaurants serving frogs legs.
Then she discovered the existence of the toads of the South Sea Islands where they had proliferated to such an extent they were in the process of destroying several local species.
Thousands of cane toads caught by residents of Cairns, Australia in 2009 and which were euthanised by freezing in a bid to cull their poisonous reign against local wildlife. Image: AP Photo/Brian Cassey/file.
Animal defence organisations had recommended that they be selectively eliminated and her website notes that they are a "non-protected species".
With the help of a taxidermist in the Australian city of Cairns, Jarosz set about transforming the skins into high fashion.
After the taxidermy, the skins are tanned, dried and coloured in France, ending up in a workshop in Paris where the leather is cut, stitched, set with crystals or stones and lined with lamb or goat skin.
"When I called Jean-Charles Duchene (who runs the tannery in Paris) for a quote, they thought it was a joke," she recalled.
"It was a challenge because we had to adapt to the material. The toad (skin) is denser than lamb, the dye is fixed quicker and it needs less," she added.
A cane toad in the wild in Australia's Northern Territory. Image: AP Photo/Mark Barker, file.
A symbol of fertility and prosperity in some cultures, the toad is also linked to sorcery, Jarosz added.
Now sold in luxury goods shops or concept stores in Tokyo, Beijing, New York, Paris and Berlin, Jarosz's quirky products have developed an almost cult-like following among some customers.
Some even give their bags names, she said, and regularly update her with news about them.