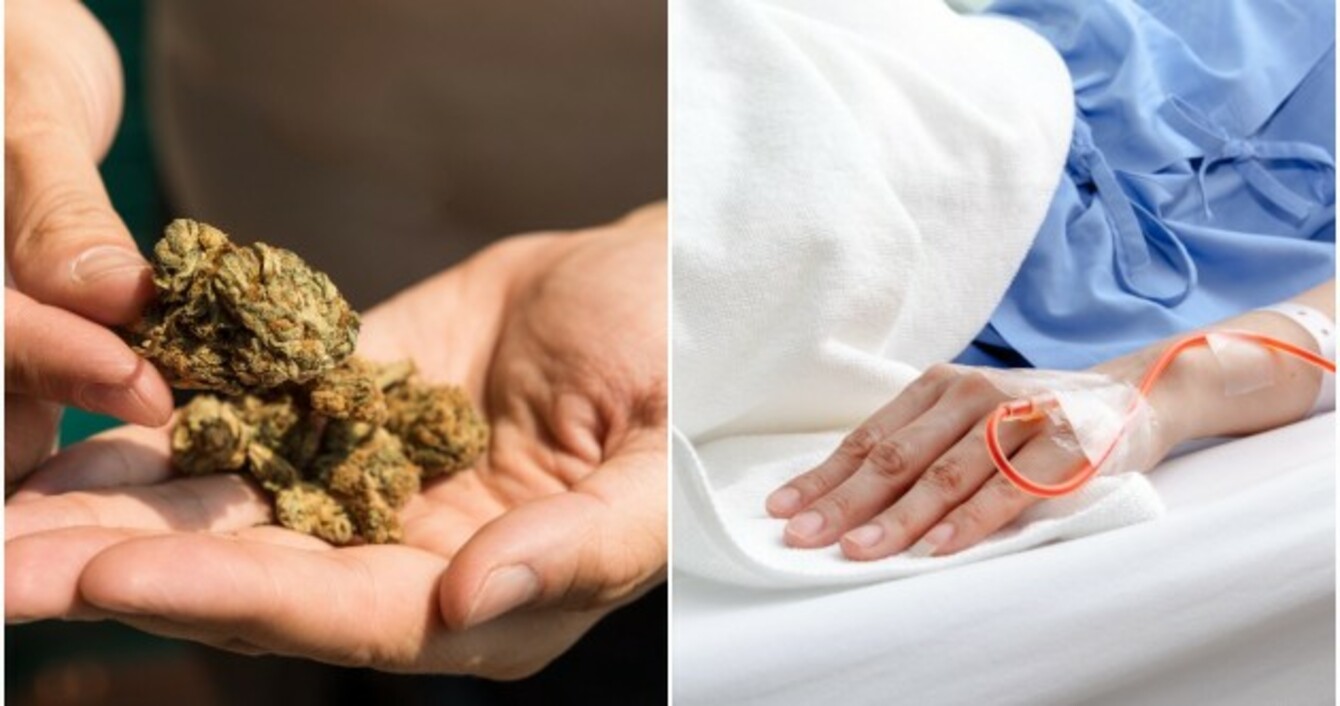 Image: Shutterstock/YKTR/ Maxim Apryatin
Image: Shutterstock/YKTR/ Maxim Apryatin
"I WAS TOLD I only had three months left to live. Here I am now two years later… When you've had cancer for so long it can be a very tough thing to deal with. It takes a toll. Cannabis helps me. It picks me up."
Stephen* was diagnosed on Christmas Eve 2014 with stage four, terminal colon, liver and lymph node cancer. A self-employed father of three in his early 40s, his short-term future appeared bleak.
He spoke to TheJournal.ie about his cancer diagnosis, how he's found cannabis to be effective in treating the side effects of chemotherapy and how he now wants the government to legislate for cannabis.
Diagnosis
Stephen had been a healthy, active man until 3pm on 24 December 2014, when he was diagnosed with stage four terminal colon, liver and lymph node cancer.
"I was told I had three months to live," Stephen said. "I was also told that there was no intervention they could give me apart from chemotherapy for life extension, and to ease the symptoms."
According to the Irish Cancer Society, once diagnosed with the stage four form of the disease "it is unlikely the cancer will be cured".
For Stephen, there was no other option but to go for chemotherapy: "I had three kids, all under the age of 13. I had to do it".
He waited until St Stephen's Day to tell his children about the diagnosis. "I told them that I would do everything I could to stay with them as long as I could," he said.
He had been made redundant during the recession, but went back to college and ended up starting his own business. After the cancer diagnosis, however, he was forced to give it all up.
"At this stage, I was just scrambling for information," he explained. "I couldn't accept that there was nothing that could be done."
Cannabis
After his diagnosis, Stephen found his mobility severely reduced to the point that he was barely able to walk.
The side effects of chemotherapy also made him feel very ill, and he didn't respond well to the medication he was prescribed to help relieve these symptoms. "They made me ill, constipated and caused all sorts of problems," he said.
While searching for any way to relieve his symptoms, relieve chemotherapy side effects and make himself more active, he came across information which suggested cannabis may be able to provide some relief.
It wasn't something he did lightly.
I had no involvement with cannabis at all. I had tried it when I was 17, but didn't like it. I wasn't anti-cannabis. It just wasn't my thing.
By chance, he was put in touch with a friend of a friend who had used cannabis to help them deal with their illness.
"Without accepting money he provided me with oil and sourced all the equipment needed to grow my own. He then helped me grow my first crop," Stephen said.
I started taking it and immediately felt relief from the side effects of chemotherapy. I haven't looked back since.
Using it daily, he said he's even felt more active since he began taking cannabis.
"My son plays sports and my daughter is involved with clubs. I can follow them anywhere now," he added.
Grow your own
Stephen doesn't actually smoke the cannabis.
He uses the plant to make an oil or extract which he can take sub-lingually (under the tongue) or as a suppository depending on what he mixes it with, or vaporises it for his lungs and lymph nodes.
He routinely mixes the oil or extract with coconut oil, olive oil or other oils to get the desired effect.
His primary way of taking it, however, is to "to take the oil straight under the tongue and let it dissolve".
"I don't smoke as the very idea of burning the cannabis is pointless unless you want to get high," he said. After initially receiving a supply of cannabis through the mutual friend, Stephen took steps to grow his own to ensure he has a constant supply.
"I do it very secretly," he explained. "I source everything myself. I pay for it by cash, and then I grow it.
I'm not doing harm to anybody. I'm not supporting the drugs industry.
Stephen admitted that, despite knowing he'd face punishment, he would put forth his stance on the issue if he was ever put in front of a judge in court.
"I'd hate to be caught for the sake of my family but would put a compelling argument to the judge as to the legitimacies of my using cannabis as a treatment for cancer," he said
THC
The recent debate around medicinal cannabis in Ireland has centred around CBD, or cannabidiol.
An extract of the cannabis plant, it has been shown that it may provide pain relief for people with conditions such as epilepsy.
There is considerably more controversy, however, around THC, the psychoactive substance that gives "the high".
At a recent Oireachtas health committee meeting, consultant neurologist at St James's Hospital, Dr Colin Doherty said: "There are reasons to be optimistic about some anecdotal reporting of CBD effectiveness, but ones with high levels of THC should be worried about."
At that same committee, Vera Twomey, a mother of an epilepsy patient who had taken CBD to gain relief from pain, argued in favour of THC. "We want to be in a position where a doctor could prescribe THC," she said.
Despite being the principal psychoactive substance in cannabis, Stephen was keen to stress that the presence of THC in the cannabis he has taken has greatly benefitted him.
"There's ways of counteracting the psychoactive elements," Stephen said. The presence of THC in what he's been taking has been key, he added.
While both CBD and THC have shown promise in clinical trials in the lab and on animals in certain forms of cancer, there is not a great deal of strong data widely accepted on how it affects cancer in humans, according to the US National Cancer Institute.
The Future
Looking forward, Stephen is certain of what action he'd like taken on cannabis in Ireland.
"I've spoken to doctors openly about this," he said. "My oncologist is open to it, but she can't prescribe it… It should be legalised across the board."
He added that he did not want to continue growing his own cannabis in secret and would rather that he, and people like him, could access this option when other medical avenues had failed.
The possibility may have seemed remote even a year or two ago, but momentum behind legislation for medicinal cannabis has gathered pace.
Gino Kenny, TD for Dublin Mid-West, has been a vocal advocate on the issue. The Austerity Alliance/People before Profit TD recently brought forward the bill on medicinal cannabis which was passed by the Dáil.
Addressing an Oireachtas health committee, Kenny said that people who used cannabis for relief from illness were being unfairly treated. He said:
Shockingly, people are criminalised. These are ordinary citizens that have been in very difficult circumstances and traditional medicine has not worked for them. They should not be stigmatised.
Stephen concurred with this sentiment, saying that, far too often, governments deal in "money, figures and percentages instead of dealing with humans".
He continues to take cannabis daily, while also receiving treatment for his cancer.
He said: "I've been through more or less all the chemo available to my particular type. The dosages have been reduced over time and, up until a few weeks ago, I was on a mild targeted treatment which works on cutting blood supply to the tumours."
In terms of legislation on cannabis, he believes that it won't be legalised across the board, but tentatively welcomed steps for its medicinal use.
This will be the third Christmas Stephen has had since he was diagnosed with cancer. Now, the festive season has taken on a much greater significance.
Christmas is now so much different. It's an occasion to really get the family together. Even the life of a fly is sacred to me, now. Because of that, I just really want to see people get the help they need.
Stephen's name has been changed as he wished to tell his story anonymously.