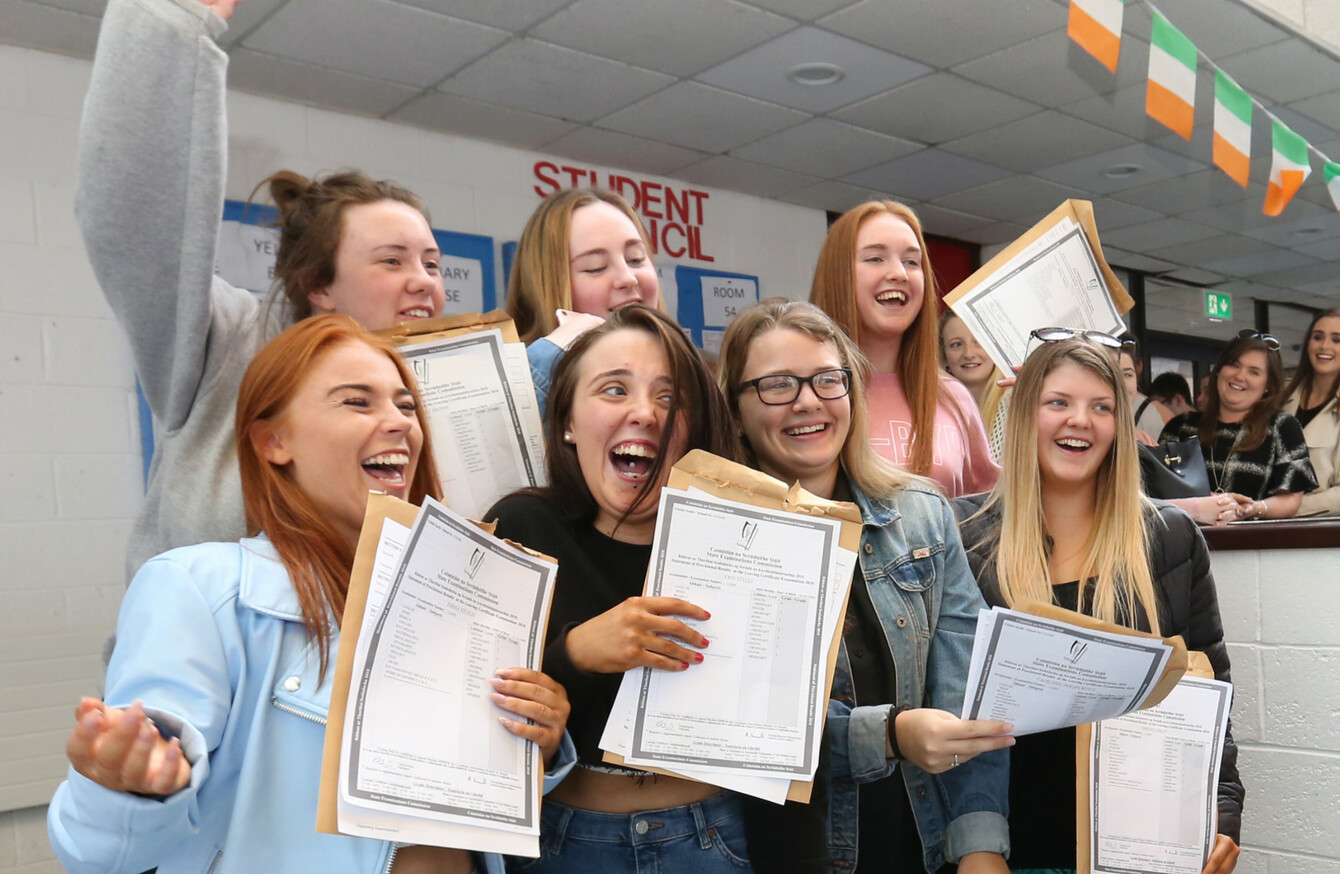 Students in Navan celebrating results last week.
Image: Sam Boal/Rollingnews.ie
Students in Navan celebrating results last week.
Image: Sam Boal/Rollingnews.ie
TENS OF THOUSANDS of students will receive their CAO offers today, at least four in every five applicants receiving one of their first three preferences on the list.
A total of 50,746 applicants will receive over 77,425 offers across Level 8 and Level 6/7 courses.
Across Level 8 courses, 52% of students will receive an offer for what they've listed as their first preference, while 88% of applicants who've listed Level 6/7 options will be offered their first choice.
In all, there are over 2,000 fewer applicants through the CAO in 2018 than last year.
Points
The points system for the Leaving Cert has changed in recent years, with A, B and C grades replaced by a new system with a scale of grades from 1 to 8 for Higher and Ordinary Levels.
Students can achieve a total of up to 625 points, from their six chosen subjects, up from the previous high of 600.
As a points total can now include even and uneven figures, the points requirements for some courses have changed accordingly.
For example, if you have listed Arts in UCD as a preference, you would require at least 381 points to be offered this course.
The points requirement for courses in different universities has changed compared to last year. The points needed for Computer Science in UCD (478 points) and NUI Galway (401) has increased slightly, while falling in DIT (434) and Trinity (444).
Points for Psychology were down, meanwhile, in Maynooth University (473 points), DCU (488), UCC (485) and Trinity (543), while points for Law increased in Maynooth (420) and UCC (495).
Nursing courses have retained a similar points level to recent years in universities such as Trinity, UCD and Galway, with UL points up from 440 last year to 452 this year.
Engineering, meanwhile, is at 433 points in UCC, 488 in Trinity, and 372 in DIT.
At NUI Galway, points were up across the board in a number of commerce disciplines, biomedical science, civil law, midwifery and creative writing.
You can check the points requirement for every course here.
Next steps
Applicants have up until Friday 24 August at 5.15pm to accept their offers. If they fail to accept it by then, the offer will lapse.
Eileen Keleghan, CAO communications officer, has urged students to carefully consider any offers they've received in the first round.
She said that accepting an offer in Round One will not prevent them from potentially accepting an offer of a course higher up on their list in a later round, but that students should treat the current offer as being the last one they may receive.
"The acceptance window is shorter than in previous years for both Round One and Round Two, so applicants must take care to ensure that they have accepted by the reply date," Keleghan said.
The online system of accepting an offer is "easier, safer and faster than returning the paper offer notice", she added.
If you are contacting the CAO during this busy time, applicants are urged to use the "contact" form on their website, providing their CAO application number and the nature of their enquiry in the subject line to help ensure they receive a response within one working day.
Round Two offers will be available from Wednesday 29 August, with students needing to reply by 31 August.
The CAO also has a short video guide on how to accept an offer.