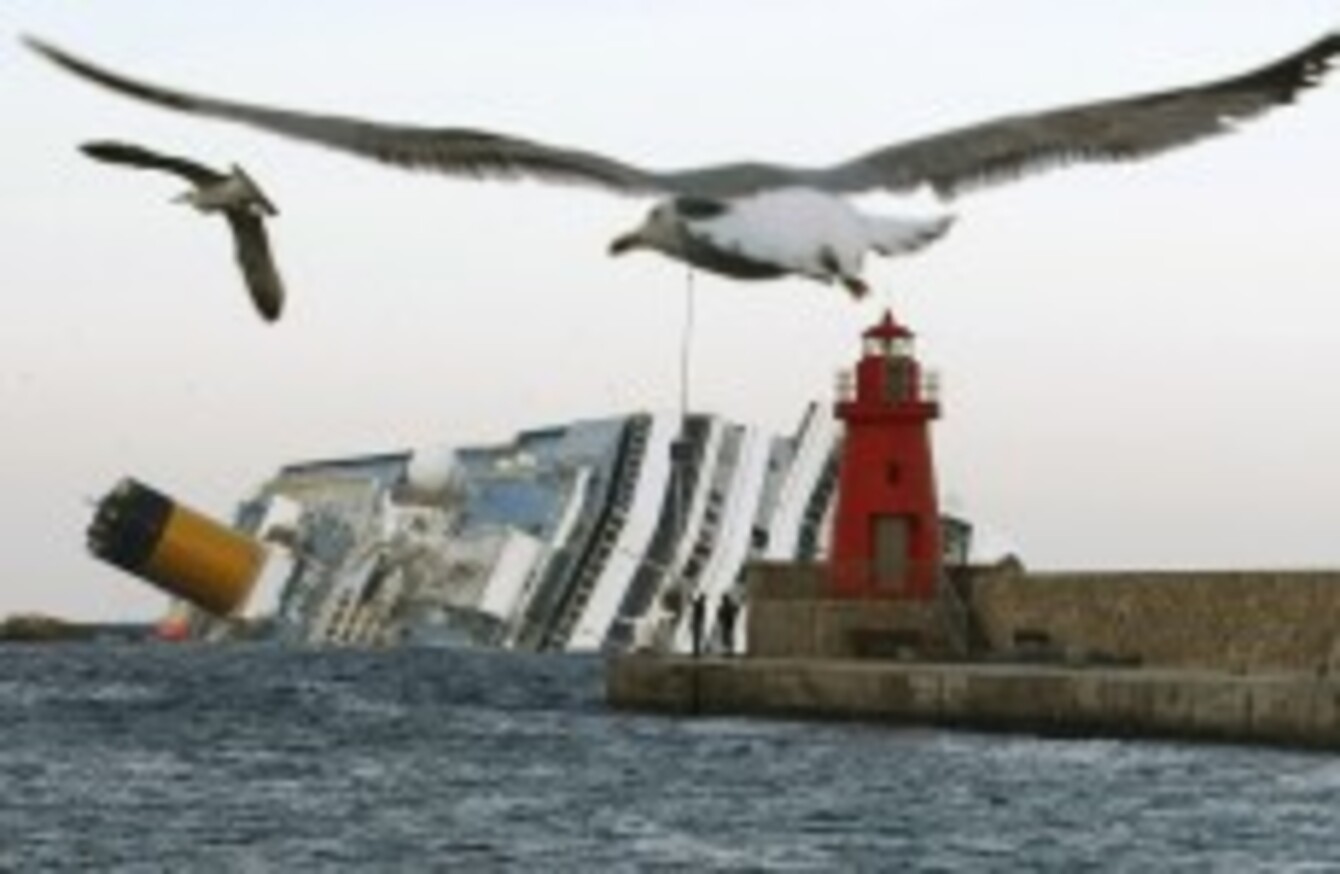 The wreck of the Costa Concordia lies off Giglio
Image: Pier Paolo Cito/AP/Press Association Images
The wreck of the Costa Concordia lies off Giglio
Image: Pier Paolo Cito/AP/Press Association Images
THE CAPTAIN OF the Costa Concordia cruise ship was not wearing his glasses and could not see well on the night of the accident in which at least 25 people died, an inquiry has heard.
Francesco Schettino also ordered officers to lie to coastguards after the cruise ship first ran aground, first officer Ciro Ambrosio told investigators.
"He had forgotten them [his glasses]," Ambrosio said according to the Guardian, referring to the night of the accident on January 13. "He asked me a number of times to adjust the scale of the radar because he couldn't see it well."
He was speaking at a pre-trial hearing in Italy at which a panel of experts heard evidence from lawyers and witnesses. Ambrosio is under investigation alongside Schettino and seven other people, Reuters reports.
Schettino's lawyer said he was "stunned" by the aftermath of the accident and the deaths, according to BBC News. "He [Schettino] is  a man who has feelings, who is pained over what happened," the lawyer said.
The Costa Concordia ran aground off the island of Giglio in Tuscany while carrying roughly 4,200 people including 1,000 crew.
Rescuers have since discovered a number of bodies inside the ship's hull. Yesterday work was begun to make an opening in the wreckage to allow a salvage crew to enter the engine room and empty the tanks holding the last fuel still inside the ship, authorities said.
Italian navy divers finished inspecting elevators in the forward part of the ship, as well as the Concordia's theatre and some lodging areas for the ship's crew, but the search yielded no bodies, the agency said.
- Additional reporting from AP