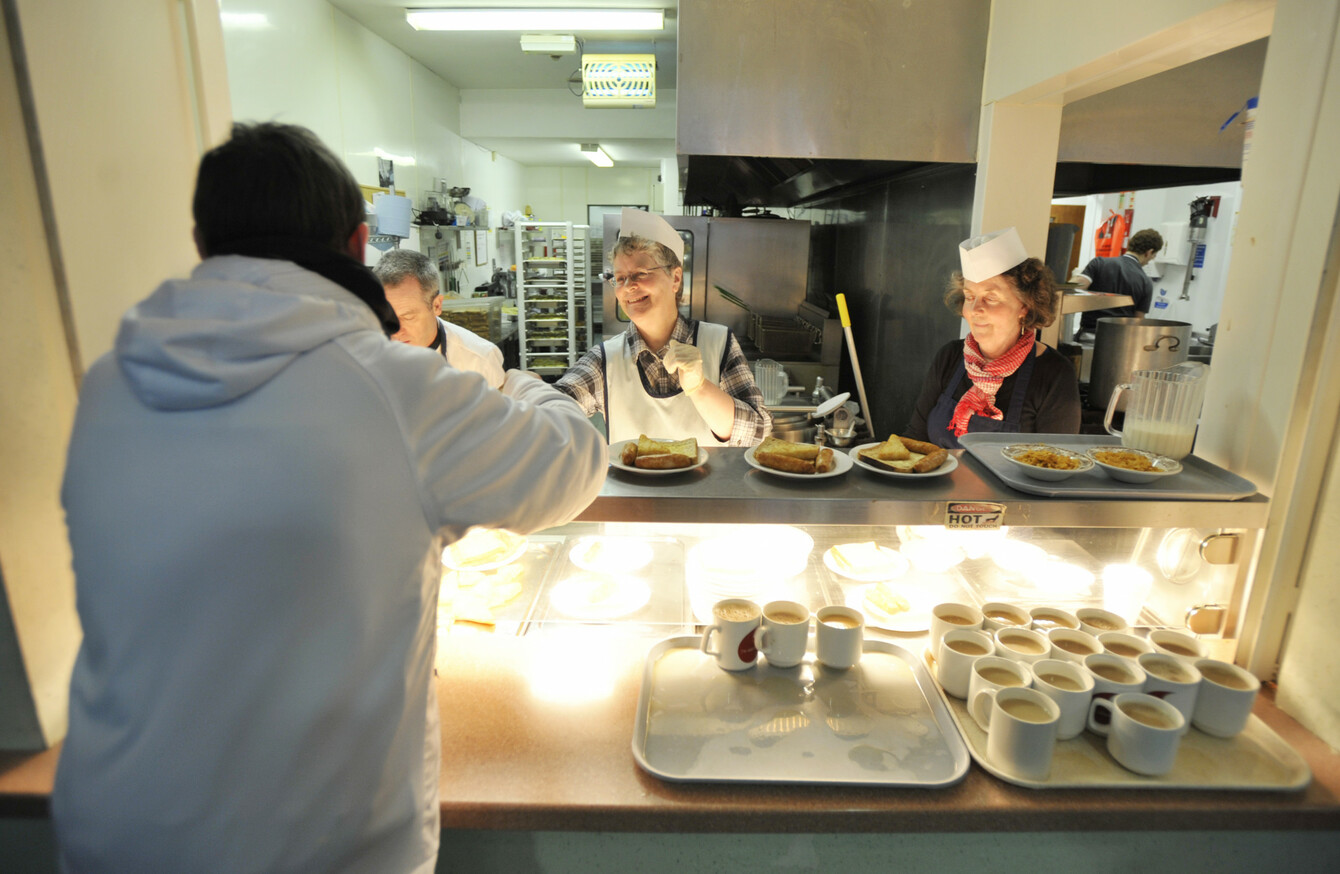 Volunteers hand out breakfast. (File, 2011)
Image: Sasko Lazarov/Photocall Ireland
Volunteers hand out breakfast. (File, 2011)
Image: Sasko Lazarov/Photocall Ireland
THE CAPUCHIN DAY Centre in Dublin has been handing out food parcels for many years. It happens every Wednesday and demand is steady.
About two years ago the order that runs the centre identified another need and started addressing it every Monday: nappies.
The centre thought there'd be a limited demand from parents, but it was wrong.
The need for nappies has grown and grown and the centre now has over 400 families on its books. Usually the centre doesn't ask for the names of visitors but when children are at the centre they are obliged to.
"They come from all over, but again we don't ask. It's none of our business, you're here for help, you're not here to be asked who you are or what's your circumstances," says volunteer coordinator Alan Bailey.
One of the women who takes nappies from the centre is young mother-of-three Mary*.
She speaks to TheJournal.ie inside the Capuchin hall and in a small section at the side of the canteen that's reserved for families. It's about 10am so the hall is completely full with about 100 people who are getting breakfast made by the centre's dedicated volunteer staff.
About 20 staff are in the kitchen and they can't make the sausages quick enough.
Mary speaks as her two-year-old daughter sits in a high-chair and switches between eating her cornflakes and splashing the milk in her bowl.
Mary had previously been homeless and lived in emergency accommodation in nearby Haven House but now lives in a two-bedroomed apartment with her three children.
It's not ideal but is better than where she had been staying, she explains.
"It's a two-bedroomed apartment, three of us in one room and my young one in her own room, she won't share so I have them two in my room, but it's getting cramped. I have to count my lucky blessings because there are some who have nothing."
Mary says that she comes down to the centre most days, for breakfast and after school finishes. She's been coming since she left her abusive partner in January of this year and more regularly since this year's school summer holidays.
She says even the small bits of help she gets from the Capuchins makes a difference
"I broke up with my partner because he was abusive. Then managing school and trying to feed your kids, an extra meal in their stomach is helping me with an extra bill at home."
#Open journalism No news is bad news Support The Journal

Your contributions will help us continue to deliver the stories that are important to you

Support us now
Another mother Bridget*, who's a bit older than Mary and who has six children, sits nearby with her nine-month-old son. He's wrapped up in a woollen hat and is quiet despite the bustling hall around him.
The young child is the only child that stays with her and they live in homeless accommodation. She is hoping to start working soon but at the moment she is struggling to pay bills as well as looking after her son.
"I pay two bills so it's hard to pay the bills and then get him everything that he needs. When I do all that I'm left with nothing, I haven't bought myself a pair of knickers in like four years," she says.
I was in a drug centre group. I smoked hash and I drank. Now I don't smoke hash or drink anymore. But they're gonna gimme a job so hopefully that'll happen before Christmas and it'll help me.
Bridget was born in 1979 and was brought to the Capuchin Day Centre as a child with her mother. She says the place has changed dramatically since then and even in recent years. mothers and children are seen far more often.
"I think it's good that they have this part separate to out there, because you don't know who you're mixing with out there and you want your kids out there. So I think they could make this a bit bigger, because look at the size of that hall out there. I think if they made it a bit bigger for the parents that would be good, but I can't say anything bad about them because they're just too good."
The staff are lovely, if you have any problems all you have to do is talk to the staff and they'll try and help you as much as they can. I asked them for help for a bouncy chair and they gave me a bouncy chair and they gave me a swing.
One of those staff members is a 78-year-old gentleman who has been volunteering for about 13 years. He started working at the day centre when he retired and says it helps him "belong".
Tom* says that the centre's ethos is important and he was explained it by Br Kevin Crowley, who's run the centre for many years.
"The main one is, no judgements. I might know someone in here who maybe mightn't have to be in here but you'd have to be in here for a reason otherwise you wouldn't come here.  You know they may be looking for companionship, they may even have money  but just want to meet people."