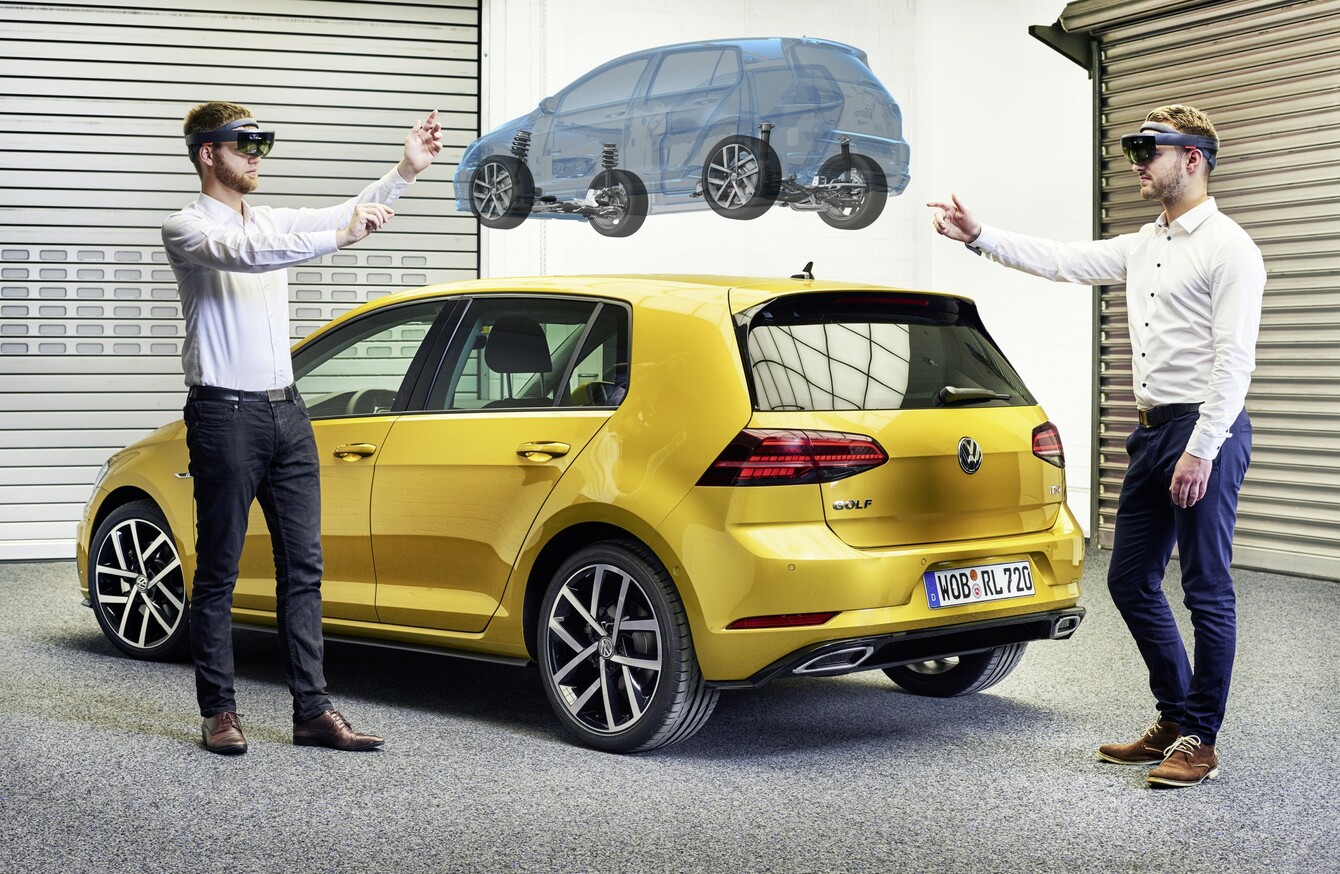 Image: Newspress
Image: Newspress
IT LOOKS LIKE something straight out of Back to the Future, but this isn't science fiction, it's science fact: Volkswagen is using futuristic hologram projecting glasses to design its cars.
Frank Ostermann heads the Virtual Engineering Lab at Volkswagen in Wolfsburg and in the centre of this lab is a 1:4 scale model of a Golf. Wearing a pair of Microsoft HoloLens mixed-reality goggles Ostermann inspects the Golf and in a manner of seconds, using voice commands and gestures he can change the wheels, replace the rear lights and modify the wing mirrors. Great Scott!
All of this is possible thanks to augmented reality, which could revolutionise the work of automotive engineers and designers.
The HoloLens mixed-reality goggles device is the world's 'first fully untethered holographic computer', developed by Microsoft. The goggles project virtual content onto a physical object through gesture control and voice commands. Engineers and designers need only to point a finger and the HoloLens will project a different paint colour onto the car, install different wheels and modify the fenders. Initially, the Golf is an R-Line model but after a few seconds it becomes an entirely new version.
For Volkswagen, using augmented and virtual reality cuts the time and development costs right down and each step in the process can be made faster and more efficient.
The HoloLens not only projects each design or equipment change directly onto the physical model it also allows several project teams to work at the same time in different places – for example teams from Wolfsburg, Chattanooga and Shanghai. Those working on the car will always have the current design model in view and time-consuming reworking, for example on a clay model, may become a thing of the past.
"The teams can directly follow and compare minimal changes to the model and then make a decision. This means that they can reach their goal faster," Ostermann explains.
Ostermann goes on to say:
At Volkswagen, we have been using augmented reality and virtual reality for some time, mainly to obtain a three-dimensional view. We are now taking a major step forward at the Virtual Engineering Lab. We are transforming this technology into a tool for Technical Development. This will allow Volkswagen engineers to work on a virtual vehicle.
Although the Microsoft HoloLens software is still in the trial phase, in the future it will allow Volkswagen to call up its entire model portfolio and present different body versions of a model in all conceivable variants: the developers can then transform a saloon virtually into an SUV, an estate car, a convertible or a coupe. Inconceivable!
"Just a few years ago, this was all science fiction," says Ostermann. "Now it is clear that this is how we will be developing our next models."
Perhaps flying cars aren't as far away as we think.